Sports
Leon Rice interviews for WSU job
But ESPN reports he signs extension with Boise State
March 28, 2014 Updated Fri., March 28, 2014 at 11:41 p.m.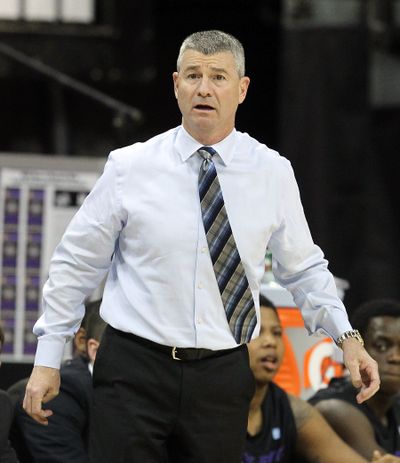 PULLMAN – Boise State men's basketball coach Leon Rice has interviewed for the vacant coaching position at Washington State, The Spokesman-Review has learned. The interview was conducted earlier this week. Rice was out of the office on Wednesday. Andy Katz of ESPN tweeted at 11:12 p.m. on Friday night that Rice decided to state at Boise State and will sign a five-year rollover contract extension that includes a salary raise. Rice received his bachelor's degree in physical education from Washington State in 1986. WSU President Elson Floyd said during Friday's monthly Board of Regents meeting that the position has been offered to a candidate, but did not say who that might be. Media members that cover the BSU men's basketball team indicated that they have been recently unable to contact the normally accessible Rice. Broncos athletic director Mark Coyle is on vacation. Rice has long been listed as a potential candidate for the WSU job due to his ties to the school. Another candidate that has been mentioned is former Oregon coach Ernie Kent, who was hired by current WSU athletic director Bill Moos during the latter's time with the Ducks. The Spokesman-Review reported last week that Kent is interested in becoming WSU's next coach. Under Rice the Broncos have won 20 or more games in three of the last four seasons. Boise State received its first at-large bid to the NCAA tournament in 2012-13. Rice signed a contract extension with BSU in April 2013 that would pay him just over $480,000 a year with a 3 percent increase each year. Previous WSU men's basketball coach Ken Bone paid $850,000 per year, and indicated that he would be willing to pay more than $1 million to the right coach. Rice began his career in the inland Northwest, spending 11 years as an assistant under Mark Few at Gonzaga in Spokane. Rice was known as a top recruiter for the Bulldogs and served as the associate head coach from 2007-10. After Rice was hired at BSU before the 2010-11 season, he became the quickest coach in school history to 50 wins. In his four years the Broncos have compiled a 77-54 record and a 21-27 record in the Mountain West Conference. In Rice's second season the Broncos struggled after moving to the MWC from the Western Athletic Conference. BSU went just 13-17 and 3-11 in conference. The Broncos recovered, winning 21 games in each of the past two seasons and going 9-7 and 9-9 in conference. The Broncos entered this season tied for second in the MWC media poll after returning all five starters from last year's squad. However, BSU finished in a tie for fifth place and missed the postseason. Early reports indicated that Rice had concerns about WSU's basketball facilities. The Spokesman-Review has learned that that these reports were false.
Local journalism is essential.
Give directly to The Spokesman-Review's Northwest Passages community forums series -- which helps to offset the costs of several reporter and editor positions at the newspaper -- by using the easy options below. Gifts processed in this system are not tax deductible, but are predominately used to help meet the local financial requirements needed to receive national matching-grant funds.
Subscribe to the sports newsletter
Get the day's top sports headlines and breaking news delivered to your inbox by subscribing here.
---