This column reflects the opinion of the writer. Learn about the differences between a news story and an opinion column.
Doug Clark: Bartender, himself in recovery, creates space for others fighting addiction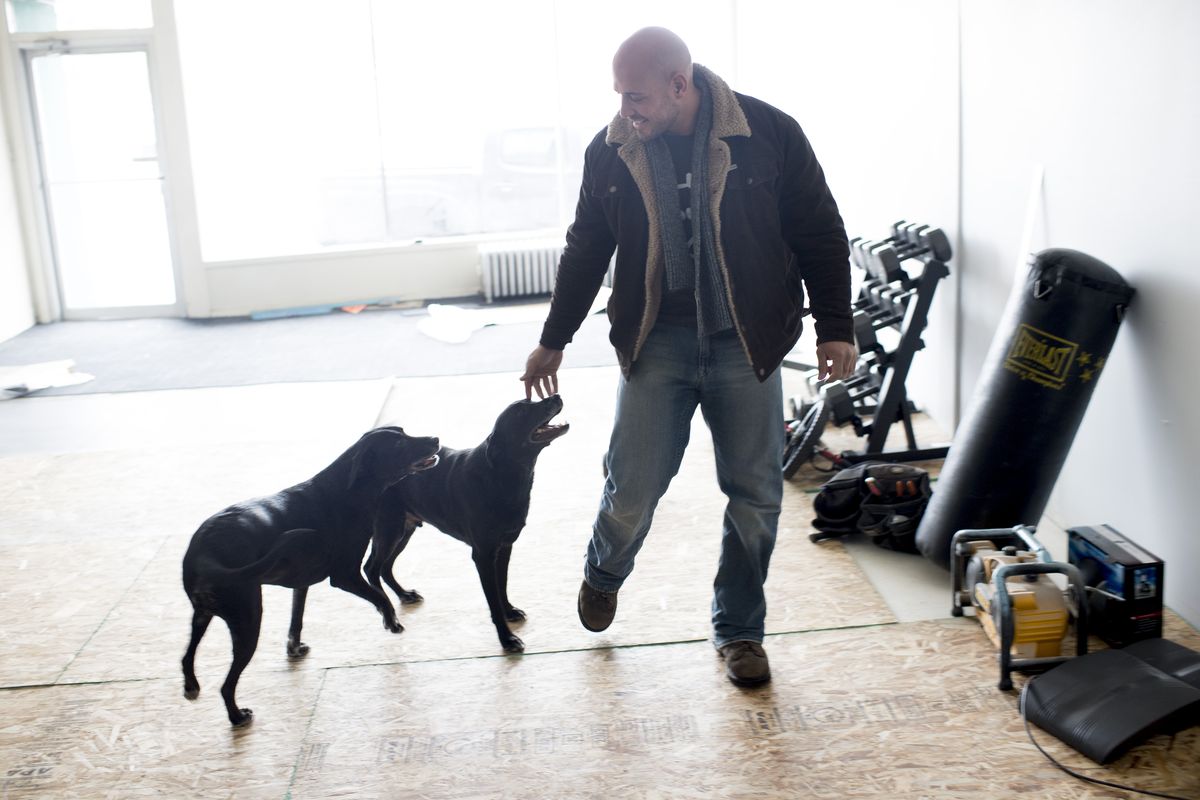 It's not every day you meet a bartender who's on a mission to help alcoholics turn their lives around.
Shawn Kingsbury, however, is definitely not your ordinary bartender.
"Drinking destroyed everything I ever cared about," the affable 37-year-old said, adding …
"But it's no punch line. I am a bartender."
Kingsbury serves drinks at Sante, a downtown Spokane restaurant, but his dream can be found inside a humble but expansive storefront at 1510 N. Monroe St.
This is the home of Pura Vida Recovery, an idea Kingsbury hatched while he was getting his own life back together.
Literally meaning "pure life" or "full of life" in Kingsbury's definition, Pura Vida has been a Spokane haven for recovering alcoholics and drug addicts since last June.
One side is reserved for 12-step meetings, music jams, speakers and social gatherings. The other side is a fitness room in progress. When completed, this area will have most of the basic bells and whistles of any athletic club.
"This is a program that helps everyone," he said, adding that he's always looking for more bodies. "I really believe it can change the city."
A nonprofit organization, Pura Vida takes a holistic approach to recovery as outlined in the mission statement Kingsbury gave me during a tour through the facility.
"By participating together in fun and engaging physical activities such as biking, paddle boarding, hiking, strength training, and other recreational endeavors, we will strengthen our emotional and physical sobriety," it reads.
(Find out more at www.puravidarecovery.org.)
I hope it succeeds. Kingsbury's a likable guy who strikes me as sincere about what he is doing. And anything that can crack the cycle of addiction is a great thing.
Granted, the idea of a bartender in recovery at first sounds like a joke.
But supporters say they're not worried about Kingsbury descending back into the bottle.
"When you're in recovery, there's nowhere you can't go," said Meagan Daniels, who met Kingsbury through recovery circles about five months ago.
"We live in a world with people who aren't alcoholics."
Many of these people can drink and "somebody has to serve them."
Kingsbury, she said, encouraged her to add her lifelong photography skills to the group.
So Daniels created a holiday backdrop at the Pura Vida site and offered family Christmas photos during December for donations or no charge for those without means.
The experience rekindled the woman's passion for photography. So much that she said she's now taking some college courses to hone her skills.
Pura Vida has "really been a gift for me," she said, adding that the last three years of her alcoholism had her withdrawing from the world to a point where she rarely went outside.
"I didn't have any will to participate in life."
Mikhale Rogers, a graphics designer, appreciates Pura Vida's approach of combining workouts (and even yoga) with a serious sobriety program.
He laughed.
"Some of my best friends are bartenders," Rogers said. "And they all support my recovery."
Remarkably candid, Kingsbury said his life as a boozer began not long after graduating from Shadle Park High School, where he excelled as a football player.
"That's when my drinking career took off. I was an alcoholic from the jump."
Blackouts lasting 24 hours. Trips to detox. Relapse after relapse. Drunken-driving tickets. An assault charge from a bar fight. Broken relationships …
It's an old, old story. Yet the familiarity of Kingsbury's personal history doesn't make it any less painful to hear.
"I was broke. My life was in pieces," he said. "I wanted to run from Spokane because of all the chaos I had caused."
Being a professional drunk eventually took Kingsbury to Portland, Maine, where he remembers waking up on a park bench one day with soiled pants.
"A relapse is a super dark time when all the fun of drinking is gone. You still drink, but it does nothing for you."
Portland, he said, was also the place where he found help living in a group home with 16 other men.
The only one with a valid driver's license, Kingsbury said he began taking his housemates out on trips to hike and exert themselves physically. It was like a tonic, improving their lives and resolve to stay sober.
Kingsbury, an athlete for most of his life, began getting the idea for Pura Vida. He also found the motivation and the poisonous truth about his own affliction.
"I cannot put alcohol into my body," said the bartender who's been there and back. "I no longer look to the bottle for any comfort."
Doug Clark is a columnist for The Spokesman-Review. He can be reached at (509) 459-5432 or by email at dougc@spokesman.com.
---
---