This column reflects the opinion of the writer. Learn about the differences between a news story and an opinion column.
Opinion > Column
Huckleberries: Car engine doesn't start? When was it last checked for marmots?
Thu., July 6, 2017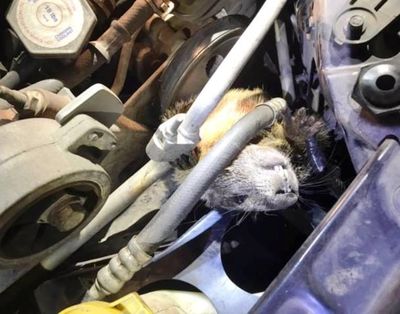 If your car doesn't start, you might have a marmot infestation.
A woman parked at Post Falls Walmart found a large marmot trapped in her engine compartment when she was unable to start her vehicle recently. With the help of a tow truck operator from Recovery Masters Towing and a concerned citizen, Post Falls PD officers freed the marmot. And the fun began.
"Chuck," the name given the furry critter by responding officers, refused to leave "his newfound feast of electrical wires." At that point, according to the PFPD Facebook report, negotiations began with the stowaway. Finally, Chuck gave up and fled, prompting the officers to pat one another on the back.
But their elation was short-lived. The varmint "returned to his life of crime and found another vehicle to unlawfully enter," the report continued – a Dodge Neon. "Once again, officers tried to reason with the rodent who now seemed tired and perhaps a little stressed out." Begrudgingly, Chuck surrendered and officers quickly whisked him away, to his natural habitat, "before he could reoffend."
The good news/bad news of this tale? Bad news: The PFPD trespassed Chuck from Post Falls Walmart. And the good news? He was granted a full pardon.
Tell tale signs
First, a disclaimer: In 1977, at age 27, I moved from California's Central Valley to Kalispell, Montana – and never returned to the Golden State. Now, onward. Recently, my Huckleberries blog gang finished this sentence: "Your neighbor might be from California if …" Answers: "They pronounce a long 'E' at the end of the word coyote. (kye-O-tee versus kye-OAT)." And: "They have a giant 4-wheel drive that they think can be driven at 70 mph all winter long" … And: "You have to show them how to engage their 4-wheel-drive" And: "The wife looks like she cornered the Botox and bleach market. The husband is never outside without his shoulder holster." And: "Wears cargo shorts in December" And: "They have no idea what huckleberries are good for" … By the way, in a weekend poll, a plurality of 49.42 percent of my Huckleberries blog readers admit a bias against California transplants.
Huckleberries
Poet's Corner: Weighed down by news of murder/and wars that maim and kill./she glanced out of her window/and saw the daffodil – "The Bard of Sherman Avenue: Poems by Tom Wobker" ("Hope, in the back yard") … One of the few good things about being old is that I don't get upset about fireworks. I don't sleep with my hearing aids in my ears, so I can't hear them – D.J. Nall, of Coeur d'Alene … Huckleberries Archives (June 29, 1992): "Southern California transplant Steve Baeumel of Coeur d'Alene is ready to move farther north after waiting for the light at Northwest Boulevard and Ramsey Road to change three times before he could cross. We're growing too much, he says." (Update: Steve's still here 25 years later) … by the way, you'd better smile if you complain about ex-Californians to my 92-year-old mother, now living in a Coeur d'Alene care facility. She'll tell you that the Golden State was the Garden of Eden before too many outsiders looking for a better life ruined it. High housing costs forced her to move to the Northwest.
Parting shot
Marlene Craig of The Well-Read Moose has noticed a phenomenon. The Coeur d'Alene bookstore has sold many copies of Heather Branstetter's "Selling Sex in the Silver Valley: A Business Doing Pleasure." Only some customers don't ask for it by name. Marlene: "It makes me smile when customers come in asking for 'that Wallace book' – not wanting to say the actual name." Perhaps Marlene should consider handing the book to buyers in brown paper bags? The Well-Read Moose will host a reading from the, ahem, "Wallace book," from 6 to 7:30 p.m. July 26.
You can contact D.F. "Dave" Oliveria at (509) 319-0354 or daveo@spokesman.com.
---
---