This column reflects the opinion of the writer. Learn about the differences between a news story and an opinion column.
Opinion > Column
Doug Clark: Bring back 'The Ghosting' for one awfully good night
Thu., May 4, 2017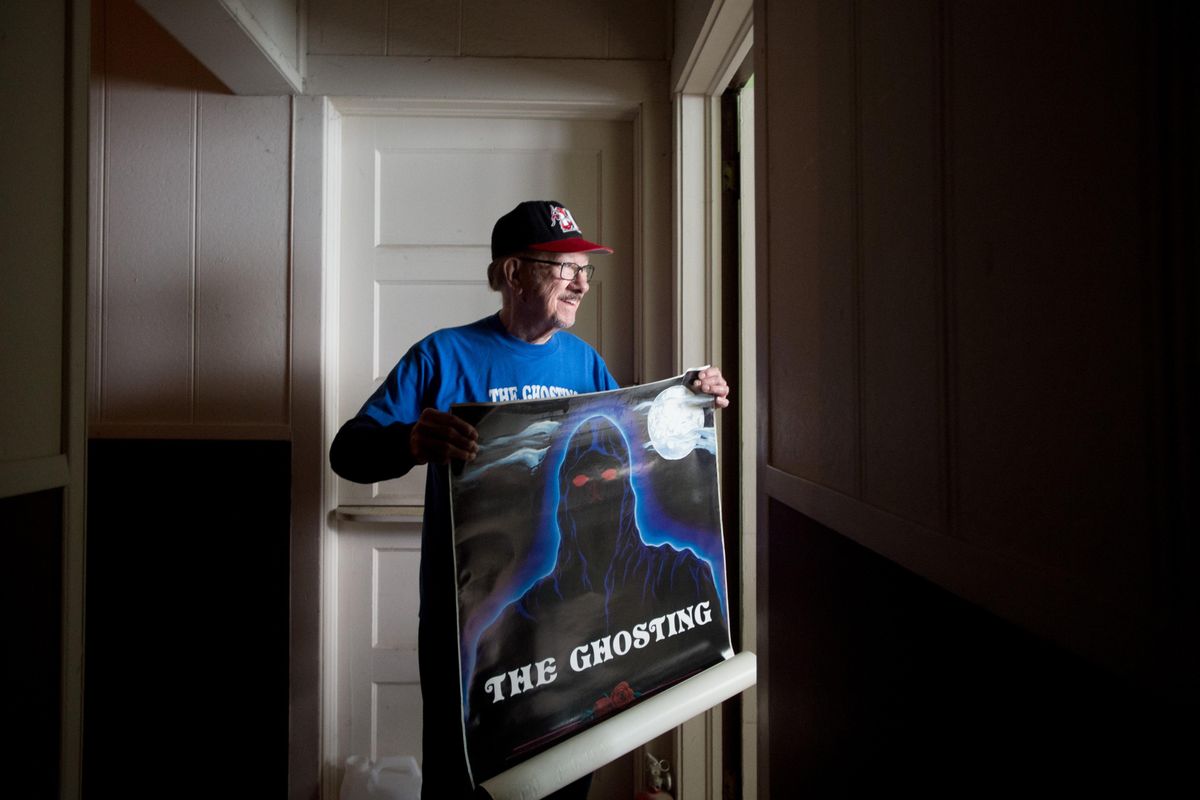 Walt Hefner poses for a photo with a promotional poster for The Ghosting, a film he funded himself, 25 years ago on Tuesday, May 2, 2017, in Spokane, Wash. Tyler Tjomsland/THE SPOKESMAN-REVIEW (Tyler Tjomsland / The Spokesman-Review)
The gray and angular old Baptist church at Broadway Avenue and Adams Street looks significantly more haunted now than it ever did when hyperventilating actors and live snakes inhabited the place.
Overtaken now with bushes and neglect on the outside, the church's cluttered interior still holds some of the moviemaking paraphernalia from three decades ago: lights, ladders, a film canister and stacks and stacks of boxes containing hundreds of unsold VHS copies of Walt Hefner's directorial pipedream.
"The Ghosting," he called his first (and last) full-length motion picture.
I call it the best, so-awful-it's-wonderful movie ever made in Spokane and perhaps the entire planet.
This year marks the 25th anniversary of when Hefner unleashed his $750,000 epic into the video stores of America with, well, less than lucrative results.
"I'm one of those guys who, if you have money, why not spend it?" said Hefner, 88, from his perch next to me on one of the dusty church pews.
The movie, reasoned Joyce, Hefner's sweetheart of 46 years, didn't have enough sex or blood splatters to be popular to a more violence-craving market.
True, "The Ghosting" is a mild B-movie nod to those old days of drive-in theaters.
About "as scary as a 3-year-old in a Yoda costume," noted one sour reviewer.
But the movie is also really, really bad in an over-the-top fun and campy way. It's rife with amateurish acting, absurd plot points and unintentionally hilarious dialogue, like, "I only have one shoe!"
Which is why I've loved "The Ghosting" ever since I sat stunned and half-choking with glee during its grand premiere.
That so few around here have seen it is a shame. Which is why I'm making it my personal mission to resurrect "The Ghosting," and have it shown once more in the burg that hatched it.
Just spit-balling here, but wouldn't it be great to air "The Ghosting" at, say, The Bing, with part of the admission going to the food bank and Hefner on hand to autograph his stockpile of vintage T-shirts and posters?
Stay tuned. I'm serious.
I came up with this scheme the other day when I learned about a notoriously horrible movie called "The Room."
Inept and weird on every level, "The Room" has spawned a national cult following as well as a movie based on "The Disaster Artist."
That's the title of a highly entertaining nonfiction book about "The Room" and its bizarre director, Tommy Wiseau.
"Imagine a movie so incomprehensible that you find yourself compelled to watch it over and over again," wrote "Disaster Artist" co-author Greg Sestero. "You become desperate to learn how (if) on earth it was conceived …"
Intrigued, I went online and watched some bits from "The Room."
With all due respect to Sestero, but as lousy as "The Room" may be, it's not even in the same ZIP code of enjoyable badness with "The Ghosting."
"The Room" tries to tell the story of a weird love triangle.
"The Ghosting," on the other hand, features a "haunted church replete with a snake-ridden baptistery, a Vietnam veteran on the edge, and an ax-wielding, nuthouse escapee."
I wrote that summary in July 1991, after interviewing Walt and Joyce during lunch at a Chinese buffet.
A few months away from unveiling his movie at a Hollywood-style premiere, Hefner told me the tale of how "The Ghosting" came to be.
The first thing one must know about Walt Hefner is that he is an old-school movie man who, even at his advanced age, still possesses the dramatic voice of a ringmaster or stage hypnotist.
Hefner's name appeared for the first time in this newspaper in 1952. Two years out of the U.S. Air Force, he was made the assistant manager at the State theater, now known as The Bing.
Hefner went on to own a couple of theaters in a shabby section of downtown before buying some acreage north of town in 1970. There he opened the Starlight Drive-in.
In a biopic of Hefner's life, 1984 would be the turning point. That's when a cinema chain paid him $1 million-plus for his drive-in property.
As I wrote in 1991: "Most working stiffs would have quit their job, told the boss what a pencil-necked jerk he'd always been and then arranged to have the mail forwarded to the new yacht."
Not Hefner. He decided to become Spokane's Cecil B. DeWeird and direct his own movie.
And not just any cheap flick, but a real-deal feature film in 35mm.
Hefner bought the vacated church, expensive cameras, moviemaking gear and a snake wrangler to bring his reptiles.
He hired local actors like Bill Hutton, Jennifer Salmi and Charlie Shores. Thinking they'd give better performances if he paid them well, Hefner shelled out union wages at $380 a day.
Not a bad gig for 1987, when filming took place.
Hefner then baby-sat his project for several years, editing and preparing for a big premiere at the Newport Cinemas the day after Halloween 1991.
What a scene that was!
Hefner arranged for a spiraling Hollywood-style searchlight. He had a coffin-equipped hearse and a single limousine that kept circling the theater to pick up the stars (who were waiting in the dark behind the building) and then deposit them on the red-carpeted front.
Let's get something straight: Hefner never planned on making the cheesiest of all movies.
Who would?
I'm certain he suffered a few embarrassed pangs when that first audience, me included, began raucously chortling and guffawing at his cinematic baby.
But Hefner is a pragmatic showman who has seen plenty of turkeys come and go.
So in the days following that "Ghosting" debut, the director astutely embraced the "so good it's bad" knock on his movie.
You know, as if he'd set out to do just that all along.
Ten years prior to the premiere, in fact, Hefner was asked to define what a good/bad movie was for a Spokesman-Review story.
He responded by saying that such a movie is the sort of entertainment that answers the following question:
"What can I do on a Saturday night to completely escape from everyday existence?"
He certainly accomplished that.
So let's hope "The Ghosting" will rise up once again to entertain another packed house of revelers.
---
---