This column reflects the opinion of the writer. Learn about the differences between a news story and an opinion column.
Opinion > Column
Shawn Vestal: Risch the loyalist could take a lesson from the lineage of Idaho's outspoken senators
Feb. 20, 2019 Updated Wed., Feb. 20, 2019 at 12:22 p.m.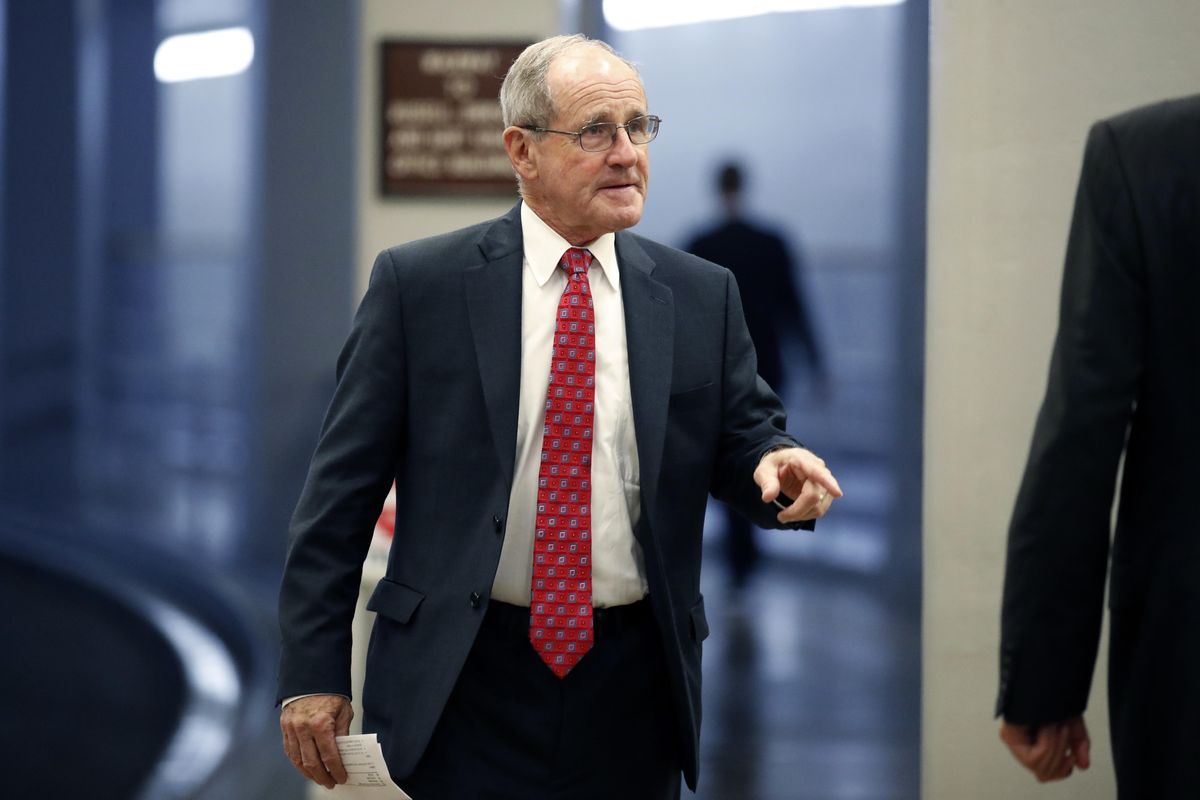 Sen. Jim Risch, R-Idaho, arrives for a vote on Gina Haspel to be CIA director, on Capitol Hill, on Thursday, May 17, 2018 in Washington. (Alex Brandon / AP)
Idaho has brief, though deep, history of electing senators who distinguished themselves as truth-tellers and swimmers-against-the-tide while chairing the Senate Foreign Relations Committee.
First came "The Lion of the Senate" – William E. Borah, a Republican progressive who held office from 1907 to 1940, championed an incredible number of reforms, and was a frequent thorn in the side of his own party's presidents.
Then came "Senator Sunday School" – Frank Church, a liberal Democrat (!) seen by some as a starry-eyed idealist who served four terms from 1957 to 1981, piling up accomplishments even while breaking from his party's president, LBJ, to become an outspoken critic of the Vietnam War.
Now comes Idaho's third senator to take the gavel of this all-important committee – Jim Risch. One wonders what kind of nickname his legacy there will earn him.
The Loyalist? The Lapdog?
Senator Go-Along-to-Get-Along?
Risch has made it clear that he will not speak public truth to the White House – and he's made a particular point of insisting that especially when he disagrees with the president, he will keep those views a secret. Though he once said voting for President Trump was "distasteful," he has made the sycophantic pivot as completely as any of his fellow critics-turned-enablers in Congress.
"My repertoire does not include sparring publicly with the president of the United States," Risch told the Idaho Press. "For many, many different reasons, I think that's counterproductive, and you won't see me doing it."
He's repeated versions of that sentiment in several interviews. Here's a passage from a recent article in The Atlantic:
" 'I disagree with (Trump) from time to time. When I do, we talk about it, but I don't do it on the front page of the paper,' he continued, comparing his approach to him and his wife not arguing in front of their kids."
We're the children in this analogy, in case you missed that.
The entire country is children, from whom difficult truths should be hidden, and Risch and Trump are Mom and Dad. They know best, and will decide what the kids need to know, and anything else – anything remotely Churchian or Borah-esque – is simply not an arrow in Risch's quiver.
We see this clearly in his defense of the president's outrageous use of an emergency declaration to build a border wall. This autocratic declaration has put most Republicans in a quandary, given how nakedly obvious it is that there is no emergency and given how vociferously they objected to Obama's executive actions.
Here's part of the statement Risch issued in January 2016, criticizing President Obama's executive orders to improve the background check system for gun purchases, as well as several other gun-safety measures.
"This president, more than any other, has violated the constitutional separation of powers in which the legislative branch enacts laws and the executive branch executes those laws," Risch said. "Those like the president, who want stricter gun laws, must do so by electing a pro-gun control Congress and not try unconstitutional lawmaking by the executive branch."
Now, though, in the face of a more drastic attempt to extend executive power on much flimsier grounds, Risch has abruptly lost his devotion to those principles.
Risch told the Washington Post, "the Democrats leave (Trump) no choice" but to go around Congress since lawmakers would not pass wall funding.
Ah, the living Constitution. Always there to tell you exactly what you want to hear, or to remain silent if you'd prefer that.
Borah and Church were cut from different cloth. They did not shut up when their principles conflicted with their parties. They eschewed cloakroom negotiations for the public pulpit as their chosen method of persuasion, and were outspoken in critiquing presidents from their own teams.
LeRoy Ashby, a professor emeritus of history at Washington State University, co-wrote a book about Church, "Fighting the Odds." In a piece Ashby wrote for the Lewiston Tribune in 1990, he compared and contrasted the legacies of Borah and Church.
The two men were different in many ways, of course. Borah played a critical role in establishing constitutional amendments creating the income tax and establishing the direct election of senators. On foreign policy, he led a group of isolationists known as the Irreconcilables, who successfully opposed the Treaty of Versailles as a potential undermining of American autonomy in foreign affairs.
Church was a New Deal liberal, helping to pass the Civil Rights Act, create welfare benefits for the elderly and people with disabilities, and pass significant environmental legislation. He was a prominent critic of corporate influence on foreign policy and abuses of authority by intelligence agencies, and an outspoken opponent of the Vietnam War.
Despite their differences, both were remarkable and unrestrained public speakers.
Ashby quoted one longtime observer of the Senate saying that when Borah spoke, there would be "a stampede of newsmen from the Senate press room, like firemen answering the alarm."
Church – who won a national oration contest while in high school – was widely regarded as one of the best speakers in the Senate almost from the start of his career as one of the youngest senators elected.
They were not merely flashy. Both men were "passionately eloquent" and unyielding on what they saw as moral issues. They had reputations among some as sermonizers and scolds. They tried to win arguments about public policy on the public stage.
They surely didn't see themselves as married to their presidents.
Risch is distinguishing himself differently.
Consider his shrugging off of the Russian investigation. He has quadrupled down on the unprovable and unlikely claim that Russians merely tried, with absolutely no effect, to influence the election.
This is Trump-coddling at its worst, elevating dictates of managing the presidential ego over the nation's electoral process. Risch pursued that line in an interview on CNN two years ago that was a object lesson in how hard he strives to express agreement with his president.
Risch said he believed the Russians tried, but failed, to affect the election. Asked why Trump denied that Russians interfered in the election, Risch said he didn't.
When he was read an unequivocal quote from Trump saying, "I don't believe they interfered," Risch responded, "I would agree with him. I think they attempted to interfere."
The interviewer then outlined the hacking of the Democratic National Committee and the drip-drip-drip release of emails during the campaign, and cited the view among top intelligence officials that it was authorized by top Russian officials.
"Don't disagree with that," Risch answered. "They attempted to interfere. … In my judgment, interfere means did they affect the outcome of the election. In my judgment, they had no effect whatsoever on the outcome of the election. Indeed one could argue that if anything it went the other way."
I suppose it's possible that Risch actually believes this.
It's more likely, though, that it was just something he thought he should say in front of the kids.
---
---