This column reflects the opinion of the writer. To learn about the differences between a news story and an opinion column, click here.
Opinion > Column
Spin Control: Vandals spray paint graffiti on Capitol steps
Sun., June 7, 2020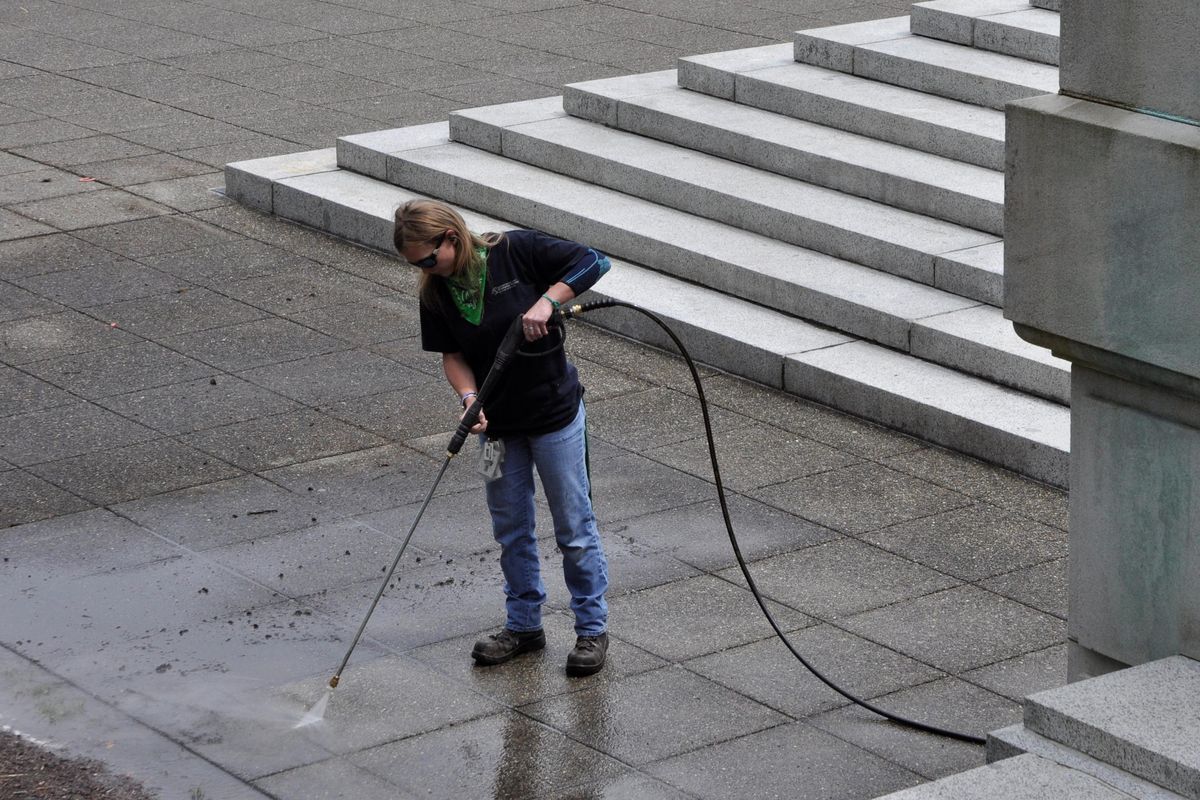 OLYMPIA – Megan McNealy, a state worker who spent much of last week cleaning graffiti off the steps of the Legislative Building, power washes the sidewalk Friday afternoon. (Jim Camden / The Spokesman-Review)
When the Legislature is in session, Olympia is often the state's primary location for people to peaceably assemble – mostly – for redress of grievances. Even with the honorable lawmakers at home, the nationwide demonstrations in the wake of George Floyd's death at the hands of Minneapolis police officers brings out the local protesters.
The protests haven't drawn the crowds like Spokane or Seattle, but there have been nightly gatherings, marching and, in a few instances, window breaking and tear gassing.
There was also an incident of what will likely turn out to be expensive vandalism, as a small group split from a group of marchers one evening and spray painted the steps and walkways of the domed Legislative Building.
There were several suggestions to "F" police, the acronym ACAB for All Cops Are "of questionable parentage" and one declaration of No God No Mas , which would presumably have been finished to say Masters had the sprayer either not needed to flee or somehow lost concentration.
Such messages are common in the wake of recent protests – which is not to suggest that the protests should be blamed. Protesters protest and vandals vandalize, and plenty of tagging happened before last week's demonstrations. There's a wooden fence along a main arterial into the city that may have several dozen layers of paint because would-be anarchists regularly spray their messages and the homeowner obliterates them with a new coat.
I say would-be anarchists because they like to dress in black, and a capital A in a circle and ACAB are among their favorite graffiti, but it's possible they used to be goths and still have some of the clothes but flunked out of school before getting all the way through the alphabet. It's pretty clear they left school before learning about the First Amendment because they regularly say news photographers can't take their picture even when they are marching on a public street.
Regardless, tagging is unlikely disappear in some future date when racial justice is a reality, not a dream.
In this case, however, removing the Capitol graffiti is a bit trickier than repainting a fence slat or washing a storefront window. The steps are marble and the walkways are a very porous variety of sandstone. The former had to be steam cleaned and the later had to have the writing pulled out of it with a poultice, said Linda Kent of the Department of Enterprise Services, which manages the Capitol grounds and buildings.
The poultice, which is known by workers as "elephant snot," had to be applied multiple times, she said. The cleanup will cost thousands of dollars – much more than the $4,761.34 charged to Rep. Matt Shea for "anointing" the steps with olive oil in March to ward off the effects of a procession by the Church of Satan.
One rumor making the rounds at week's end was that anarchists were offering a $25 reward to anyone who spray paints the area during an upcoming demonstration. Vandals aren't usually known for their smarts, but anyone foolish enough to try to collect on such an offer should consider several things.
First, there are multiple security cameras around the building, so even if you evade the Washington State Patrol which provides Capitol security and is investigating the previous vandalism, you would be recorded for posterity as well as for criminal charges.
Second, you'd probably need a selfie to prove you deserve the reward, and that, too could be used against you in a court of law if it finds its way onto social media. Which it almost certainly would.
Third, you'd have to be really stupid to think you could collect from anarchists. What are you going to do if they renege, contact their supervisor at local headquarters? They're anarchists, fer Chrissakes. They don't have a supervisor or headquarters.
Finally, some right-wing militia types are reportedly masquerading as anarchists on social media, so if it's one of them and not the anarchists making the offer, you've got another set of problems collecting.
In case you're wondering
The state's bill to Shea for the "oiling" of the Capitol steps hasn't been paid yet. But it was only sent on May 13, and Kent says the state typically doesn't turn unpaid bills over to a collection agency until after 120 days. Even then it could allow some leeway for "other factors," she said.
The bill was sent to Shea as an individual, she added, not in any official capacity.
Say what?
The inbox tends to overflow with government news releases, but even so it's important not to just skim them. Take this one last week from the U.S. Attorney's office in Spokane, that begins:
Spokane – William D. Hyslop, U.S. Attorney for the Eastern District of Washington, congratulated Grant County today on being officially designated a High Intensity Drug Trafficking Area by the White House's Office of National Drug Control Policy.
Huh? Generally speaking, it seems the last thing a county would want to be officially designated as would be a "high density drug trafficking area. A county might be happy with being a "low density drug trafficking area" and could celebrate if it was a "no density drug trafficking area."
The news release explains later the designation means greater sharing of information and coordination among law enforcement agencies to add to county efforts and can "lead to taking more criminals off the streets and a safer and more secure county."
Still, congratulating a community for having such a bad drug problem that they need to federal help seems a bit odd.
---
---