Wed., Aug. 12, 2009
Fixing the health care system…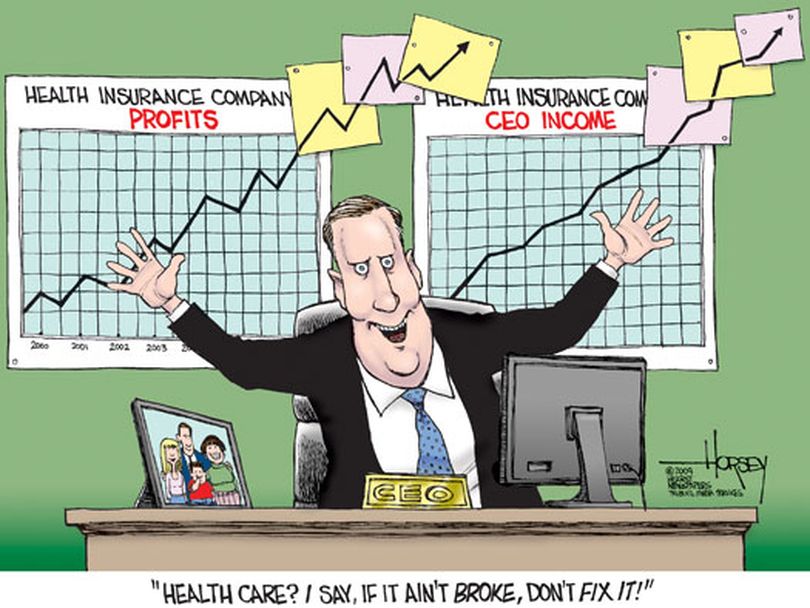 Good morning, Netizens...
"I'm mad as hell as I'm not going to take this anymore!"
In this morning's cartoon, David Horsey demonstrates just a few of the reasons what many working-class and some lower-middle-class Americans seem to be yelling in a series of public input sessions on Obama's healthcare bill. It also makes a mockery of the high profile interviews Pennsylvania Senator Arlan Specter gave to members of the news media since a meeting he led turned into a yelling contest.
You might think that Specter, having survived over 45 years as a Senator in his state, both as a Republican and as a returned-to-the-fold Democrat, would recognize that when Americans get angry, they simply will not sit down and be placated until their issues have been addressed openly and directly by their elected officials.
Based upon the town hall meetings held in various places throughout the United States, there is little doubt that Americans are angry. The single-payer system proposed by the Obama administration is not acceptable, but then the current health insurance system is unacceptably broken.
What isn't shown in David Horsey's cartoon, however, are the number of homes that have been taken over in lieu of payment of delinquent hospital and medical bills, such as are common in Spokane. I have tried several times to obtain some numbers to demonstrate this increasing penalty inflicted on those who cannot afford medical insurance, but surprisingly enough, none of the Spokane-area hospitals seem eager to provide those statistics. Could this be shame?
The other aspect of the town hall meetings are the numbers of people who could not attend, because they are working.
When the cost of medical care has tripled in the face of national average incomes, there is little reason why people are angry.
The incomes of health care CEO's and the sickening profits of their firms, however, are, as David Horsey points out, quite content with the status quo. THAT has to change before anyone will pronounce the health care system fixed.
Dave
---
---