Fri., Jan. 20, 2012
Snowy Day Craft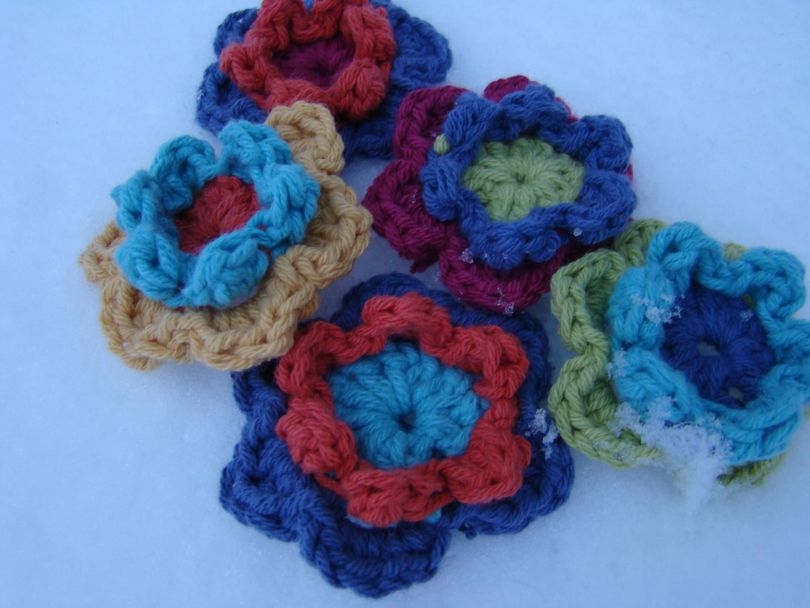 The snow has finally fallen (which, sorry readers, I love). Snowy days are magical to me and a reminder to slow down, make some cocoa, and read a good book (or blog). I have a few projects I'm working on, including a major clear-out. I need organization in my life and January is the month for making it happen. In the past few days, I've unearthed the remains of several old crafty hobbies, including: candle making, scented oils with dried flowers in old bottles, many old quilting and sewing projects, and the pattern book my Auntie Shari taught me to knit with when I was nine. Some of these I kept, some have made it to Value Village for someone else to enjoy.
Since the snow began falling, my clear-out breaks have been filled with yarn. I have a couple of knitting projects on needles and have had some fun experimenting with crochet. I have found many wonderful, free (!) patterns on Ravelry.com which have been keeping my yarn addiction satisfied.
If you're a knit or crochet person and you haven't discovered Ravelry, go there now. It is a free community for yarn folk and offers great tools to organize your project lists and yarn stash, as well as a library of projects and patterns.
While stumbling around the site, I found these fun flowers from Lucy of Attic 24. They are very easy (I did have to learn a new stitch, but YouTube tutorials took care of teaching me during a snow storm) and can be made with yarn scraps. I love the dimension of these flowers and opportunities they provided to play with colors and types of yarn.
I have already made package decorations, hair clips, and pins with these flowers and plan on much, much more. Leave your yarn ends long, braid them and knot the end; then pull the knot through a stitch on the back of the flower and put the flower over the neck of a wine bottle. Tada! Cute, fun, and unique!
What have you been doing with your snow time?

---
---