Mon., Oct. 22, 2012
Bat Mobile?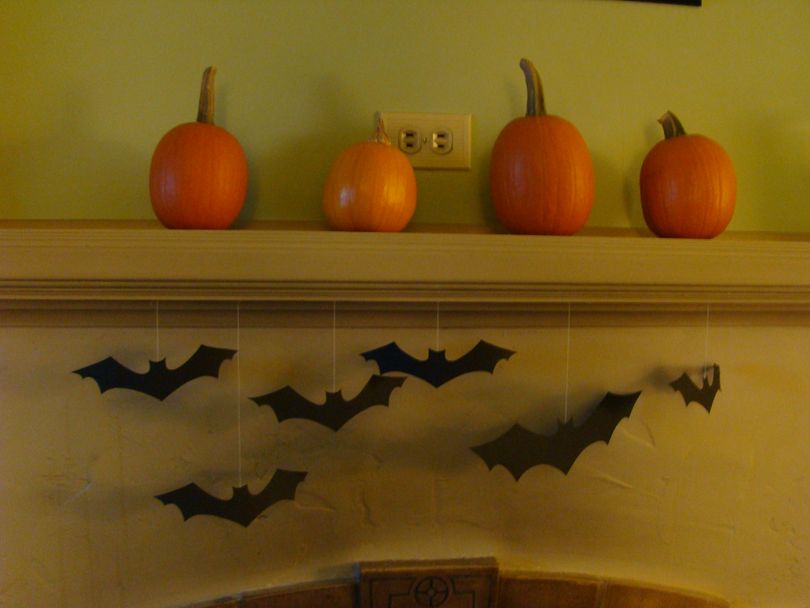 I couldn't resist the title for this one, though I did not use the bat signal as a template for this project. Bats are not my favorite Halloween symbol, and I generally go for cheerful décor rather than scary, but I really like these guys, especially with simple pumpkins lining the mantel (sugar pumpkins from our garden that will be roasted and pureed for pie in the next few weeks—yum).
To make your own paper bats, you'll need (large-ish) scraps of black cardstock in varying textures, scissors, a pencil and a template. I did a simple search online for "bat silhouette" and chose one—there are thousands available that you can print and trace onto the back of your cardstock. You can even mix it up and use different silhouettes for your décor; I liked the simplicity of using the same silhouette in two sizes.
Once you've traced the bats, cut them out of your scraps and hang. I used white thread to hang mine, but only because I couldn't find my clear monofilament. I would have used monofilament to keep the thread hidden. I also used simple tape to hang them as they are light and won't need a strong fastener.
I recommend hanging each at different lengths for added interest (and so they look like they're flying!).
Happy Halloween!




---
---