Fri., Aug. 17, 2018
6 reasons why Bellingham area is worth exploring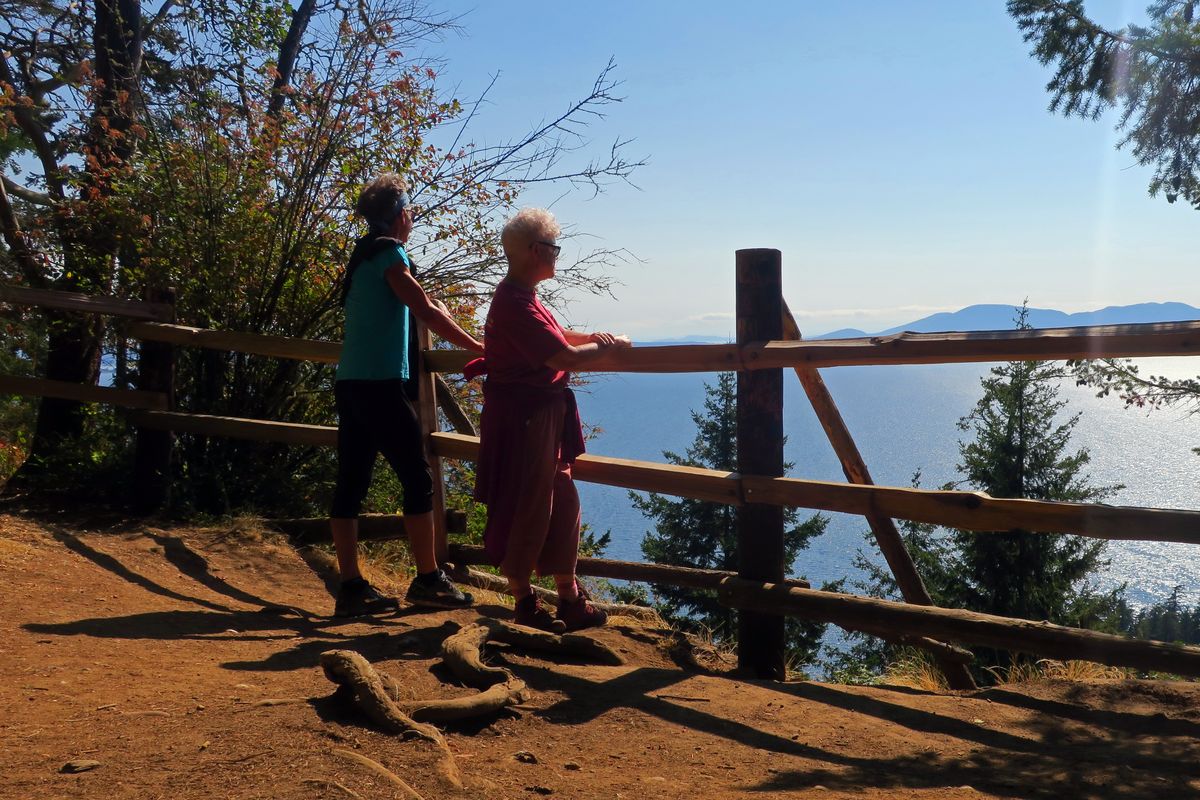 The trails at Larrabee State Park have great views of the bay. (John Nelson)
BELLINGHAM, Wash. -- The campground was fantastic. So was the luxury hotel.
Sometimes a city like Bellingham, one of Washington's very best locations for outdoors recreation, is best explored two ways: from roughing it on the low end to getting pampered on the high end.
Larrabee State Park just south Bellingham on scenic Chuckanut Drive, offers excellent camping and hiking opportunities. And the Chrysalis Inn and Spa offers view-rich, comfortable bayside accommodations within steps of dining and drinking in the historic Fairhaven neighborhood of Bellingham.
Here are six things we loved about our visit to the Bellingham area.
1. Chuckanut hiking
The Chuckanut Mountains have some of most easily accessible trails in the state. The Oyster Dome Trail is a classic, and at 5 miles round-trip and 1,050 feet of vertical, you to feel like you've accomplished something. Bonus: It starts and ends with great views. Other great hikes in the Larrabee area include the park's beach hiking along 1.5 miles of shoreline and the two-mile climb to a viewpoint on the Fragrance Lake Trail.
2. Larrabee camping
Larrabee is one of the best state parks in Washington. Only 10 minutes south of Fairhaven, it offers surprisingly remote and comfortable camping right on Chuckanut Bay. One thing to remember: a busy train track rumbles nearby, so you will hear rail traffic from time to time. Think of it as a reasonable price to pay for such an awesome camping spot.
3. Fairhaven's history
History is everywhere in Fairhaven. Dozens of historic buildings are scattered through the neighborhood, housing bustling retail shops and restaurants. Walking west along Harris Avenue toward the Bellingham Cruise Terminal, the starting point for the Alaska Marine Highway, takes you back in time as you walk among the turn-of-the-century architecture. A few ghosts are said to hang out in these buildings: the most famous is "The Lady in Green" who haunts Sycamore Square at 12th and Harris.
4. Eating and drinking
We went to Dirty Dan's, named for Dirty Dan Harris, the colorful founder of Fairhaven who first arrived in the area in the 1850s. Nearly 40 years ago, we went to Dirty Dan's on our first date as students at Western Washington University and we returned for their killer happy hour that includes $5 glass pours of wine and terrific steak bites. A few other gems we've enjoyed include The Black Cat, upstairs in Sycamore Square, Tony's Coffee, a bustling caffeine-infused hangout, and Stones Throw, a popular brewery that's literally a stone's throw from the Interurban Trail in Fairhaven.
5. Hiking and riding Fairhaven
Speaking of trails, Fairhaven is a nice place to take a walk. Besides the Interurban Trail, the South Bay Trail travels all the way into downtown Bellingham along the waterfront for 2.5 miles. One of the highlights is Taylor Dock, next to the Chrysalis Inn, a restored trestle with fantastic views of the bay. The South Bay Trail is also a wonderful bike ride in this cycle-friendly city.
6. Alaska connection
During our visit, we watched the Alaska Ferry dock in Fairhaven, knowing that in a month's time we would be on board the same vessel returning from our adventure to the north. The days the ferry arrives and departs are bustling reminders of Alaska's connection with Washington state, centered in this attractive city by the bay.
Today's Going Mobile question: Besides Bellingham, what are some other Washington cities that offer great outdoors opportunities along with history and creature comforts?
Want more? Check out our Instagram photos at instagram.com/ourgrandtour.
---
---