Sun., Aug. 19, 2018
Quiz: Spot these fake RV names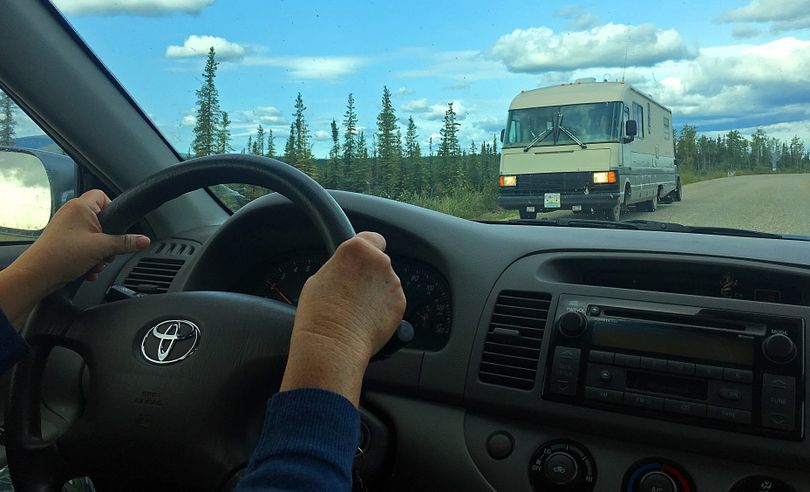 FAIRBANKS, Alaska -- When you travel on the Alaska Highway, you're going to see a lot of RVs.
Like thousands. It seems like the Alaska Highway might be one of North America's most popular destinations for RVs of all shapes, sizes -- and names. And if you pay attention, the names can be pretty comical.
Take the Diplomat, for instance. Nothing says RVing like a name that evokes statesmanship.
The other thing you notice about names is that they come in many categories.
You've got place names, such as the Montana and the Colorado, which seem designed to capture the feeling of wide-open spaces. And you have the names that conjure feelings of freedom, such as the Spree and the Flair.
Once in a while, you'll see an RV named for a magical creature, such as the Leprechaun, which we saw in the Yukon.
After traveling for five days on the Alaska Highway, we've taken note of all the names and come up with a quiz. Among the 20 RV names listed below, see if you can spot the three fake names among the 17 real names that we saw on our journey. Answers appear below.
Columbus

Cougar

Mastestic

Travel Star

Blackwater

Avalanche

Hitchhiker

Thunderbolt

Slumber Queen

Hyper Lite

Channel Surfer

Swift

Freelander

Carpe Diem

Escape

Recliner

Brave

Imagine

Ridge

Solitude
Answers
5. Blackwater, 11. Channel Surfer, 16. Recliner
---
---