Fri., Aug. 31, 2018
Alaska : Where all the RVs come to play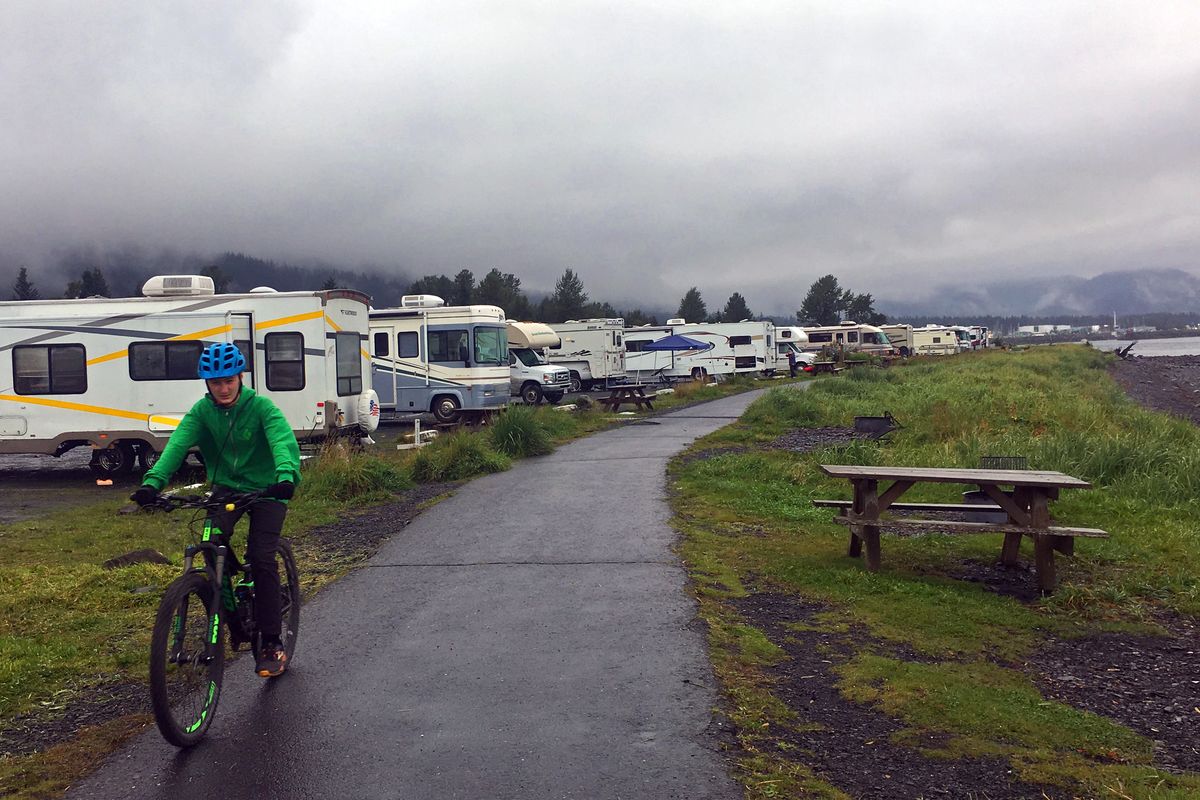 The harbor area is filled with RVs during summer in Seward, Alaska. (John Nelson)
KENAI PENINSULA, Alaska -- We've come to the North American capital of the RV lifestyle, and it feels pretty good.
In towns like Seward, where we visited the stunning Kenai Fjords National Park, RVs are the preferred way to travel and stay. It's easy to see why: the beautiful landscape is made for camping, and RVs offer comfort in the sometimes-harsh Alaska climate.
Thousands of rigs in all shapes and sizes are on the road in the Kenai. In Seward, a 100+ lineup of rigs rings Resurrection Bay in the popular Waterfront Park campgrounds during the busy salmon fishing season, and we had a lot of fun to walking along the bay to check them all out. A classic VW camper van was our neighbor in the sites featuring plug-ins.
For this leg of our Alaska adventure, we traveled in a 2000 Itasca Spirit, a comfortable 22-footer that we rented in Anchorage. It was a far cry from the week before, when we visited Denali National Park and tent-camped. While that experience was fun, it illustrated why RV camping is so much more practical in Alaska.
For starters, Alaska's fickle weather is removed from the equation when you stay in an RV. During our visit to Denali, it poured one night, with nighttime temperatures dropping into the 30s, making for challenging camping. During our stay on the Kenai, it poured again, but this time, we stayed comfortable and dry in our Class C RV, which we rented from AlaskaFamilyMotorHomes.net, a small company that offered a great deal for our short-term needs.
The other huge advantage of RV life is the kitchen. We love camp cooking, but it becomes much more challenging when you stay in a tent. For our stays in the comfort of an RV, we had creative dinners -- thanks to Chef Leslie's many skills -- of salmon with roasted potatoes and, on another night, seared scallops on top of mushroom risotto.
OK, so these aren't exactly groundbreaking realizations. But as we continue to shop for an RV, it becomes clearer to us that if you plan to take life on the road, you need a comfortable place to call home. And looking at all the many RVs in Alaska has helped us winnow down our wish list. Next up, we're back in the tent for a few days in Juneau before heading back to the Lower 48 on the Alaska Ferry.
Speaking of Denali: Alaska is filled with special places. We were thrilled to spend three days in Denali National Park, where we saw grizzly bears (15 of them!) during a bus ride to Eielson Visitor Center inside the park. We also saw moose, caribou and took in the stunning landscape.
Video highlights: You like moving pictures? We got 'em -- in our many videos posted on YouTube. You'll find them here: youtube.com/watch?v=L0Hud7Yz3ts. Tell us what you think at goingmobile@spokesman.com.
Today's Going Mobile question: What is your most useful RV cooking tip? Send your email responses to goingmobile@spokesman.com.
Want more? Check out our Instagram photos at instagram.com/ourgrandtour
---
---