Sun., July 1, 2018
Go big? Not so fast, readers say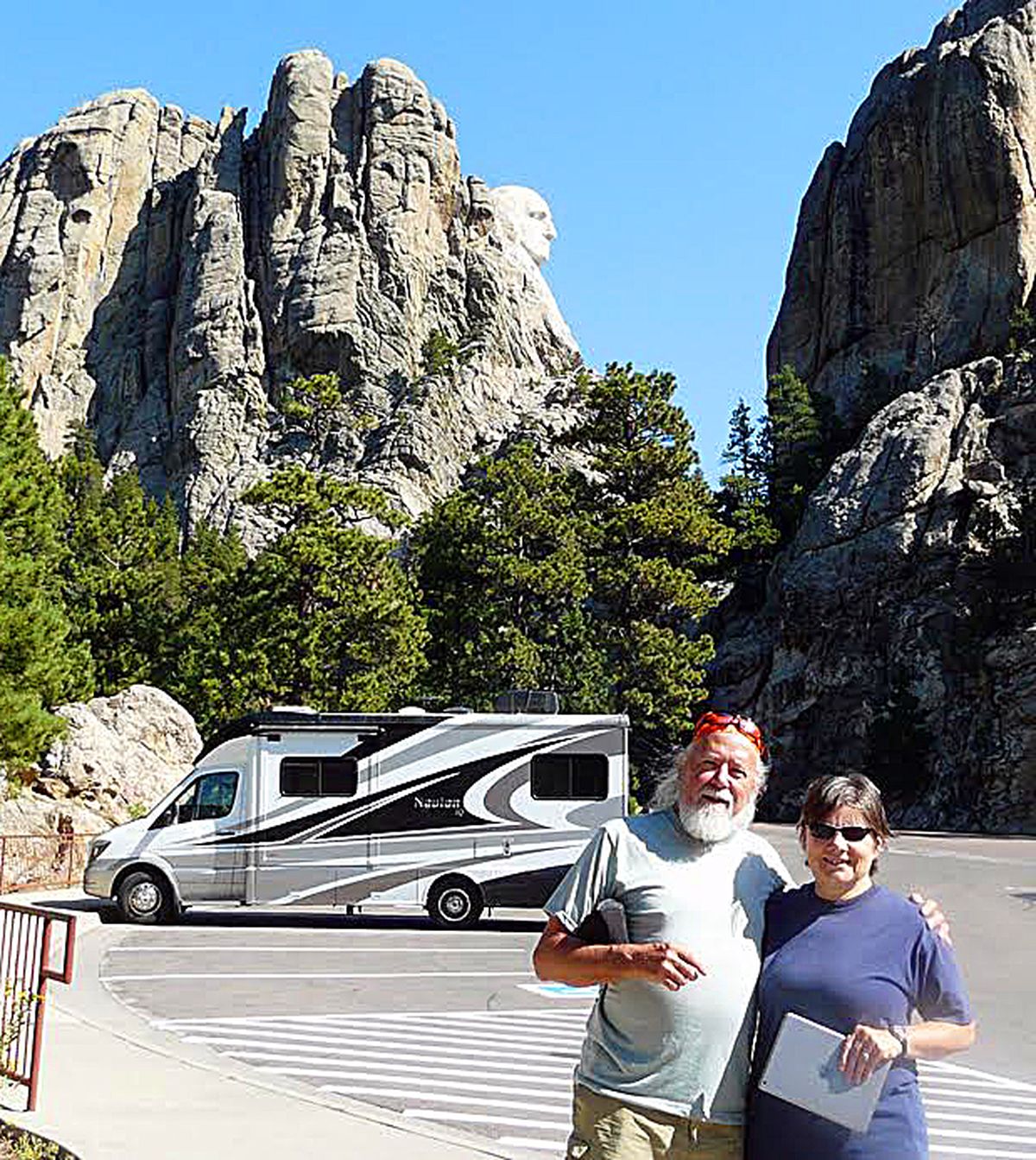 Seabury Blair Jr. and his wife Marlene, shortly after buying their 2014 Itasca IQ during a visit to Mount Rushmore National Memorial in South Dakota.
In our June 29 column in The Spokesman-Review, we asked readers for their advice on buying an RV.
Many people responded with some wise words.
Doris Butler of Liberty Lake is a confirmed Class B owner, having bought a Sprinter van from RnR RV last year.
"My husband (Rod) is crazy about how well it drives. It is diesel and we get great mileage," she said. While many Class B vans are much more expensive than larger Class C RVs, Butler believes the vans are sturdy and worth the price.
"My first suggestion is buy as much as you possibly can afford," she said.
Check out a photo of Rod and Doris Butler's Sprinter in the photo gallery at the top of this post.
Another Class B advocate is Steve George of Spokane. His advice: "If you liked the Hymer Aktiv, go find one. That Fiat rig has been around Europe for a long time. Hymer has a great rep."
George has done his own build-out on a Mercedes 170 delivery van. "Drives like a car. At altitude on steep passes it will pass anything you want," George said.
If you plan to travel on Forest Service roads and not camp in full-service RV parks, George advises people to stay with a Class B.
Seabury Blair Jr., a longtime "wet side" outdoors writer and columnist for The Kitsap Sun who now lives near Nine Mile Falls, agreed with that assessment.
"Your dilemma is one involving comfort versus roadability," he said. While large RVs are comfortable, they are limited in where they can go, Blair said.
Overall, Blair counseled us to consider how long we'll be staying in any one place as the main consideration for our vehicle.
"If you plan to stay only a couple of nights at one place before moving on, I'd suggest you might be better off in one of the Class B's you've been considering," he said. "But if you plan to stay longer than three or four days, a larger Class C will suit you much better."
Blair once had a trusty 1995 truck camper, but likes the comfort of his current RV, a 2014 Itasca IQ by Winnebago. "(It was) like switching from a flannel sleeping bag to a 700-fill Marmot mummy; like trading a 1967 MGB for a 2017 Ferrari California T," Blair said.
Check out two photos of Blair's Itasca at the top of this story.
---
---