Fri., July 6, 2018
Going BIG in BC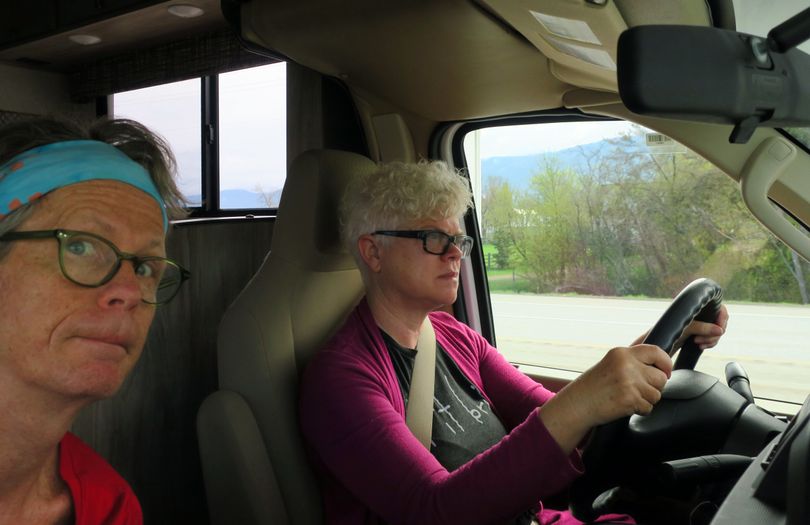 For a recent tour of British Columbia's Kootenay Rockies region, we supersized.
As we traveled from Revelstoke to Nelson, Golden, Fairmont and Radium in a Class C RV from CanaDream of Vancouver, we experienced the road as so many people choose to do … with a focus on comfort.
It was a fantastic way to explore B.C.'s hot springs circle route, which John wrote about in the July 1 Outdoors section of The Spokesman-Review.
Here are five ways we loved this rig.
1. So BIG
This was the first time we've driven a 28-footer, a Maxi Motorhome powered by a Ford F-450 engine. The living space includes all sorts of storage. The queen bed was dreamy. The sleeping space above the cab doubles as an attic, a.k.a. the place you stick stuff you don't exactly need. Instead of bumping into each other, we had room to spread out, John tapping away on his laptop while Leslie played in the galley kitchen.
2. That awesome kitchen
As a seasoned cook, Leslie is enjoying the challenge of creating meals in tiny kitchens, so this setup felt downright luxurious. She seared a thick steak to celebrate a wedding anniversary (32 years! YAY!) and cranked up the oven for cast-iron skillet pizza, an experiment that was a big hit. (Well -- except for setting off that smoke detector!) The three-burner stove, spacious fridge and multiple cupboards were deeply appreciated during our weeklong trek.
3. The WC
We've been stubbornly saying that we didn't want to deal with the whole black water issue -- emptying your sewage is not a chore for the faint-hearted -- but we had to admit it was pretty sweet to have a private bathroom. Yes, we could get used to it.
4. Living in the living room
We both love being outside, listening to the sounds of nature, getting charged up by a spectacular sunset, but it's also pretty amazing to come inside when the temperature drops. We listened to a lot of local radio, and especially loved DJ Brennan Storr's entertaining show on The Stoke in Revelstoke. We revived our long-dormant battle for cribbage dominance. With no cell phone coverage, it was nice to take advantage of this space to unplug and hang out.
5. Such great sleeps
The spacious bed gets bonus points because it's tucked in the back, so Leslie could crash early while John stayed up reading. There were a few nights when rain fell, but we stayed warm and comfortable, happy to not have to deal with a wet tent.
Go big? Not so fast
Last week's column asked for advice on whether to go big or stay small as we shop for a vehicle. Thanks for your many responses.
Doris Butler of Liberty Lake told us about her Class B Sprinter, purchased last year at RnR RV in Liberty Lake. "My husband is crazy about how well it drives. It is diesel and we get great mileage," she said. While expensive, it's worth it. "Buy as much as you possibly can afford," Butler advised.
For more great advice from readers, check out, "Go big? Not so fast, readers say" on our Spokesman-Review blog.
Today's Going Mobile Question: What has been your favorite RV trip ever? Send email responses and photos to goingmobile@spokesman.com.
Want more? Check out our Instagram photos at instagram.com/ourgrandtour
---
---