Fri., July 13, 2018
Why we enjoyed Airstream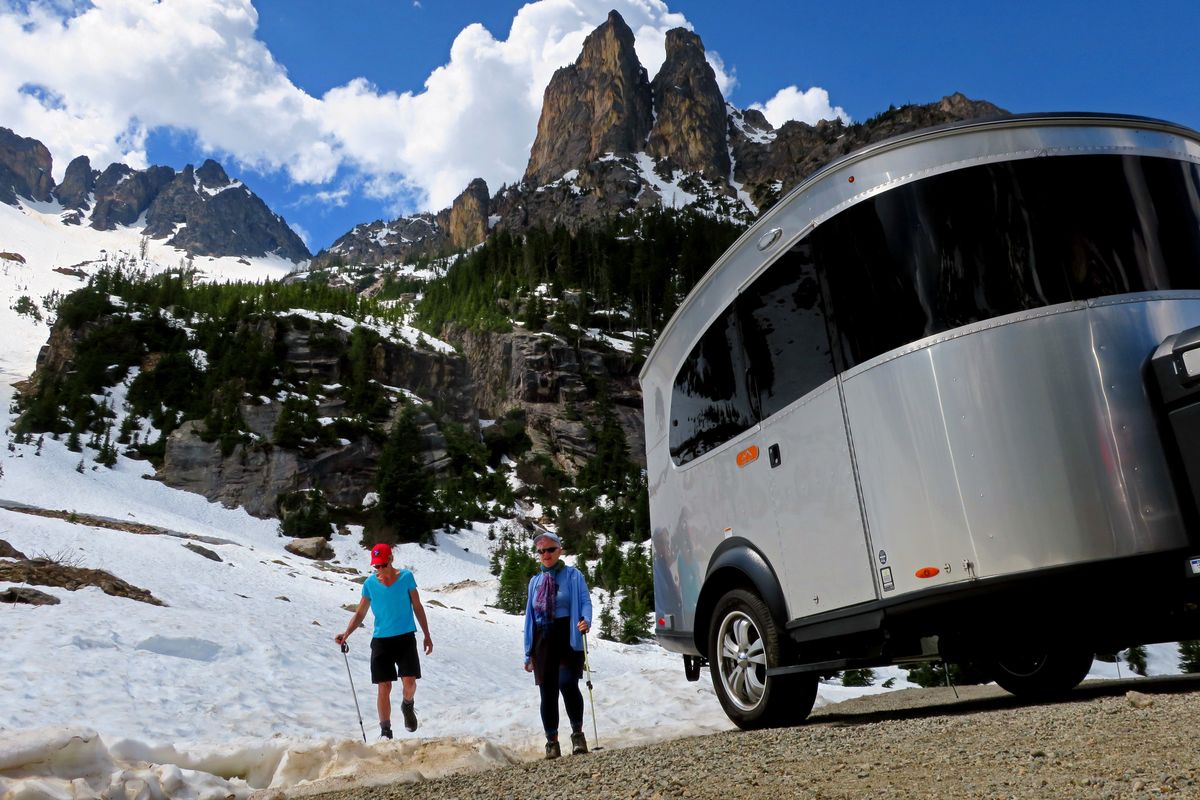 The Early Winters Spires loom above he Airstream Basecamp on Washington Pass in North Cascades National Park. (John Nelson)
In our quest to find the perfect recreational vehicle for a yearlong road trip, we tried out a sexy contender from Airstream, the most recognizable name in travel trailers.
The Airstream Basecamp was an absolute blast. Here are six reasons we loved it:
1. It's so adorable
The stylish, super-sporty design of this cozy pull-behind gets a lot of attention on the roadway. As we traveled around North Cascades National Park, it even stopped traffic in one instance on Washington Pass when a couple from Seattle pulled over to check us out. Of course, we gave them a tour. Because it's such a departure from the classic Airstream, it comes as a sweet surprise when people learn about this fairly new product. (It first debuted in 2017.)
2. It's easy to maneuver
Because of its tidy size, the Basecamp is a nimble pull-behind. We had an Infiniti QX80 loaner as our tow vehicle, and that sweet ride was plenty powerful to haul this 3,000-pounder. Backing into campsites was fairly smooth, though we did get into a jam in the parking lot at one trailhead, pulling too close to a barrier. Fortunately, a couple good citizens wandered over and helped guide us out of that pickle. Thanks guys!
3. The kitchen is dreamy
The entire front side of the rig is the kitchen, facing the front windows. Brilliant! It has lots of cupboard space for pantry items, and the fridge is large enough to stock up for a week-long trip. Two propane burners fired up easily and cooked food quickly. The sink was off to the side, so it was a little too tight in the space for the dishwasher to be cleaning up after the messy cook at the same time. There wasn't a ton of counter space, but we made the most it.
4. Comfy sleeping space
A seating area doubles as a bed, configured by moving cushions around. Not exactly the easiest bed to make — it's roughly the same size as a queen, but is rounded at the bottom of the vehicle. However, once everything's all tucked in, it's comfortable. There are open shelves above that hold a surprising amount of stuff, clothes, towels, books, etc.
5. Showerin' outdoors
If you're in a private campsite, you can snake the shower head through a small opening and — ahhhhh, that feels good to cool off outside. If you'd rather get 'er done inside, it's a toilet-in-the-shower-stall kind of situation.
6. Happy hour in the cafe
That's what we nicknamed the seating area, after chilling and sipping wine, talking about our thrilling hike that afternoon. We spotted four bears on our drive up to the Thornton Lakes trailhead. It was one of those amazing moments that seems almost unreal and reaffirms that insatiable desire to get out and enjoy nature.
Today's Going Mobile Question: Do you have a travel trailer? What are the advantages over motorhomes? Send email responses and photos to goingmobile@spokesman.com.
Want more? Check out our Instagram photos at instagram.com/ourgrandtour
---
---