Fri., June 22, 2018
Peace Van perfect for Olympic Peninsula explorations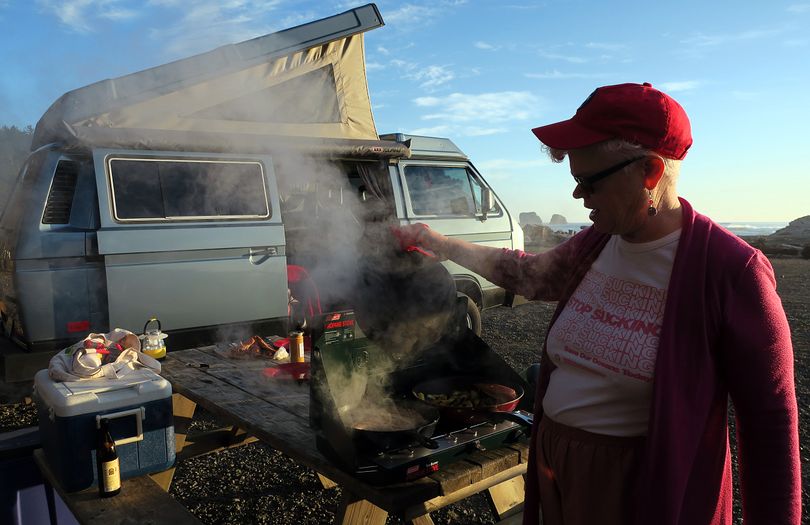 Looking for adventure? Head out on the highway -- in a Peace Van, the retro-cool VW camper rental business in Seattle.
Yes, those lines were stolen from Steppenwolf's 1968 hit "Born to be Wild." You can't help spouting hippie clichés when you're experiencing these adorable vehicles, lovingly restored by owner Harley Sitner and his team at their shop in SoDo.
Peace Vans offers a huge fleet of road-ready vintage Westfalia campers for rent for those who want to try out the van life. Our 1987 Vanagon (named "Nisqually") was very groovy baby -- and also highly quirky -- but always a lot of fun.
It turned out to be the perfect way to experience the Olympic Peninsula loop earlier this year.
Here are seven reasons we loved it:
1. Peace out
After an excellent tutorial at Peace Van HQ, we hit the road and were soon getting flashed the peace sign from other drivers. It turns out Westfalias have a cultish following.

2. Shockingly comfy
Popping the top was easy and opens up the inside. That top bunk is its own world and brings a well-ventilated outdoorsy feeling to the vehicle.
3. Well thought-out
The Peace Vans team thinks of everything, and their plastic bin system has all the kitchen essentials, including condiments, spices and a French press coffee set-up.
4. Two burners are plenty
The two-burner cooktop inside worked like a champ. Peace Vans also offers a powerful Coleman stove for outdoor cooking, which was great when the weather cooperated along the beautiful Washington coast.
5. No more wet tent
For those who are used to tent camping (like us), it feels positively decadent to have a vehicle to live in during a rainstorm. Maybe you've heard -- the Olympic Peninsula is a wet place -- but thanks to our vintage Westy, we stayed cozy.
6. It started some great conversations
We enjoyed talking with fellow Peace Van-ers. At camping spots along the coast, we ran into others who were touring in the retro vehicles, and drew attention from people who were simply interested in these very cool rides.
7. The outdoors is your living room
On a warm, sunny day in La Push, we had a magical sunset dinner on the beach using the Peace Van-provided camp table. Westies aren't your ultra-comfy RVs -- but that's a good thing. They deliver you into the region's most glorious places to live in the beauty that surrounds us. To that we say, "Right on!"
RV answers: Our first column last week asked the question, "How did you decide on an RV purchase?" We heard from Gerry Snow of Spokane, who bought a 1977 GMC Motorhome about seven years ago. Like the Westfalia, the GMCs have a "cult following," Snow said. "I always thought the front-wheel drive, air suspension GMC motor homes were very advanced for their time and very cool," he said. Read more and see a picture of Snow's RV at spokesman.com/blogs/going-mobile
Today's Going Mobile question: What is your favorite quick RV trip in the Inland Northwest?

Want more? Read our Spokesman-Review blog and check out our photos on Instagram at instagram.com/ourgrandtour
---
---