Fri., June 29, 2018
RV shopping requires making lots of choices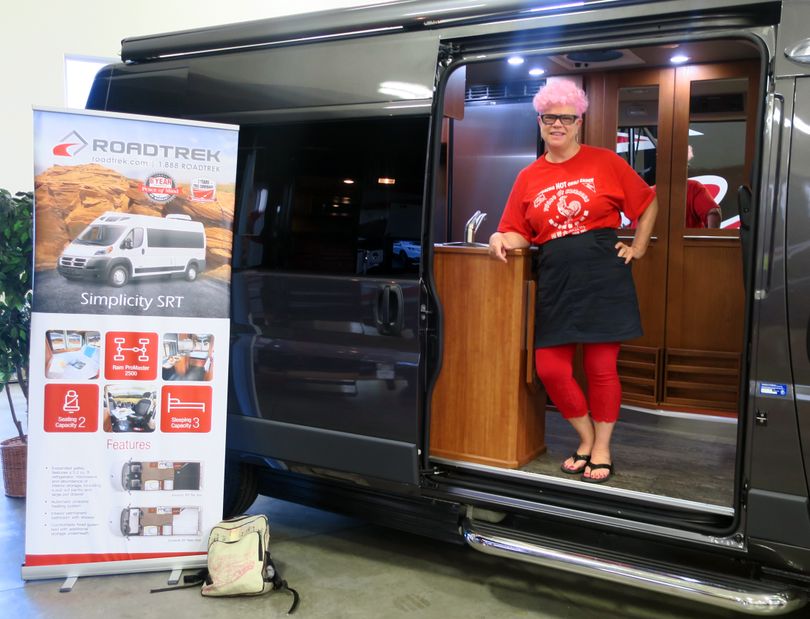 You'd think picking out a new RV would be pretty straightforward. You shop a little, narrow things down and then start negotiating.
But after a couple of days on the RV lots in Spokane Valley and Post Falls, we're more baffled than ever.
After all, this vehicle will be our home for awhile as we travel around North America for the next year. When you imagine yourself living in a vehicle, things are bound to get complicated.
We came into our search thinking we wanted a Class B van, built on Ford Transit or Dodge ProMaster chassis. Several companies offer some very nice build-outs using these two base models, and in our research we came upon one we liked pretty well: The Hymer Aktiv, built by a Canadian company.
We encountered our first problem right away. We could find only two Hymers Aktivs in the Spokane area.
At Blue Dog RV in Post Falls, we looked at these two 2018 models. They were very nice with a layout we liked. The price tag was a bit daunting, however: Well north of $100,000.
We strolled the lot at RnR RV Center in Liberty Lake to look at a Roadtrek Simplicity van and, while we liked it, it was even more expensive than the Hymer.
Our sales consultant Vince Lemus asked us to consider something a little bigger. A Forest River Forester, which he described as a class B+. We scoffed, said we wanted to stay small, and then looked at the price tag: $66,000! Considerably cheaper, and with more room.
How was this possible? How can a bigger vehicle cost less?
We drove the Forester and it felt fairly nimble. We marveled at how much more comfortable it was than the tight confines of van layouts. We could easily see this RV working.
Our confusion started to settle in.
The next day, we looked for some more vans at Camping World in the Spokane Valley. Again, our sales consultant Scott Hauff asked us to consider something bigger: a Thor Freedom Elite.
This Class C vehicle looked positively huge -- and comfortable. Again, it was much cheaper than the vans we had seen, and the extra space would make life on the road a lot easier.
Not only that, but Hauff told us the Class Cs can get decent mileage on the road, and they last longer than a van.
"You can have a little motor that's working hard or a big motor that's not," he said. Our test drive was great -- this vehicle moved around the valley with ease.
We liked it -- a lot. And we liked the price: $56,000.
So what to do? While our hearts liked the cool factor of a tricked-out van, our heads were telling us to go big.
Today's Going Mobile question: What's your advice? Should we try to stay small, or get a larger RV?
Want more? Read our Spokesman-Review blog and check out our photos on Instagram at instagram.com/ourgrandtour
---
---