Fri., Nov. 16, 2018
RV cooking requires, inspires creativity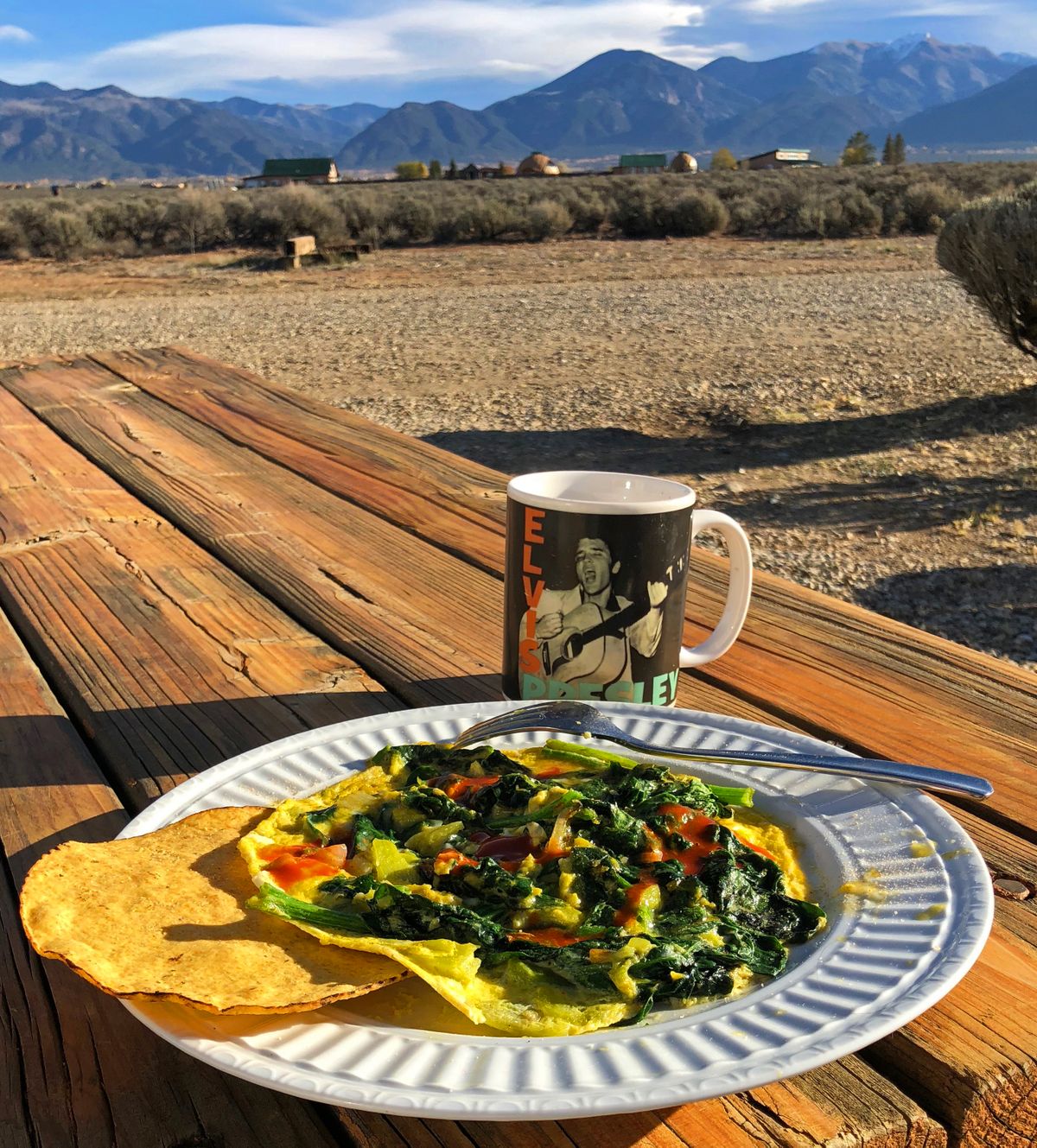 Eggs served over sauteed spinach on crispy tortillas make for a memorable breakfast in Taos, N.M. (Leslie Kelly)
The smoke alarm shrieked as a black plume formed over my stovetop pizza experiment. John flung open the door and started fanning. Disaster averted, the margherita pie "baked" in my trusty Lodge cast iron skillet was still pretty tasty.
That dramatic flash in the pan dates back to my first tries at cooking in an RV, way back last spring when we rented a 28-foot Class C and toured the hot springs in British Columbia. I've learned a whole lot since then.
The limited space has forced me to be more organized, and -- gasp! -- clean up as I prep. Here are five things cooking in an RV has taught me:
Frozen fish is gold. Being so far from the coast, fresh seafood is tough to find, so I've been hitting up the freezer case, always looking for wild salmon, cod and scallops. Defrosted briefly in a sink of cold water, I season salmon filets in a spicy salt and sear them flesh side down before turning, covering and removing from the heat so they don't overcook. It's perfect, perched on rice and chopped cabbage, red Thai curry sauce on the bottom of the bowl..
Seek out regional specialties. I especially look for seasonings and condiments, which pack a lot of flavor and don't take up a ton of room. A couple of my fave discoveries so far have been the creamy green chili dip in Raton, N.M., roasted and dried Hatch green chilis from Santa Fe, and some Texas barbecue sauce I picked up in Page, Ariz.
One-pan meals are the BEST. I tend to be a messy cook, so keeping meal-making tight is pretty revolutionary. Ravioli simmered in chicken broth and served over fresh greens like arugula, pesto drizzled on top, has become a go-to meal. I was really excited about the results of a colcannon hash scramble -- leftover baby potatoes sauteed with cabbage, onions and bacon bits, eggs added at the end, cooked soft and custard-y. And farmstand apples from Utah became a homey Brown Betty with very little effort. (Check the blog for that yummy recipe.)
Leftovers make a fantastic next-day breakfast or lunch. Last night's supper is easily transformed into a bomb breakfast burrito. This might sound like a stretch, but I've even tucked spaghetti in a flour tortilla, grilled it to give it some extra body and tucked it into my backpack for a stunning mid-morning picnic on the rim of the Grand Canyon.
Don't overload your pantry. We learned this can lead to a big mess on Day One, as a bottle of olive oil came flying out of the too-full cupboard before we even pulled out of the driveway. However, I always try to keep some beans, tuna, prepared soup and pasta on hand. In a pinch, those staples add up to a satisfying meal.
What are your tips? We'd love to hear how you've perfected cooking in an RV. Please send suggestions to goingmobile@spokesman.com.
Going Mobile answers: Thanks to Howard Braham of Otis Orchard for responding to our request for RV resort raves. Here's his response:
"This is a no-brainer. We've traveled throughout the west in our diesel pusher for 10 years, and find the Spokane RV Resort in Deer Park to be the most comfortable (and quiet) park we've visited." Thanks for the tip, Howard!
This week's Going Mobile Question: What's your favorite spot in Las Vegas? Send your responses to goingmobile@spokesman.com.
---
---