Thu., Jan. 3, 2019
RV Recipe: Chili Relleno Egg Rolls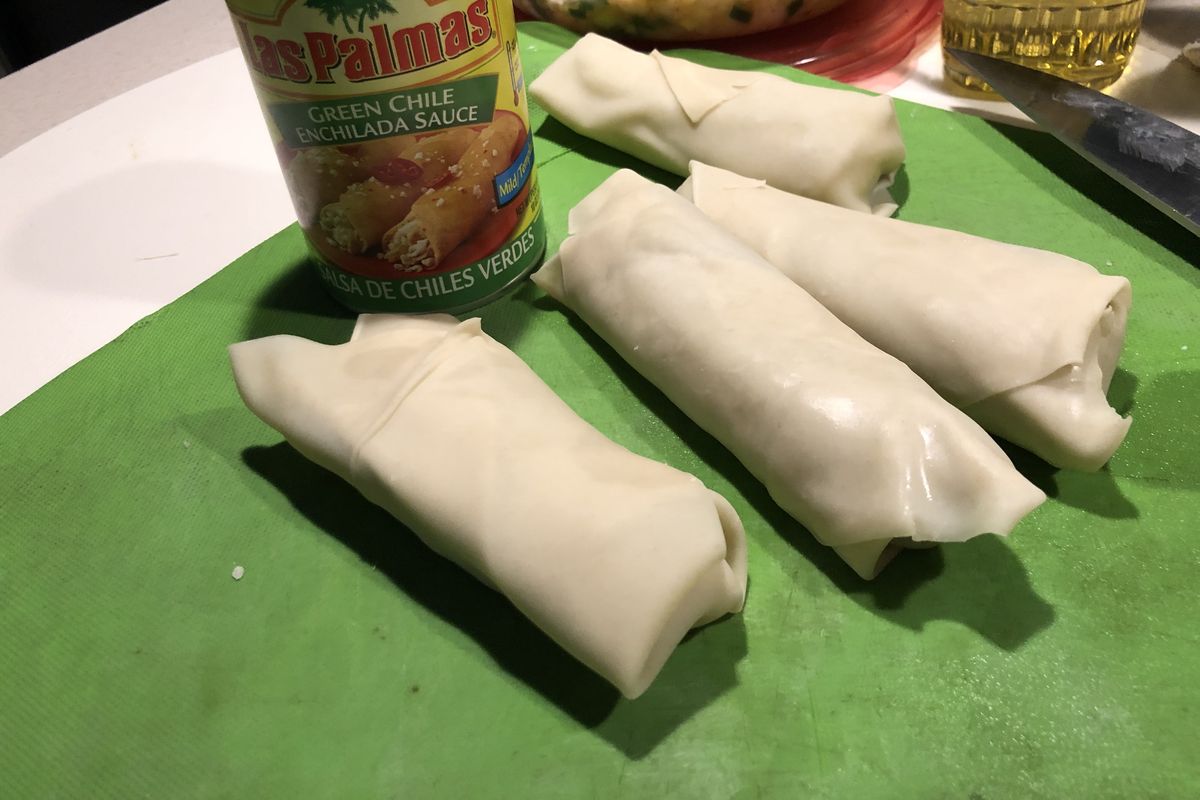 This dish has just three ingredients, and is easy to make... as long as you're cool with deep-frying in a tiny kitchen. (Leslie Kelly)
I'm always on the search for a good chili relleno, frequently ordering them at restaurants, and almost always being disappointed. The cheese-stuffed pepper dish originated in Puebla, a Spanish Colonial city southeast of Mexico City, but some fancy versions have a French accent. The best are a little like a delicate omelette.
That's the version I fell in love with when I was in high school, living with family friends. My surrogate mom made the most incredible chili relleno, fried puffy and golden. The inside was just the right combination of gooey jack cheese and mild green pepper. I've tried many times to recreate this non-traditional recipe and it's never been as good as Sally's.
In the 1980s, I moved to Grand Junction, Colo., to work for The Daily Sentinel, and found another variation that hit the mark. Dos Hombres chili relleno was made by tucking the Anaheim pepper in an egg roll wrapper, and deep frying it. It was served smothered in green chili sauce. On our travels through the Southwest last fall, we drove through GJ, and stopped for lunch at Dos Hombres. Still serving those same chili rellenos, still as good as I remembered. So, I was inspired to give that unconventional approach a shot.
It might sound nuts to try deep-frying in a teeny kitchen, a confined space that seems to invite the squeals of the smoke alarm. Yes, even when the fan is on and the window cracked. John stood by with a fan, just in case, and I dropped the two chili rellenos into the oil bubbling in a small saucepan. Yes, of course, the alarm sounded. But we continue that dance of cooking and fanning, and soon sat down to a pretty awesome dinner. Give it a try! Let us know what you think.
Chili Relleno Egg Rolls
4 whole canned Anaheim or Hatch chili peppers
4 eggroll wrappers
4 large matchstick shaped slices of pepperjack cheese
Stuff the cheese inside the peppers. Place stuffed pepper in the center of the egg roll wrapper and fold, moistening the edges with a little water on your finger. Heat the oil to 350 degrees, or until shimmering hot. Carefully drop into the hot oil and fry until golden brown, about 3-4 minutes. Serve with warmed enchilada sauce.
---
---