Fri., Jan. 11, 2019
Quartzite is a colorful desert community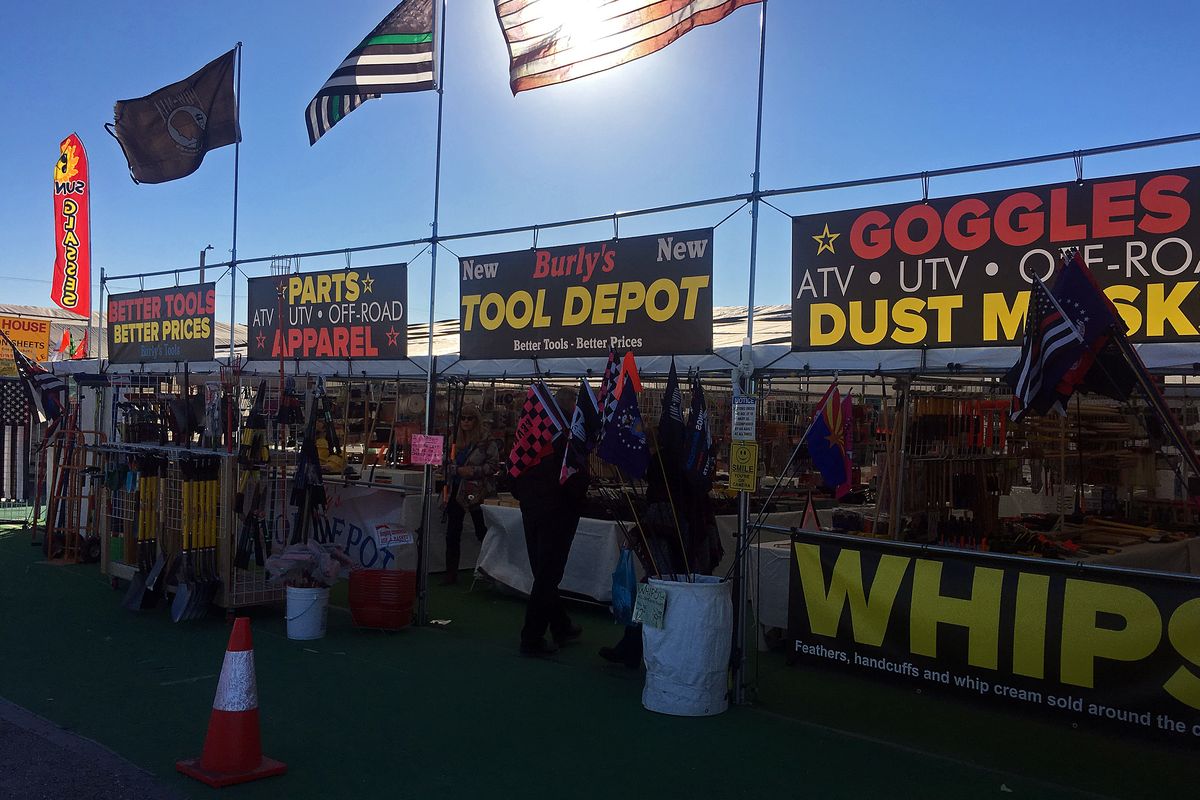 Swap meets selling all manner of RV goods are scattered around the town of Quartzsite, Ariz. (John Nelson)
Hello, Quartzsite. At long last, we make your acquaintance. We've heard a lot about you.
Here is what we observe as we take stock in your dusty Arizona desert environs:
Thousands upon thousands of RVs are scattered as far as the eye can see around this city of 3,700 permanent residents, boondocking on public land. Thousands more are parked inside the city in slightly more civilized RV parks.
Swap meets are everywhere, complete with a few booths selling Trump "Keep America Great" merchandise next door to displays for RV mats, kitchenware and solar panels.
Then there's the vast selection of rocks and gemstones. All around Quartzsite, they are available for purchase, plucked from the nearby mountains by desert rats who live off the grid or sourced from far-away places like Afghanistan. No wonder the town calls itself the center of the rock universe.
Quartzsite is awash in RV support services, vying for your travel cash. You'll find vast numbers of people who want to fix your chipped windshield or broken awning. And if your black water holding tank has run amok, Quartzsite's "RV Proctologist" stands ready to dive in and fix it.
It's mind-blowing -- and certainly not everybody's idea of paradise. But it does appear to be the RV center of the universe.
When we first started our RV travel adventure, we met a woman in Oregon who was living permanently in her trailer. As we talked, she mentioned Quartzsite, and our puzzled faces showed we had never heard of it.
"You'll find out," she told us. "Everybody goes to Quartzsite"
Over the months, we heard stories from other travelers, not all of them positive.
One Spokane resident said in an email message to us, "I love traveling everywhere in the West -- except Quartzsite."
So why do people come here? First and foremost, it's cheap.
Much of the camping on BLM land in the area is free, or very inexpensive. And full hook-up RV parks here are much less expensive than other locations in the Southwest -- as much as 50 percent less, judging by what we paid at The Scenic Road RV Park, where we stayed during our visit.
Beyond the frugality, Quartzsite has a sense of community. When you have so many people dedicated to the RV lifestyle in one place, it can't help but attract like-minded individuals.
By far, the biggest shared interest is in rocks and gems. Several gem shows take place annually, attracting collectors from around the world, and if you're willing to poke around at the swap meets and warehouses, you'll find some real bargains..
A close second is the off-road vehicle crowd, driving around the vast desert in Jeeps, dune buggies and dirt bikes to their heart's content, kicking up dust clouds visible from every corner of town.
Inside the RV parks, music is a regular activity, with weekly jam sessions at many locations. A few venues around town offer periodic performances.
So what's our verdict? Like our Spokane reader, we couldn't wait to get away.
For us, RVing is about going to beautiful places. While Quartzsite isn't ugly, the occasional Confederate battle flag you see flying around town certainly is, telling us this isn't a place we feel comfortable.
This week's Going Mobile question: It's RV show season. What's your advice for first-timers going to these epic shopping events?
---
---