Fri., Jan. 25, 2019
Millennials big part of recent RV trend data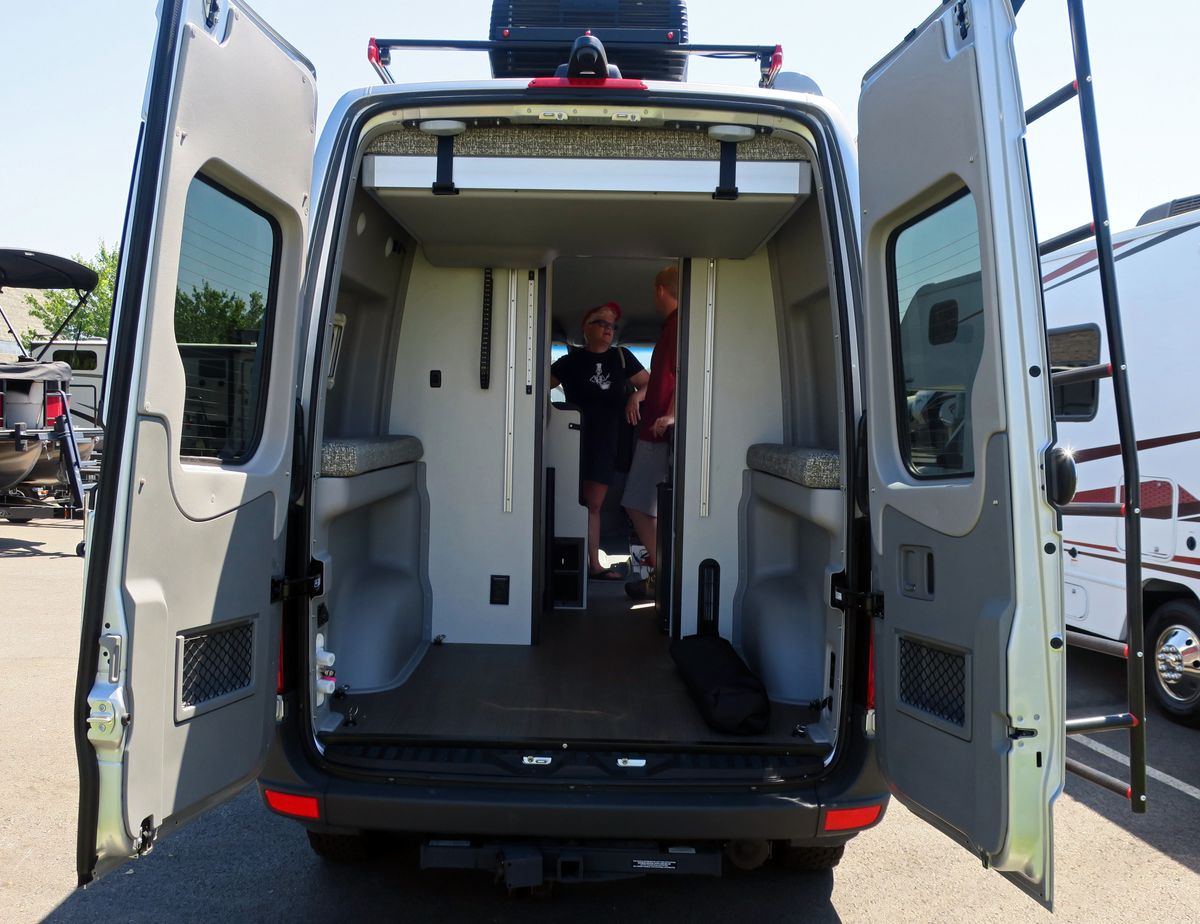 The Winnebago Revel is a high-clearance four-wheel-drive built on a Mercedes Sprinter chassis. (John Nelson)
Oh you crazy millennials -- you've done it again.
You're now part of the hottest trend in RV sales. A whole new fleet of motor homes and trailers is being developed to attract your considerable buying power.
That's just one of many industry trends to be aware of as Spokane hosts two major events this weekend: the Inland Northwest RV Show at Interstate Fairgrounds and the National RV Show at the Convention Center. Both shows started Thursday and continue through Sunday.
The tech-savvy millennial generation loves active outdoors adventure, driving some interesting changes in the industry.
"Products are getting smaller, sleeker with more technology built in," said Kevin Broom, spokesman for the Recreational Vehicle Industry Association.
Two newer products worth checking out at the Inland Northwest RV Show are offered by Airstream of Spokane. Both are smaller, sporty trailers: The Basecamp and the Nest.
"Airstream felt there was a very good following for that type of product," said Nick Dietz, who along with his wife Karyn owns the Spokane dealership. The Basecamp is made for taking on rugged roads for outdoors adventures, while the Nest is tiny, easy-to-tow travel trailer built with Airstream's customary styling to go after the teardrop trailer market.
"The Nest is Airstream's first all-fiberglass trailer," Dietz said. It's lightweight and can be pulled by an SUV.
Small trailers also are popular at R'nR RV Center in Liberty Lake, sales manager Wayde Foster said. He pointed to the Tab trailer by NuCamp, one of R'nR's better sellers.
"They're allowing people to use smaller vehicles to go RVing," he said. "You don't need a truck (to tow them) anymore."
Class B vans are also in vogue, with the Winnebago Revel, a high-clearance four-wheel-drive built on a Mercedes Sprinter chassis, leading the charge.
"They are sold about as fast as we can get them in," Foster said. "Thank goodness we got one in for the (RV) show."
Other popular Class B vehicles are made by Roadtrek and Dynamax, he said.
Another trend for 2019 isn't likely to prompt much cheering among RV dealers. The Trump administration's tariffs on steel and aluminum are raising consumer prices this year.
"There's going to be a 6 to 10 percent increase in prices this spring because of these tariffs," Foster said.
With prices going up, "The inventory on the ground is now at a premium," Foster added.
In all RV categories, technological advances are coming. Many vehicles now have built-in wifi hot spots and solar panels to boost electricity off the grid.
"There are so many people who are using their RVs to go boondocking," Broom said.
Even if you aren't buying, it's interesting to look at all the RV eye candy at the shows, Dietz said. Airstream's polished metal styling is the RV industry's most iconic look.
"It's built like an airplane to last like an airplane," he said. "Most trailers are expected to last just 15 years. Airstream is just getting going at 20 years old."
Quartzsite: Another view
A couple of weeks ago, we wrote about Quartzsite, Ariz. While we were blown away by the scene, Quartzsite wasn't exactly our cup of tea and we couldn't wait to get away.
Here's another view from RVer Tom Mosher, who wrote:
"Quartzsite is much more than you describe .. It is, to many RVers, an incredible gathering of friends who are typically wandering around in other places much of the year."
Thanks for responding, Tom! And read more of Tom's comments about Quartzsite online at spokesman.com/blogs/going-mobile.
This week's Going Mobile question
What blew you away at the RV show? We'd love to hear your impressions. Send responses to goingmobile@spokeman.com.
---
---