Wed., July 24, 2019
RV Cooking: Making salmon three ways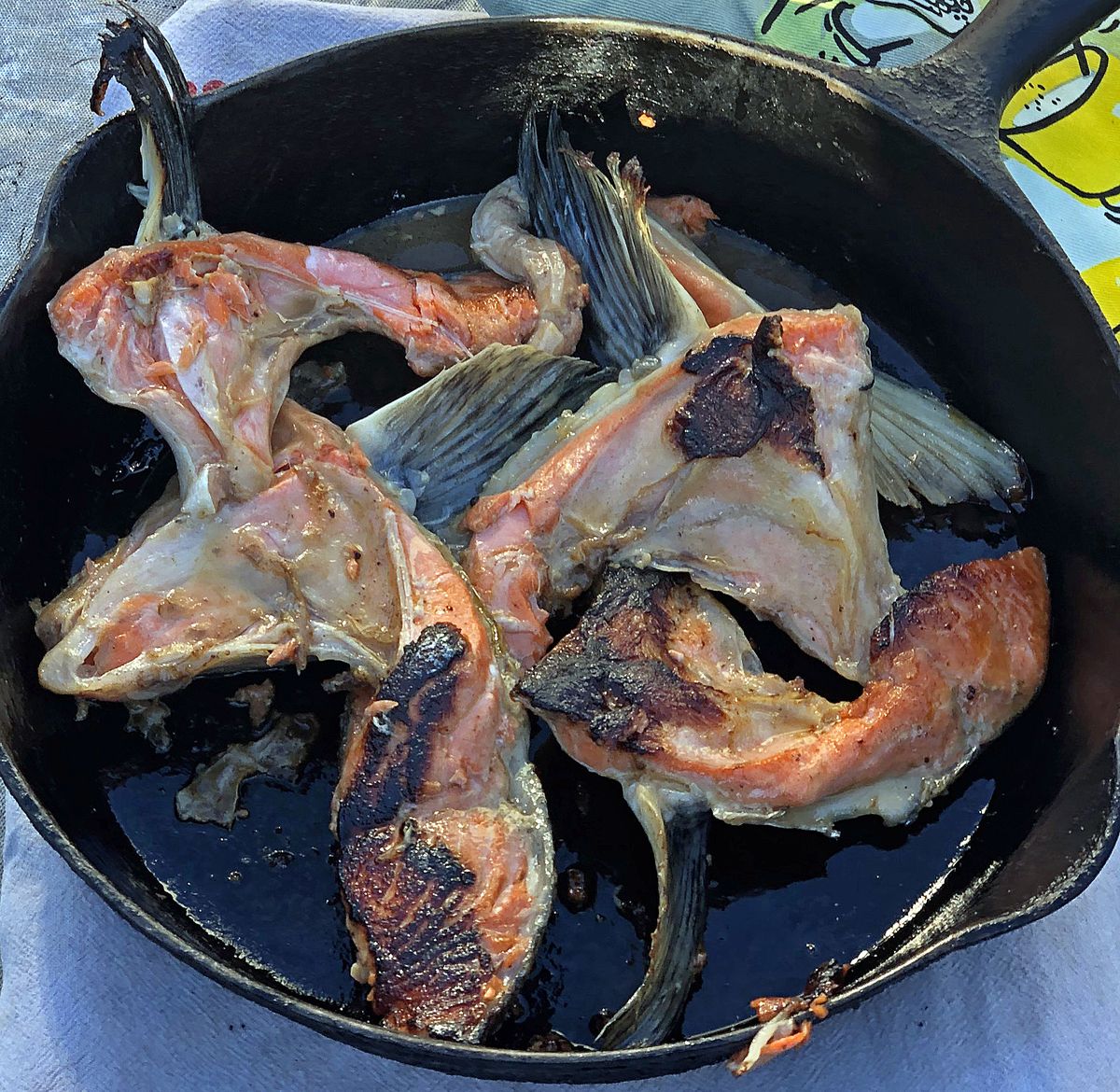 Salmon collars are a fatty, flavorful portion of the fish that is often simply thrown away. (Leslie Kelly)
There's nothing quite as exciting for a life-long seafood lover than catching that first wild salmon. Well, except for cooking and eating the incredible fish.
On a recent trip to the beautiful Sunshine Coast in British Columbia, I caught a 16-pounder with the much-appreciated assistance from Dean McLaren, captain/owner of Powell River Sportsfishing. As Dean was cleaning the beauty after we got back to the marina, I asked for him to keep the collars, the bony area near the head. They're often tossed, but the meat is ultra-rich and I had plans for how I was going to make them.
I thought a lot about how I was going to create a special salmon feast after we pulled into an RV Park in West Vancouver, where I was hoping there would be grills. No such luck. Fortunately, my trusty grill pan and cast iron skillet were good to go.
For the appetizer, I marinated the collars in a teriyaki sauce before cooking them on high heat in the cast iron for roughly five minutes. Gave them a turn and shut off the heat, letting them cook a little bit longer. Brought the pan to the picnic table and treated this tasty dish like finger food.
A salad course showed off the delicate texture of the salmon, as I poached a filet gently in hard cider, and finished it in a generous drizzle of roasted garlic aioli. So yummy!
The main course was a simply seasoned piece of fish, seared in the grill pan and served on rice, alongside green beans. You'd think we would be tired of eating salmon after that, but the next day, after we got home, I hot smoked the other half of that prized catch. I've been playing around with this technique this summer, and truly nailed it this time.
It involves getting a chimney of charcoal briquettes fired up, and after spreading them out, adding alder chips that have been soaked in water. That takes the temp down a bit and kicks up the smoke. The fish cooks slowly, taking between 30 and 45 minutes.
Oh, my, was it so good. The next morning, I took some of the leftovers to a taping of Seattle Kitchen, a popular radio show/podcast starring celebrity chefs Tom Douglas and Thierry Rautureau. They were kind enough to serve me up a few compliments, so that was pretty cool. Listen to the show this weekend on KIRO radio, or, later as a podcast.
---
---