Fri., June 21, 2019
Time for a trip to Lake Chelan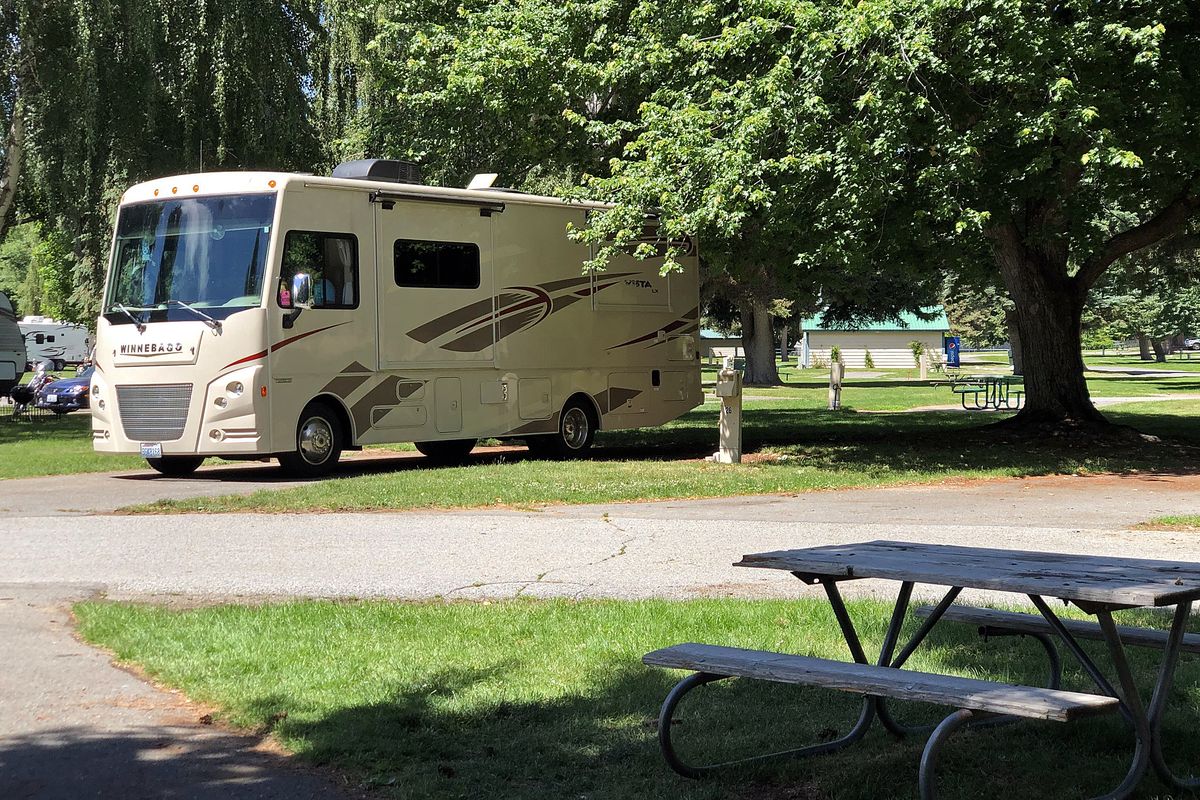 Chelan Lakeshore RV Park is an excellent city-run facility not far from the shopping district in Lake Chelan. (John Nelson)
The area around Lake Chelan just might be the best place to camp in the entire state. The only downside is you'll have loads of company in the region's many parks during the next few weeks.
We hit town recently, just before summer break, and the vibe was still shoulder-season chill. We were able to grab a shady site at the excellent Lakeshore RV Park, a short walk from the charming downtown shopping district.
Being in Chelan when the weather is warm is always going to involve listening to the steady rumble of watercraft buzzing around on this vast lake. It can be mildly annoying for us on the shore.
Until, that is, your brother picks you up in his new/old marine vessel -- The Patty-O -- and takes you to a sweet spot in the middle of the lake for a magical brunch. That fun event was a happy accident, neither of us realizing the other was in the same liquid neighborhood until he sent a photo of his location.
After an exhilarating ride on the glassy lake, Leslie's attitude about boats softened. It's not really a stretch to think of boating culture as a cousin to the road-tripping lifestyle. You've likely heard the term "live-aboards" when it comes to boats. Well, that's not so different than the alternative way of being known as RV life, the practice of making due with a lot less in smaller spaces. The ultimate goal is to make the most of being outdoors.
So it was a true pleasure to sit under the towering trees near our land yacht and enjoy the warm glow of the sun dipping below the Cascades at this special place.
Here are a few tasty spots you might want to include on your next trip to Chelan:
Bear Foods is an excellent place to stock up on staples that are sustainably grown and organic. The small, well-curated store is like a tiny version of Huckleberry's, offering a special place on its shelves for local goods like the awesome Sumatra dark roast from Two Beaches Coffee Co.
Tacos La Roca has been a popular destination for many years, the permanently parked truck serving up an extensive menu to long lines of patient patrons. It's all good, but seafood fans need to try the shrimp tacos. There are umbrella-shaded tables, but get your order to go and head to the lake for the best kind of picnic.
Lakeview Drive In flips tons of all-beef burgers, but it's the crinkle-cut fries that get our motor running. The not-so-secret key to these crispy taters wild success is the house seasoning salt. If you fall for the distinctive flavor, the longtime owners now sell shakers of Mack's Seasoning Salt for $3.50.
Local Myth Pizza is often packed, so be prepared for a wait. Once seated, the food arrives quickly, though. We loved the Caesar salad, and the Taco Wagon pie featuring housemade chorizo, as well as the local-centric beverage lineup. Cheers to the tart cherry cider from Washington Gold.
Vintage Trailer Pix
Thanks to Forrest Bone for sending some shots of his 1949 Airstream Liner, which he sold in 2004 to bankroll his current 1949 American Homecrest. You can see those photos on our Going Mobile blog.
This week's Going Mobile question
What are your strategies for dealing with holiday crowds? As we head toward the busy Fourth of July weekend, we'd love to hear your tips at goingmobile@spokesman.com and we'll share your suggestions.
---
---