Fri., Oct. 11, 2019
Harvest Hosts links RVers to wineries, breweries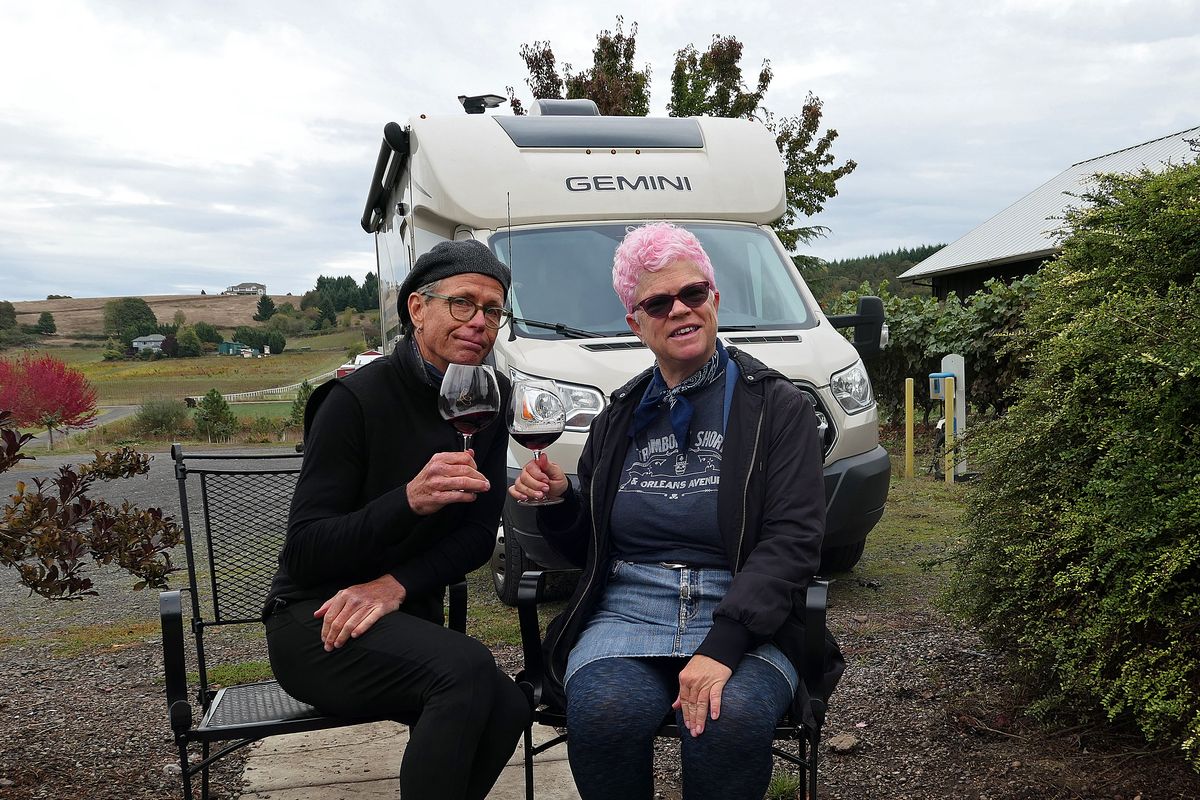 Harvest Hosts is an RV app that allows members to stay on site at wineries and breweries. (John Nelson)
CARLTON, Ore. — When we pulled into the parking lot of Laurel Ridge Winery on a recent autumn afternoon, we were downright giddy. This pretty place in the Willamette Valley wine country would be home base for the evening, thanks to Harvest Hosts.
Harvest Hosts is a membership-based app that connects RV owners to more than 850 wineries, breweries and farms across the nation where you can camp for free. Yes, free!
The brilliant idea behind this enterprise is that guests show their hosts some support by making a purchase while staying there. We can definitely get behind this kind of trade, especially when it comes to an awesome producer like Laurel Ridge.
This expansive 200-plus acre property — a mix of grapevines and hazelnut trees — was first established in the 1970s by founder David Teppola. Though he passed away in 2006, his family carries on his legacy. His wife, Susan, talked about the winery's pioneering spirit when we visited.
The tradition of taking chances — "people thought David was crazy when he wanted to plant grapes here," she explained — led to the Laurel Ridge Winery team becoming an early adopter of the Harvest Hosts philosophy. During busy summer months, they've got RVers in the parking spots nearly every night.
The prime site is described as "off road," down a bumpy dirt path, past the stunning rose garden that doubles as a wedding venue, take a right at the fledgling hazelnut trees. You'll end up near a stand of statuesque trees, enjoying a sweeping view of the property. Feel free to take a walk around.
In the fall and winter, that site can get muddy, so the winery offers RV parking near the tasting room. All was peaceful, if not exactly quiet. A chorus of birdsong filled the air, as we pulled the cork from a bottle of the excellent 2017 Chardonnay we purchased after tasting through the current releases.
Chanterelle mushrooms bubbled in our tiny kitchen, destined for a pasta preparation we'd eat for dinner. Could there be a more perfect way to spend a fall evening?
The details: Harvest Hosts annual membership fee is $89. Guests are asked to phone the participating properties in advance of their arrival and make a purchase once they've settled in. Typically, sites involve dry camping, though some do offer hookups.
Photos and more photos
We're posting weekly slideshows from our travels on our blog at spokesman.com. Last week we posted from Cape Disappointment in Washington, and this week you'll find photos from Bend, Ore. Go to spokesman.com/blogs/going-mobile. And you can always keep up with us on Instagram at instagram.com/ourgrandtour.
Packing tips from readers
Our last column was all about packing up for the long haul, and we heard from readers with a few more packing ideas.
Karen Sprague isn't a fan of our ladder-mounted bike rack. Her take: "The manufacturer of our RV was adamant that ladders are not meant for carrying bikes or anything else... Better to purchase a hitch-mount rack for the bikes."
And Tom Mosher has some ideas for saving space: "Every couple years, totally empty your compartments … You don't realize how much is in there that you didn't use for the last year or two and arguably won't need on your next trip."
Tom also likes that we're hanging more stuff in the closets, and says that you can expand the space by hanging more hangers off other hangers:
"We used these to extend 2, 3, 4 hangers with shirts all hung from just one hanger space on the bar," Tom writes.
Thanks so much for the tips, Karen and Tom!
This week's Going Mobile question
Besides Harvest Hosts, what other unusual RV hangouts have you discovered in your travels? Pass them along in an email to goingmobile@spokesman.com and we'll include them in the next column.
---
---