Fri., Sept. 27, 2019
Let's hear it for our first year of RV ownership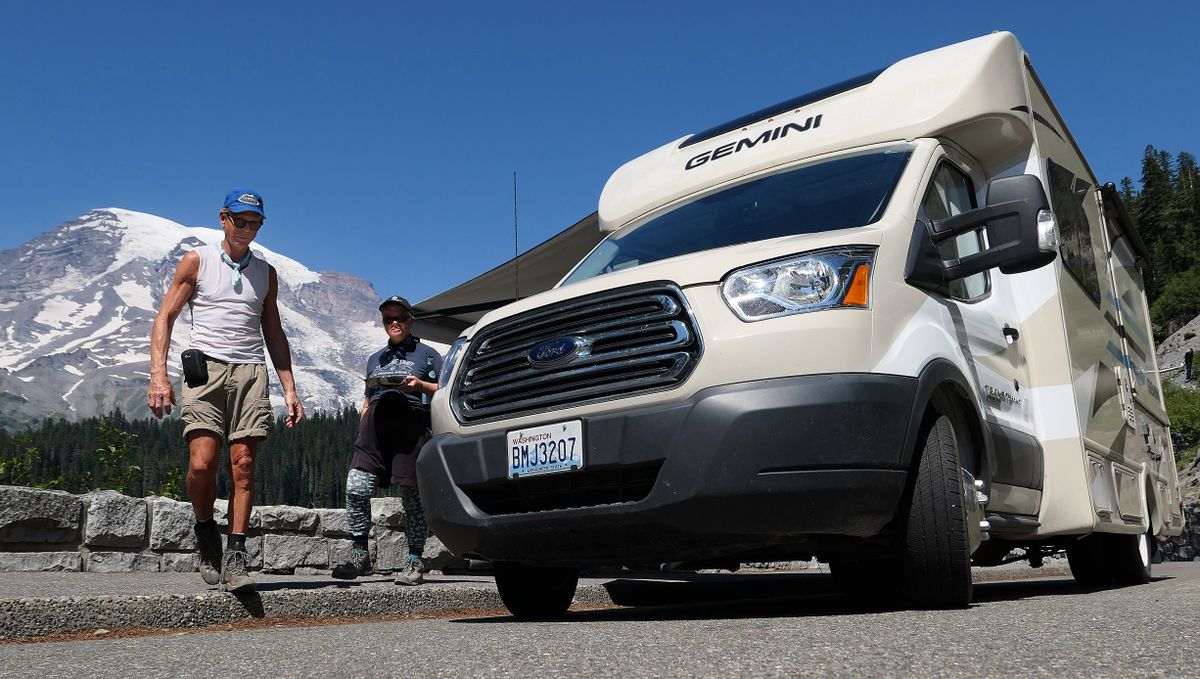 The Gemini has delivered as a smaller RV, offering entry into some of our favorite places, including Mount Rainier National Park this summer. (John Nelson)
Happy anniversary, dear Gemi!
We're celebrating our first full year of RV ownership with a love letter listing our favorite things about the 2017 Thor Gemini, our tiny home on wheels.
The obvious place to start is all the awesome locations Gemi has allowed us to visit while staying in cozy comfort. Thanks for getting us from coast-to-coast, girl!
Along the way, we routinely check out other vehicles, wondering whether we made the right choice, and the short answer is yes.
Here's what makes our Gemi such a good fit.
Separate spaces: We keep opposite hours -- John's the night owl, Leslie the early bird -- so having a living room that's separate from the bedroom has been key. Sure, it's separated by a thin curtain, but still, we're able to enjoy our own space in the evening. Typically, Leslie listens to audiobooks, and John reads or watches TV from the comfy couch.
The galley kitchen: While the cook of the house always wishes for more counter space, Leslie has embraced the challenges of the tiny kitchen. There's a new kind of freedom working in a space that doesn't require running between cupboards and cutting boards and the stove. In professional circles, that's known as the economy of movement. We also really enjoy cooking and eating outdoors, weather permitting.
Surprising amount of storage: We downsized considerably when moving into our 23-foot ride for the epic road trip, bringing along the bare minimum in clothing, shoes, accessories. But it quickly became clear that our large closet, overhead bins in the bedroom and six drawers held more than we had imagined. This year, we'll increase our wardrobe options and add a couple new items for the kitchen, including a teeny slow cooker.
Easy to clean: Gemini's pretty tight, which makes it easy to keep it tidy. We share daily sweeping duties and practice the art of putting stuff away in its proper place because you don't want a pile of clutter to go flying as you're pulling out of the RV park, do you? OK, it's happened more than once, which is why we've implemented the leave-no-mess rule.
Sounds good: We've got three sets of speakers that deliver solid sounds in the living room, the bedroom and outside. Some of our sweetest memories involve eating dinner under the stars while our favorite artists serenade us. Sinatra, B.B. King, Susan Tedeschi and Willie Nelson are in heavy rotation.
Handling: The Gemini is classified as a Class B-plus -- basically a Class C RV shrunk into a van-sized package. At 23 feet, it is much more agile than the other Class Cs we tried out.
Fuel economy: The Gemini's Ford Transit diesel platform gets reliably good mileage, often better than 18 mpg. We've heard that the engine becomes even more efficient over time and might approach 20 mpg.
Comfy bedroom: We've noticed that many smaller RVs have tiny beds. Gemi's queen-sized murphy bed is comfortable, especially since we added a foam mattress pad. We each have "night stands" and windows, adding to the open feeling.
This week's Going Mobile question
We're super excited about our new tiny slow cooker. Do you have any favorite recipes or cookbooks that work well for making one-pot meals? We'd sure love to hear suggestions at goingmobile@spokesman.com. We'll share tips and drool-worthy photos in next week's column.
---
---