Fri., Dec. 4, 2020
More RVers doing the pandemic pivot polka as conditions change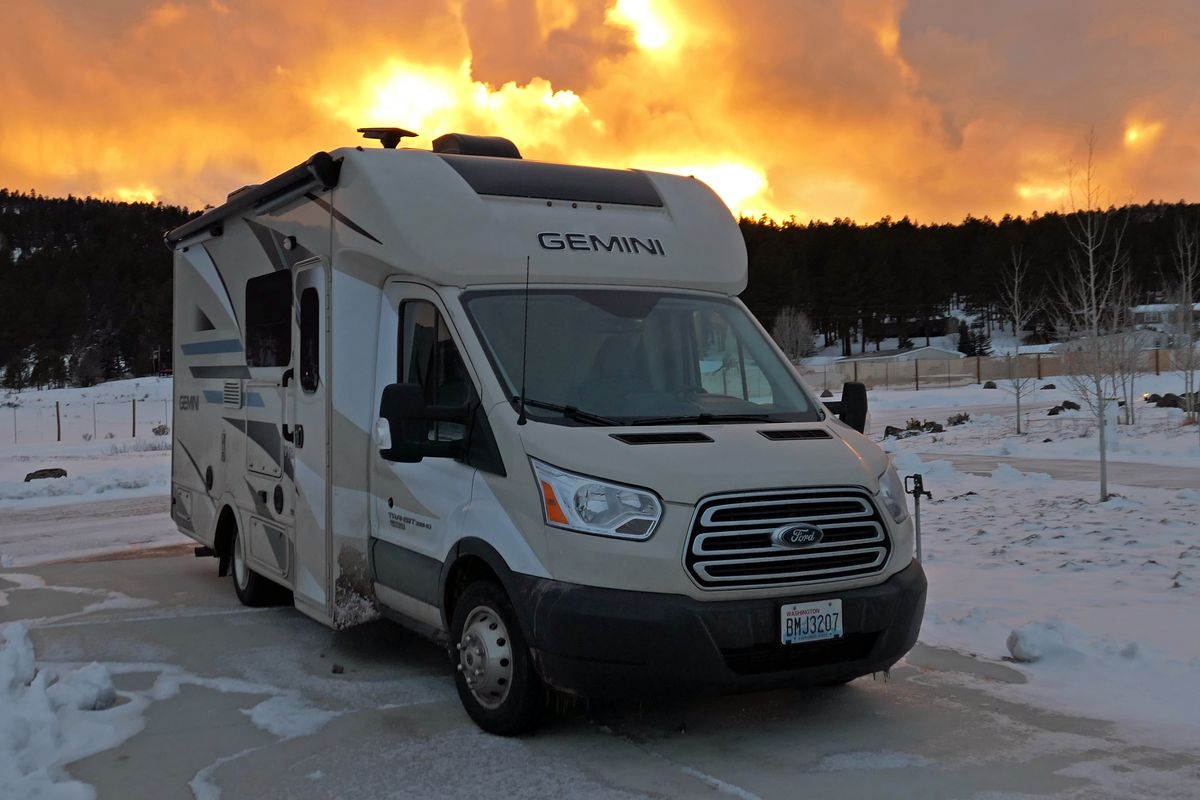 Cold and snow can play havoc with your vehicle's winter operation. (John Nelson)
Well, shoot! We were planning to spend the month of December roaming down the coast of California, ending up in Malibu for Christmas and Palm Springs for New Year's Eve. Instead we're taking a pause for the cause.
Even though we feel safe traveling in our own motorhome bubble, we decided to postpone our winter trip as the COVID-19 case numbers continue to spike. Yes, we could get to our destinations, but some of those places might be in lockdown mode by the time we arrived.
Once again, we're doing that pandemic pivot polka. The shift in our Going Mobile agenda now includes storm watching on the Washington Coast, oyster slurping on Hood Canal and the occasional overnight in the parking lot at Mt. Baker Ski Area, where John has a season pass.
That closer-to-home change in scenery also means we now need to winterize our sweet ride, which we've used the past two years to soak up winter sunshine down south. After studying a wide assortment of how-to videos on YouTube, the biggest takeaway is that water is not your friend.
As John painfully learned during a ski trip to Colorado in 2018, water easily freezes in the pipes and the only fix is getting to someplace warm.
Here are a few tips for being proactive on the winterizing front:
Run a space heater: When the temps drop, we turn on a powerful little space heater that keeps our space pretty toasty. Then, we open the door to the cabinet under the kitchen sink and the bathroom sink. It's easy, but isn't going to work if you're parked in extreme cold. Plus, you'll need to be hooked up for this strategy to work.
Insulate water lines: Because most lines run on the outside of vehicles, they're exposed to the elements. Investing in some insulation and heat tape to run the length of the lines will pay off when you don't have to deal with the prospect of true dry camping.
Skirting works wonders: If you're staying put for a while, there's nothing as effective as bundling your tiny home on wheels in a warm wrap. We found a DIY product called EZ-Snap that offers a no-drill solution that's custom fit to each vehicle.
Cozy touches: We've updated our area rugs to a thicker pile for the chill weather season and added some clear insulation on windows in the bedroom, blocking cold air. We're still looking for just the right sofa covering to make the easy-to-clean pleather couch a little more comfy when the weather turns frosty and we're hanging out inside.
Investing in a deluxe ice scraper: We splurged on an extending ice scraper with a broom attachment. That's helpful in clearing any snow off slides, which is essential before retracting. We've read advice about spraying an RV antifreeze on the slide mechanism when you're camping in below-freezing temperatures, but that's a no-no on the slide we have. Double check with the user's manual to make sure that's sound advice.
Watch and learn: As we've said before, when it comes to addressing issues, YouTube can be an amazing resource. John studied the technique for applying roof sealant on a few different videos. Most are instructive, not exactly entertaining, but we appreciate the tips and suggestions served up by folks who are living the RV dream. Top picks include All About RVs, Living A Life Fulfilled and EnjoyTheJourney.Life, all packed with tips for making the most of life on the road.
---
---