Fri., Feb. 28, 2020
Dockweiler Beach presents plenty of options for sunny California fun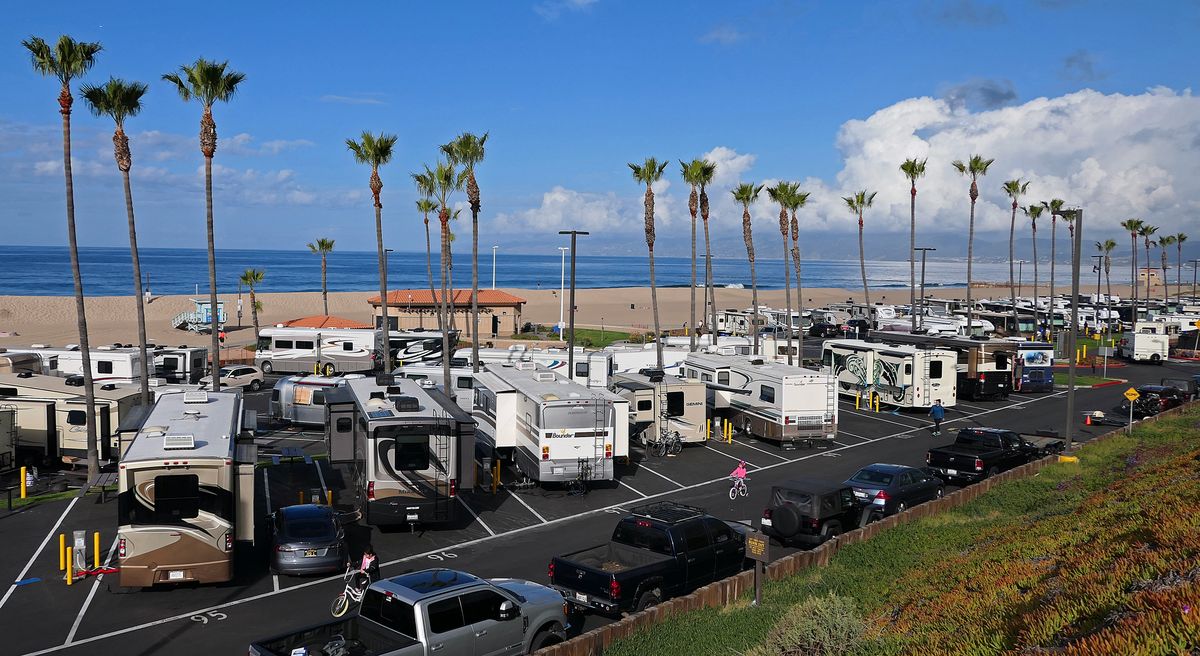 Dockweiler RV Park is located right on the beach, just 12 miles from downtown Los Angeles. (John Nelson)
Southern California's Dockweiler Beach was one of the most wonderful locations we've stayed in so far. It's also possibly the weirdest.
For starters, this RV park is just a dozen miles from downtown Los Angeles, directly under the flight path of jets departing LAX, and a few blocks down from a massive water treatment plant. Weird, right?
Yet, just steps away from our site, we had a beautiful stretch of sand that we rarely had to share with anyone except for the plump sea lion who regularly cruised the waters offshore. A few times, he swam close enough for us to get a good look at his impressive girth, so obviously he was finding lots of fish in these waters.
We checked into Dockweiler RV Park for five days and by the end of our stay, we wished we had more time. There was so much to explore around this quirky spot, located on the incredible Marvin Braude Coastal Bike Trail. The paved path stretches from Torrance Beach to the south all the way up to Will Rogers State Beach 22 miles away. It reminded us a bit of the Centennial Trail.
This well-traveled route took us to Venice Beach for some exceptional people-watching and a memorable lunch. Mmmm, crab ramen at a very cool place called MTN, followed by a salted brownie at MTN's sister restaurant/bakery, Gjusta.
We also rode 25 minutes south to charming Manhattan Beach, where we found an excellent old school butcher shop called Manhattan Meats. The Mediterranean-style marinated lamb sirloin we bought there convinced us to return for seasoned protein.
Back at the park, we enjoyed an outdoor cookout from our picnic table with a peekaboo view of the Pacific.
In January, the park closes for annual maintenance and this year, the parking lot was resurfaced and the sewer line updated. Along with bathrooms and showers, the park has a laundry room and a friendly on-site staff.
Everyone who passes through the code-protected gate is reminded to keep valuables locked up, especially bikes. Park rules include keeping music contained to your campsite, which was much appreciated considering the close proximity.
Our neighbors included a huge group from Vancouver, Wash., down for a family wedding and a trip to Disneyland in their massive Class A rig. The evening they pulled in, we heard a dramatic crash and the next day, we spotted the owner using zip ties to try and patch up a busted bumper. "The post was so low, I didn't see it," he explained.
We were impressed with his matter-of-fact attitude, not letting a mass of crumpled metal spoil his good mood about being in this special place.
On our final day, we had a visit from our LA-area family members, and we took full advantage of the warm winter temps to dive into the waves followed by another trip to Manhattan Beach. We walked out on the pier and watched surfers do their thing, making the art of riding waves look effortless.
We hugged our loved ones goodbye and rode back to camp, Leslie's backpack loaded with ingredients for a sunset happy hour on the water's edge. It was truly a perfect day for some California dreaming.
Planning ahead for Spring Break
We've been studying maps and marking up calendars, trying to figure out where to land on the dates surrounding Easter. Last year, we learned the hard way that it's important to get a spot dialed in or risk being frozen out.
We're heading to Arizona soon, and strategizing about our journey back to the Northwest. We look forward to returning to some of our favorite places, but also want to hit some new spots.
We'd love some suggestions for Big Sur on California's Central Coast. Send your advice to goingmobile@spokesman.com, and be sure to follow our adventures on Instagram at Our Grand Tour.
---
---