Fri., July 10, 2020
Appreciating the power, majesty of Mt. Rainier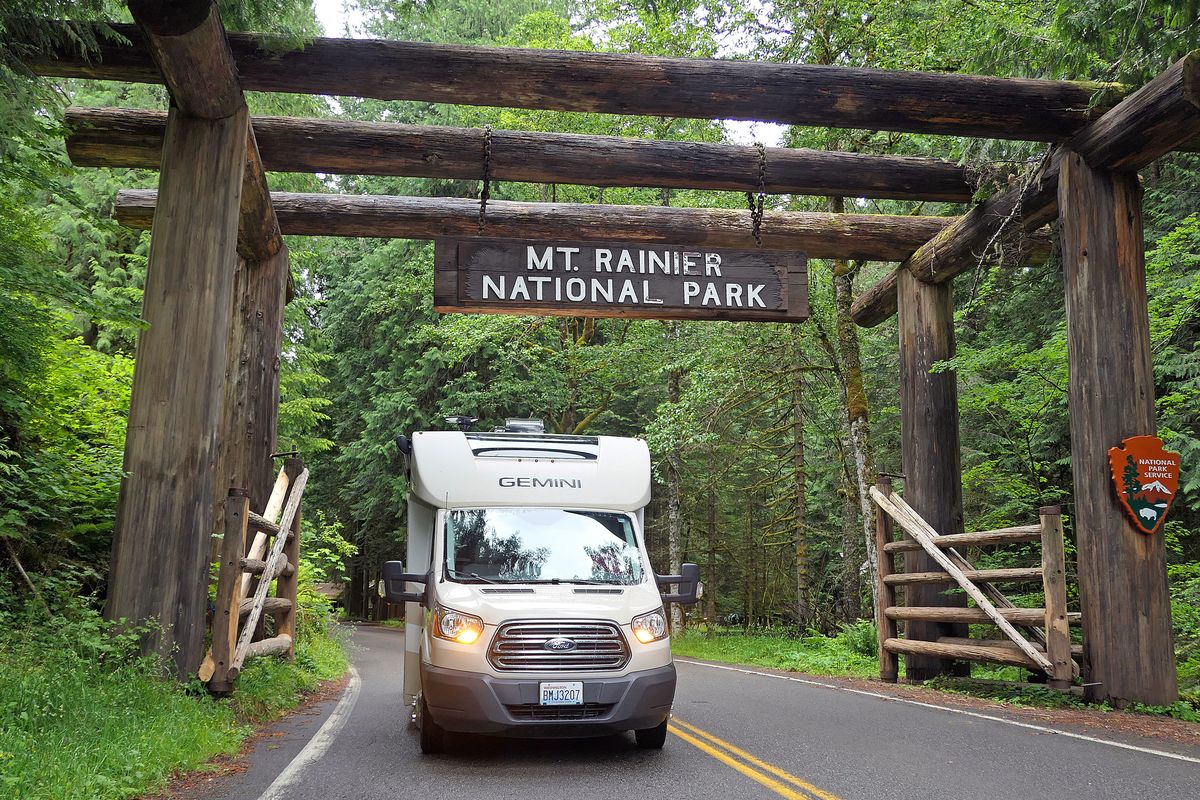 Driving through the Nisqually entrance of Mount Rainier National Park. (John Nelson)
As we hiked along the rolling and tumbling headwaters of the Nisqually River under the gaze of Washington state's most recognizable landmark, it was easy to forget that we are in the middle of a devastating health crisis.
Mount Rainier can lift you up like that.
We rediscovered the mountain's power last week, as we continued our RV tour of Washington's parks, visiting Mount Rainier National Park shortly after it reopened.
How'd it go? Well ... it rained most of the time, the trails at Paradise were covered in four feet of snow, temps hovered in the mid-40s, and we only saw the mountain briefly once.
In other words, it was fantastic.
Thanks to our RV, the bad weather was manageable, and it felt nice to be visiting our old friend, a volcanic wonder we often admire from afar.
To be sure, the coronavirus pandemic has changed things at Mount Rainier National Park. Only two of the park's three campgrounds are open and all of its visitor centers remain closed. Still, Rainier is Rainier -- it's special even when the weather is bad and times are super stressful.
We pulled into Cougar Rock Campground near the Nisqually entrance and immediately took a hike along the Wonderland Trail. For a moment, the clouds parted and we caught a tantalizing glimpse of Rainier in all of her glory, still covered in heavy winter snows.
For the next two nights, we hung out at Cougar Rock. The campground is partially open as the park assesses hazard trees that have closed many sites.
Because only a few sites were available, it made this special place feel even more special. Ohanapecosh Campground is also partially open, and the park is in the process of opening White River Campground once hazard trees can be assessed.
We enjoyed hearing the distant sounds of kids laughing while playing tag and families chatting around the campfire, trying to warm up on those chilly evenings. It felt good to be there, masks on, social distancing protocol well in place.
Should you consider an overnight trip to Mount Rainier this summer? Yes, but be aware that the park will continue to feel slightly altered during the time of COVID-19. And it will be a short season, with the campgrounds closing again in September.
Campsites at Cougar Rock and Ohanapecosh can be reserved at recreation.gov. If you feel like rolling the dice, first-come, first-served sites also are available, and judging from our experience, you can find something if you visit midweek.
As you plan your trip, remember that only Cougar Rock has a dump station.
The case for a dinghy
Last week, we asked readers for opinions on whether having a tow vehicle is worth the trouble. We heard from our friend, Seabury Blair Jr., who heartily endorses having an RV dinghy.
The benefits of having a towed car? Convenience, extra storage, and if your RV breaks down, an extra vehicle can be invaluable, he wrote.
"A dinghy can take you places you might not want to go in your RV," Seabury says.
For the time being, we're staying with bikes for transpo when we're camped. But we can see the benefits of having a second vehicle come fall, when we are planning a longer trip to California, fingers crossed.
Next up: Olympic Peninsula
Our travels to Mount Rainier mark the third week in a row that we've visited some of the state's most beautiful places. Next week, we're visiting the Olympic Peninsula, where we expect to eat lots of crab, hike rugged trails and see if we can continue to weather the pandemic in our RV.
So far, so good.
If you want to follow along, check us out online at instagram.com/ourgrandtour.
---
---