Vintage trailer supplier puts fun in Funky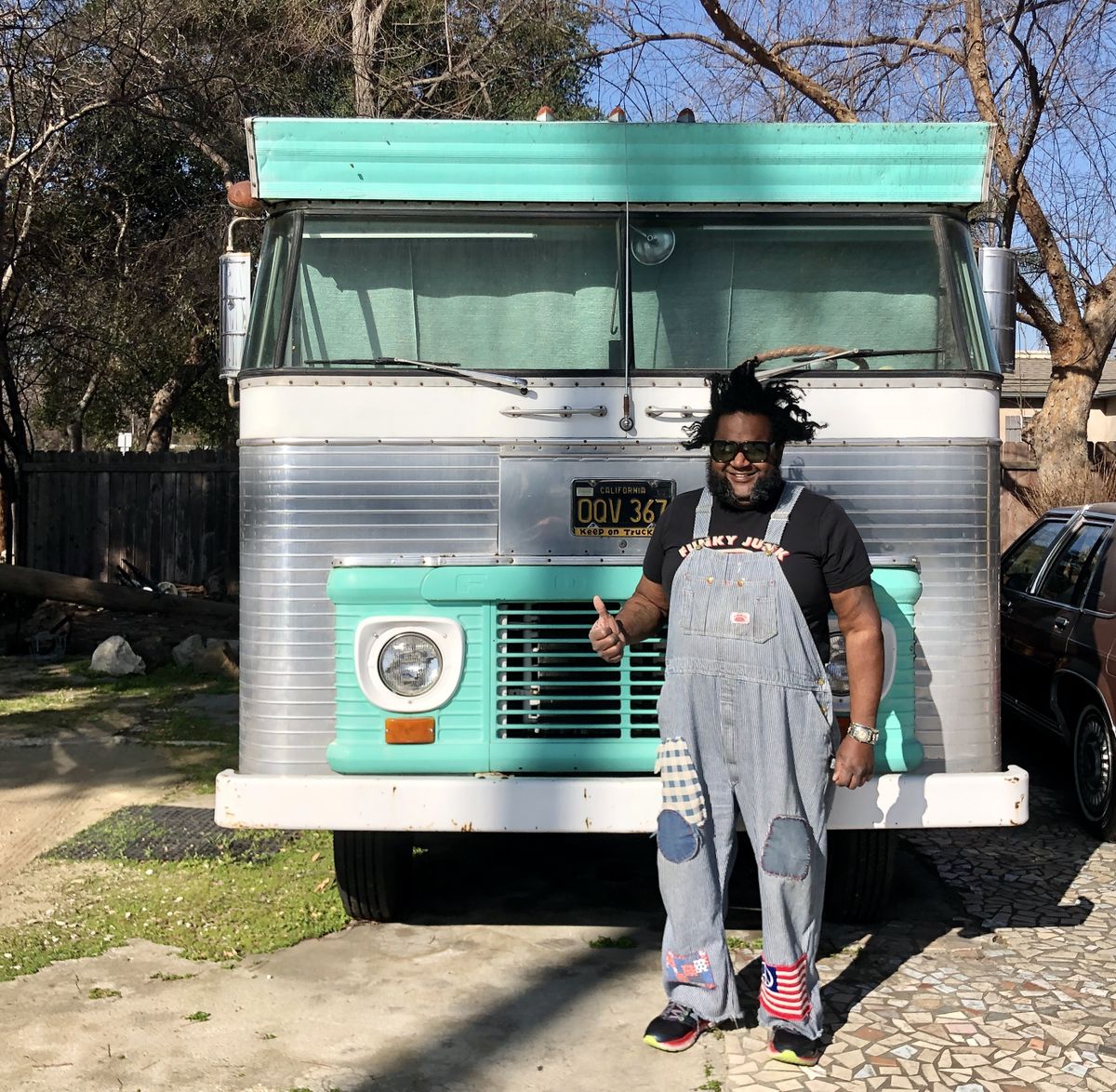 Can you picture Brad Pitt living in a travel trailer?
If you saw his Oscar-winning performance in "Once Upon a Time In Hollywood, "it's easier to imagine. His character, a darned good-looking stuntman named Cliff Booth, lives in a retro-cool Spartan with his dog Brandy.
In real life, that vintage RV is a prop, lovingly restored by the guys at Funky Junk, one of the most popular suppliers of old-school trailers for films in Los Angeles.
While staying in Southern California in early February -- before the pandemic hit -- Leslie had the pleasure of touring Funky Junk Farms in Altadena. She met the famous face behind this incredible effort, John Agnew, who finds and restores trailers with his partner, Steve Butcher.
Agnew is a studio driver by trade, while collecting vintage trailers has been a long-time obsession.
"I just love collecting old things. I still have my first Whole Earth Catalog from when I was 9," he said.
The expansive property on which at least a half-dozen of his current collection sits is itself a blast from the past, a former tropical fish farm that Agnew bought more than 20 years ago.
Sitting out near the entrance to Funky Junk Farms is one of the striking motorhomes that Agnew takes on trips, sometimes to vintage trailer rallies. It's a Condor from the 1960s, outfitted with the original fixtures and a snazzy turquoise exterior that turns heads when driving down the street.
Just behind the house, there's a Cozy Cottage from the 1950s, one of the earliest versions of a tiny home. Inside, he points out the plywood interior, one of his favorite materials from an earlier era. On the shelves of this adorable pull-behind are relics from another time: Dixie Cups, Stripe toothpaste and a cleaner called Soilax.
Nearby, in this quasi mobile home museum is the Step Van, a vehicle that was one of the very first examples of a delivery van being adapted into a motorhome. Van life way before "#vanlife" became a hashtag.
Many of these rigs at Funky Junk Farms are works in progress. Agnew said these restorations often take a lot of time and he's OK with that. "I've been doing this a long time, but I'm 58 and I'm starting to slow down."
He got into collecting in the 1980s, not long after returning to the Los Angeles area to be near family. Agnew actually grew up in the Seattle area, graduating from Rainier Beach High School in 1978.
After selling a Studebaker to someone who supplied vintage cars to television and movie productions, Agnew eventually became a studio driver.
"I've been Halle Berry's driver for 26 years, but mostly I drive set dressers," he said.
Several years ago, he was featured in Junkyard Genius, a show he helped develop for The Travel Channel. Unfortunately, that was just a one-off, but we can totally see it being revived as the interest in vintage trailers continues to grow.
"It used to be easy to find old trailers, but now everybody wants them," he said.
His mission has shifted to rescue efforts, rehabbing rigs that are in various states of disrepair.
"I don't like to restore them to mint condition," he explained. "I want them to look like the original."
Yeah, as in funky. We get it.
In the meantime, if you watch "Once Upon a Time in Hollywood," pay extra close attention to that scene featuring Brad Pitt's home on wheels. Or you can rewatch it here on YouTube: youtube.com/watch?v=LwStC_E5di0
---
---