Fri., Oct. 2, 2020
Yo-yoing our way through Oregon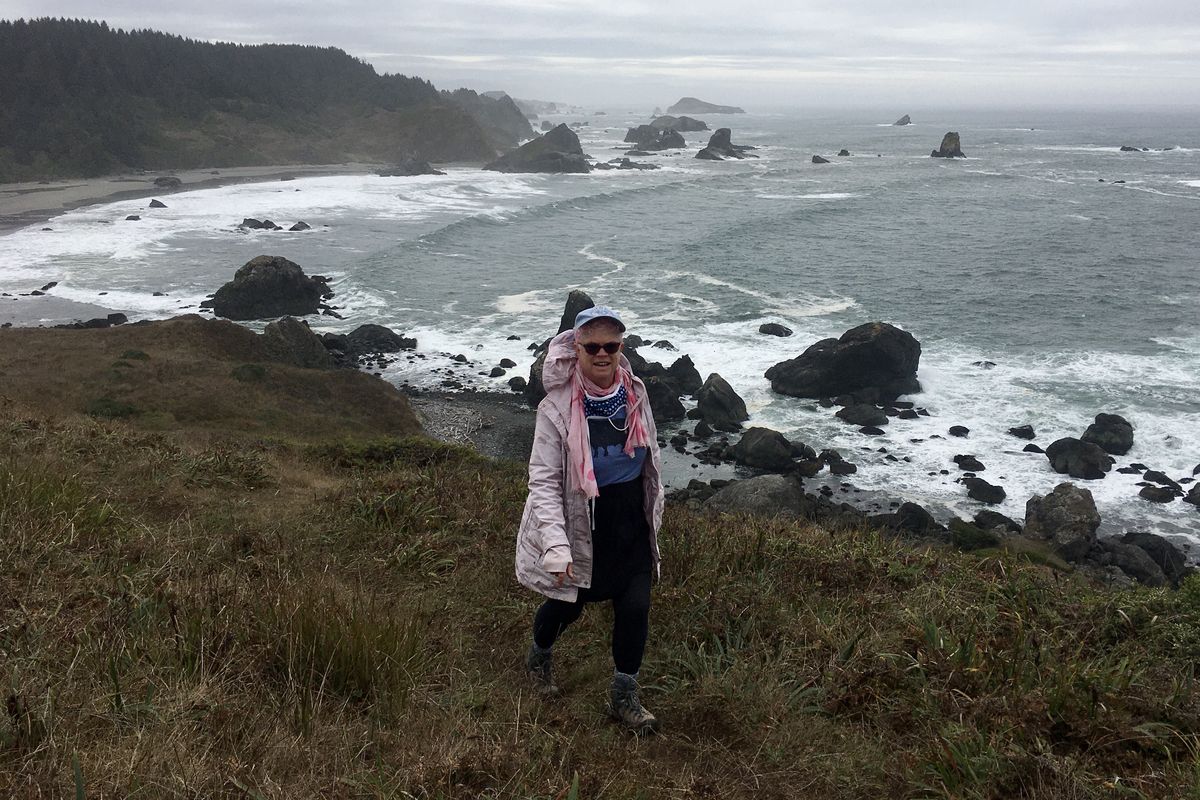 Hiking the headlands at Cape Ferrelo near Brookings, Ore. (John Nelson)
BROOKINGS, Ore. — We're in the midst of a yo-yo adventure on the Oregon Coast.
From north to south, we started our exploration from the banks of the Columbia River at Fort Stevens State Park, then made a mad dash down U.S. 101 to the California border. We'll take our time heading back north again on this RV-friendly route.
Our southbound "yo" covered the coast in just two days, with a memorable stop at an RV park perched right above the waves. Then we bunkered down for the rest of our first week at Harris Beach State Park in Brookings, one of the very best coastal parks in any state.
We're fortunate to be able to experience this beautiful place in such detail. We've spent a lifetime visiting this area, and during our RV years, it continues to be an excellent getaway.
What's it like now, in the midst of a pandemic?
We're seeing a lot of people, frankly. Not all — but most — of the Oregon Coast state parks are open by reservation only, and powered RV spots are in high demand at places like Harris Beach.
Here's a big bear hug to Oregon State Parks. They are open and managing the popularity with what appear to be effective safety protocols. Offices, indoor displays, gathering spots, playgrounds and showers are closed. Masks are required in restrooms.
It's a far different picture from earlier this year, as parks first reopened, and only a few RVers took their first timid steps back onto the road. We've seen an explosion in RV travel since then, and it feels like the Oregon Coast is a long way back to impressions serving as the state's No. 1 vacation playground.
Coastal
Reserve ASAP: Oregon's state parks aren't accepting reservations beyond 30 days in advance. When your travel window hits, be ready to pull the trigger online at oregonstateparks.reserveamerica.com. A listing of open parks can be found at stateparks.oregon.gov.
A little TOO popular? The Oregon Coast is filled with wide-open beaches, headlands, and hikes where social distancing is no problem. Some communities — Lincoln City, Newport, Brookings — are feeling quite a bit more crowded with vacationers. For many people, the risk of being around all these travelers isn't worth it.
But is it worth it? We've come to the conclusion that staying at a good state park is one of the safest things you can do during these difficult times. The campsites are beautiful and spacious, and there's no problem keeping a safe social distance.
Coastal splurge
Over the years, we've frequently driven past the Sea Perch, an RV park literally perched right above a picturesque beach on Oregon's Central Coast, just south of the town of Yachats. Some oceanfront sites are no more than 30 feet from sand and sea. "Wonder what that place is like?" we often asked as we headed to the next state park.
This time, we stayed. The verdict? Sites are top-notch tidy (although not super private) and amenities — an attractive lawn, clubhouse (not currently open) and laundry — are excellent. The cable worked, the WiFi worked (slowly … and upgrades are coming to the Sea Perch network in October).
But it's all about the views here. and you can have an oceanfront spot for $100 a night. One premium spot goes for $125 . A number of other spots also have fine views of the ocean for $90 a night, and prices go down $10 on all but the premium site from November to April.
"We are prideful at being the closest to the water of any resort on the Oregon Coast!" said resort managers Barb and Tony Shepherd in an email.
For a longer description and more photos of the Sea Perch, check out our blog at spokesman.com/blogs/goingmobile.
---
---