Fri., Sept. 18, 2020
Summer pause over; time to get migrating as fall rolls in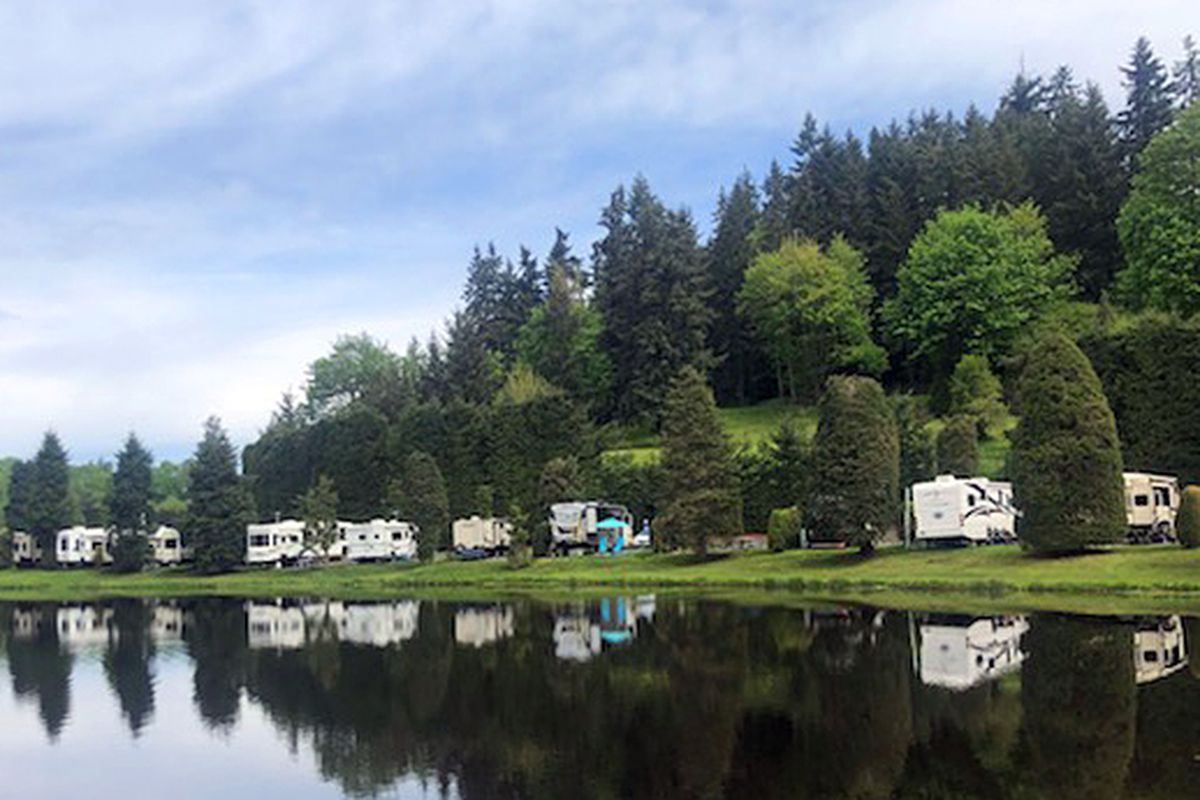 Pleasant Lake RV Park in Bothell takes in a scenic wetlands area, with towering evergreens. (John Nelson)
Fall is here and like a lot of animals, we've begun our migration — to life on the road.
After hanging out in our home base over the summer, we headed to Seattle and the Washington coast last week. Even though we endured some thick wildfire smoke, it felt nice to be back in our Thor Gemini, living our grand tour RV dream.
First stop: Seattle, where we've looked long and hard for a comfortable place to stay in our RV.
We finally found it at Lake Pleasant RV Park in Bothell. It's hard to beat this place for beauty: The park sprawls around an idyllic body of water set amid towering evergreens.
Lake Pleasant is exceptionally quiet, interrupted only by the honking arrival of a flock of geese or quacking ducks. Nearby, Bothell offers several dining and shopping options, and you're ideally situated to explore North Seattle, Edmonds and Woodinville wine country just a few miles away.
You will pay $52 per night for this comfort, worth the price in the city where hotel rooms will run you at least five times that amount.
While not all of the sites enjoy a waterfront view, the mature landscaping offers the kind of privacy you crave when rolling down the road. Our pull-through spot — No. 34 — was sandwiched between thick hedges.
After a fun-filled weekend in Seattle, our journey took us southwest to Grayland Beach State Park. It was new to us, but a favorite with RVers because it has 55 hookup sites and 38 partial hookups.
You can hike amid the dunes or on the broad, flat beach. Nearby, the town of Grayland has shopping and dining options, and the town of Aberdeen is just a short drive away. Sports fishing is available in Westport to the north and Willapa Bay to the south.
If you want to plan a fall or winter trip to the Washington coast, Grayland Beach stays open all year, as does its neighbor to the north, Twin Harbors State Park. Combine this area with Cape Disappointment State Park to the south and you have the makings of a fine coastal getaway anytime you want.
Outdoorsy 101
Hey prospective RV renters — by special request, we've cobbled together a little tutorial for Outdoorsy, the company we've used several times to try out vehicles.
The company functions much like Airbnb. RV owners list their vehicles on the Outdoorsy website with a per-night price. You can filter the results of your search in a number of ways: By date, vehicle type, price, and number of guests.
For instance, if you're interested only in camper vans in the Spokane area, for a weekend in October, you can filter your results to find only those vehicles available. You can also request that your vehicle be delivered to a location, which is ideal for travel-trailer rentals.
Once you find something you like, you then message the owner and set up the rental. Outdoorsy handles the insurance and the credit-card rental transaction.
After you cut a deal, you'll need to meet up with the owner and learn about the vehicle you're renting. When getting instructions about tasks like dumping gray and black water, it might be helpful to take some video for reference. Then again, there's always YouTube.
Owners typically want their vehicles back in squeaky-clean condition or you'll face some kind of cleaning fee. All in all, rentals are pretty easy to navigate even if you're not very tech-savvy.
Online RV show
Are you thinking about getting into the RV game? Camping World's Ultimate RV Show is a virtual event, which is going on right now through Sunday.
You'll see information about new models, check out hundreds of new products and become eligible for show giveaways. Country music hall-of-famers Alabama are even performing in a concert as part of the show.
To "attend", register online.
---
---