Fri., Sept. 25, 2020
Fall a great time to start looking ahead at 2021 RV options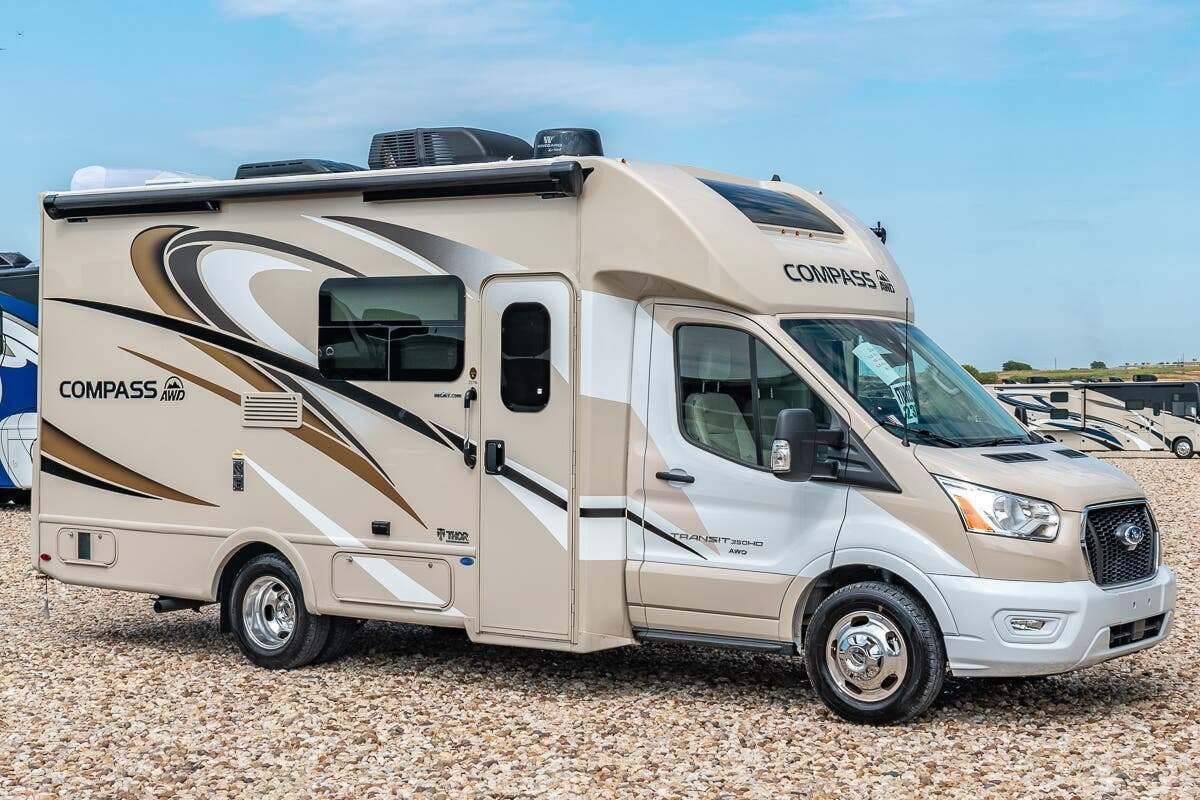 Thor's Compass looks very much like the Thor Gemini -- and has many of the same features.
We've definitely bonded with our Thor Gemini over the past two years, but it doesn't mean we don't have a wandering eye. No harm in looking, right?
It's especially entertaining these days to do some online shopping for rigs, large and small. While surfing through the ocean of video walk-throughs on YouTube, these four 2021 models really got our motor running.
There's one from each class of recreational vehicle, A through C with the Bs among the hottest trends going these days. Chalk it up to the continued fascination with #Vanlife.
Class A: Tiffin's Allegro Breeze is considered a short in the big-bus category at 31 feet long. What we truly admire about this compact Tiffin is the classy interior. Comfy recliners, a faux fireplace and all sorts of cabinets are at the top of the list of things that make us go: Wow! There's even a built-in pantry drawer and a washer/dryer combo in this high-end rig that sells for approximately $290,000.
Class B: Leisure Travel Vans, based in Manitoba, Canada, makes some of the prettiest, most thoughtful vans on the market. The stylish ride is built on a Mercedes Sprinter chassis with the interior taking a radically different approach to traditional layouts. The Unity's various floor plan options include a living room/sleeping space in the rear of the rig. In the galley kitchen area, there's a drop-down Murphy bed that allows the vehicle the option of sleeping four. There are lots of extras that can be added on to the base price of $146,000.
B-plus: Thor's Compass packs a whole lot into a fairly small, 23-foot space. It's got a living room area made more spacious when the slide is extended, the couch enjoying a clear view of the HD-TV that pops up from below the kitchen counter. So, that could complicate meal prep if someone's binge-watching a favorite show. Or, they could take the viewing party back to the TV in the bedroom. Monitors for keeping an eye on levels of gray and black water, battery power and propane are now easy-to-read on digital screens. Suggested retail: $118,000.
Class C: Dynamax is part of the Forest River family, but sighting one of these super C's is fairly rare in our travels. What caught our eye about the Isata series was the wide range of gorgeous finishing options available for the cabinets, flooring and countertops. Plus, the beefy recliners in the front living space appeal to the couch potato in our twosome. And for those who face parking challenges, this beauty has backup cameras that show various angles. Suggested retail: $160,000.
The Ultimate RUV: We've noticed a marketing shift in the RV world, rebranding smaller Class Cs as RUVs -- as in "recreational utility vehicles." The addition of all-wheel drive doesn't exactly make most vehicles off-road worthy, though. If you're in the market for that kind of adventure and have $1.7 million to spend, then you need to take a long look at the EarthRoamer HD, which is custom-built to order in Colorado. This ultra-sturdy vehicle will take you anywhere you want to go with its massive 115-gallon diesel tank and 20,000 hour watt battery bank. This is the rig to take to Alaska and back again. If only we could afford it. Sigh.
After much looking around, we have to admit, we have a new appreciation for our old girl. (And by old, we mean 2017.) Though there have been some bumps and bruises along the way, the snug floor plan with the bed in the back, couch up front works well for us. And we love the Ford Transit diesel chassis. We're going to hang onto her for another travel season.
What's on your RV shopping list? Drop us a line at goingmobile@spokesman.com and we'll share your secret desires.
---
---