Wed., June 16, 2021
RV cooking: Warming up on a chilly June evening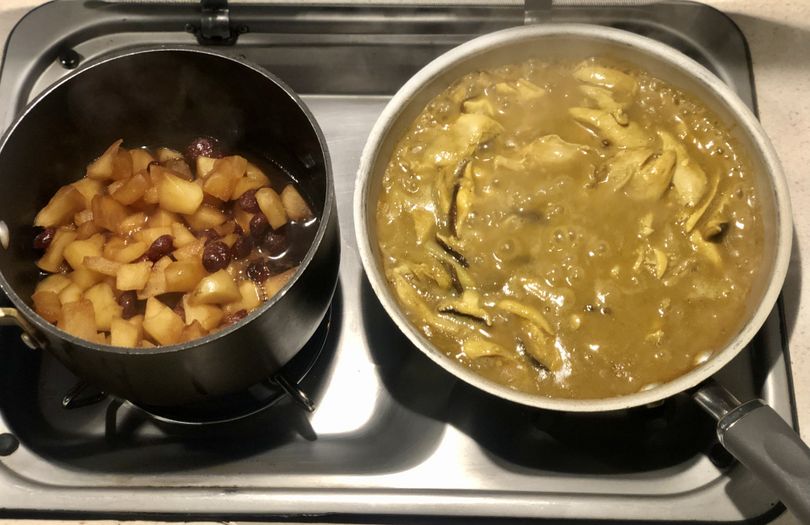 In the Northwest, especially on the "wet side", we begrudgingly accept the whole Juneuary thing with a reluctant brrrr.
While other parts of the country are deep into shorts and T-shirt weather, we're still shivering under gray skies and the occasional downpour. That's exactly what happened on a recent trip to the North Cascades National Park. (Read more about that trip in our Friday, June 18 Going Mobile column.)
Still, a little chilly weather isn't going to detour us from our core mission: spend as much time as possible outdoors.
That goal was hit during dinner because I took a look at the forecast the day before and made a batch of chicken curry the night before we hit the road. Like other soups and stews, curry tastes even better the next day. Here's my quick-fix recipe:
Leslie's Chicken Curry
1 pound of meat or tofu, sliced into bite-size pieces
1 can coconut milk
1 heaping tablespoon massaman curry paste
1 potato, chopped
1 onion, chopped
½ cup shiitake mushrooms, sliced
1 tablespoon fish sauce or soy sauce, optional
Add ingredients together in a pot and simmer for 20 minutes. Taste and if you want it hotter, add a little more curry paste. Serve over rice with quick-pickle cucumber salad.
Have any easy seasonal recipes to share? Please send them to goingmobile@spokesman.com.
---
---