Fri., April 8, 2022
Hiking, biking and exploring the West, thanks to the RV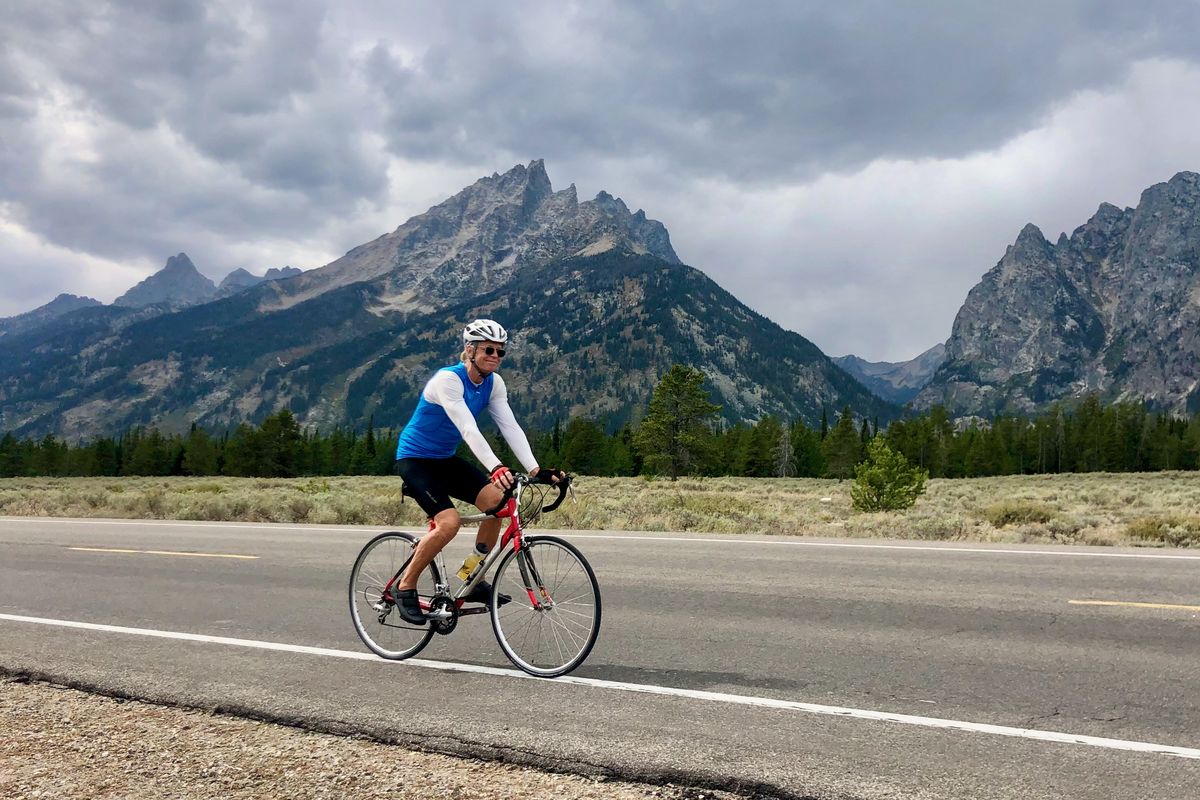 The Grand Tetons rise dramatically along Teton Park Road near Jackson, Wyo., a beautiful road-biking location. (Leslie Kelly)
One thing we love about the RV lifestyle is the access it offers for outdoors adventuring.
If you like hiking and biking, the RV puts you in truly special places, and our latest six-month journey was filled with incredible rides and hikes. Some of these are classics, others you may have never heard about.
Grand Teton National Park: The Tetons are among the most picturesque peaks in the U.S. John pulled out the road bike for a gorgeous ride along lightly traveled 20-mile long Teton Park Road.
Capitol Reef National Park: When we arrived for our first visit to this central Utah gem, we wanted to do a quick hike to the top of the park's rocky reef. We hiked into Cohab Canyon, then climbed to a stunning viewpoint and immediately realized we had discovered a special place.
Bryce Canyon National Park: We hiked down into the fabled Utah canyon, then spent hours enjoying the beautiful rim trail. Sure there were lots of people, but our eyes were on the mind-blowing views.
Grand Canyon North Rim: Our favorite hike in this amazing national park took us to the end of the road at Point Imperial, returning three miles along the rim on the Ken Patrick Trail, stunning views along the way, and not a soul in sight.
Mesa Verde National Park (Colo.): This striking park amid the ruins of Ancestral Pueblo Indians offers a hidden gem of a hike, the 2.4-mile Petroglyph Point Trail, snaking above steep cliffs to an array of ancient petroglyphs. The trail then climbs steeply to return along the stunning canyon rim.
Taos, N.M., West Rim Trail: The Rio Grande Gorge Bridge is the second highest bridge in the U.S., standing 650 feet above the raging river. Along the west rim of the gorge is a 3.7-mile rough trail, perfect for mountain biking, with several dramatic viewpoints along the scenic gorge.
City of Rocks, N.M.: In southern New Mexico, we discovered a fantastic state park in the midst of giant skyscraper-like rocks and climbed six miles to the top of nearby Table Mountain for an expansive view of the volcanic metropolis.
Kartchner Caverns State Park (Ariz.): Our first visit to southeast Arizona brought us to this beautiful park in the high desert. We stayed above ground, enjoying the 10-mile desert trail system in 70-degree weather.
Tucson "loop:" You love road biking? Check out "The Loop," a 131-mile trail system around Tucson, Ariz., where John spent many happy hours pedaling in the November sunshine.
Saguaro National Park (Ariz.): Thousands of statuesque saguaro cacti stand among the desert mountains near Tucson, as if waving hello to hikers. We waved right back at them as we tackled the challenging eight-mile Wasson Peak Trail.
Indian Canyons, Palm Springs (Calif.): The Agua Caliente Band of Cahuilla Indians have beautifully preserved a huge chunk of land along the San Jacinto Mountains. We hiked there several times, and our favorite adventure took us 8.7 miles, starting on the West Fork Trail to a magnificent ridgeline above scenic Murray Canyon.
Death Valley National Park (Calif.): Our winter visit to Death Valley couldn't have been more satisfying. We hiked a lot and John hit the road for a memorable ride through the Panamint Valley. Best hike: Four-mile Mosaic Canyon.
Coastal Southern California: Bike lanes offer cyclists special access to several sections of the California Coast. Our favorite bike friendly ride is in San Diego County, traveling 25 miles along U.S. Highway 101 from Torrey Pines to Oceanside.
Your favorite? Tell us
What are some of your favorite hikes or bike rides from an RV adventure? Drop us a line at goingmobile@spokesman.com and tell us the details -- we'll share them in the next column. Happy wandering!
---
---