Fri., Jan. 21, 2022
Considering an RV? Try shopping at regional shows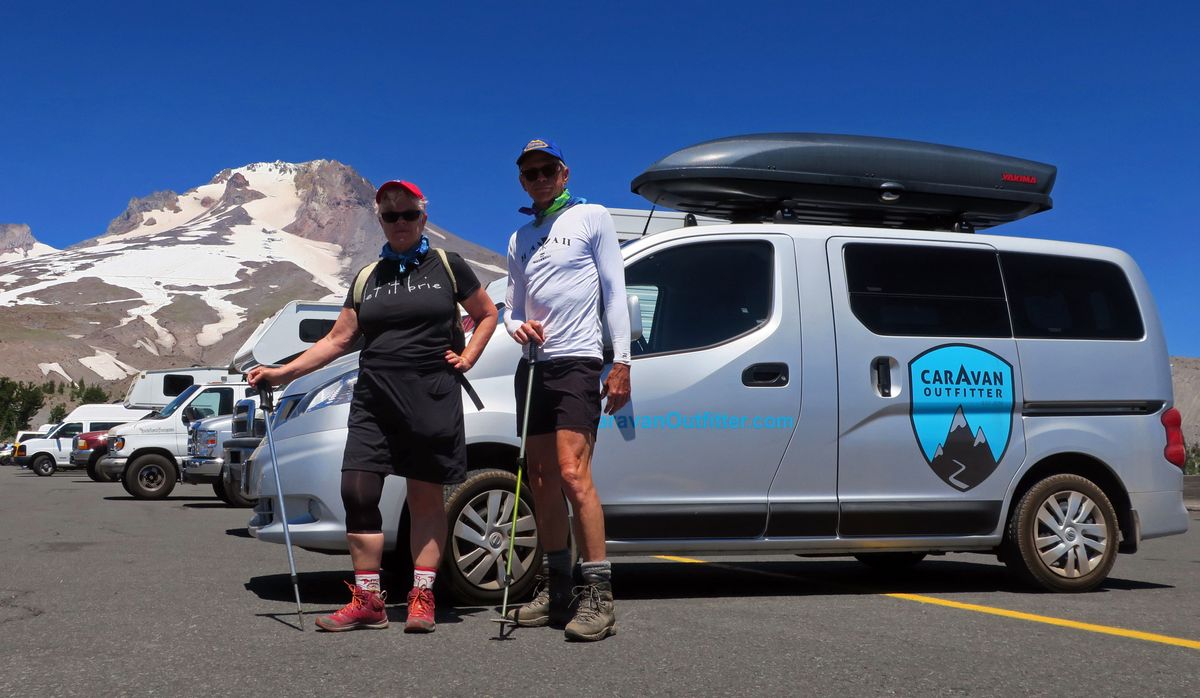 The Caravan Freebird is a model we saw at the Seattle RV Show, then we tried it out as a rental. (John Nelson)
Let's say you've been thinking about buying an RV for a while now.
But the pandemic put a temporary crunch on production, making it tough to find a deal. Maybe you're not really sure what you want.
We're here to help.
Get an idea what's out there: Last week's National RV Show at the Spokane Convention Center and this week's 34th Annual Inland Northwest RV Show at the Spokane County Fair and Expo Center are perfect places to browse the latest models.
We did the same thing four years ago when we were considering buying. We attended the Seattle RV Show and walked around, poking our heads into vans, retro teardrop trailers and motorhomes. (This year's show is Feb. 17-19.)
It was a good way to rule out what we didn't want.
And we did come away with a few RV crushes that we later investigated and even tried out. The Seattle RV Show was where we first saw the Caravan Freebird, a Nissan NV 2500 cargo van converted into a camper, which we ended up taking out on the road.
We also saw the Airstream Tommy Bahama Interstate, a snazzy van that got us excited for a minute until we saw the $200K price tag.
If nothing else, RV show shopping will help you see what you can and can't afford.
Trailer vs. motorhome? We always knew that we wanted a motorhome, so that's what we shopped for. But since buying and spending three years traveling (we're now pushing 50,000 miles on our Thor Gemini), we can see the advantages of a pull-behind.
One of those advantages: You'll see a lot more trailers on the market. If you do go this way, make sure you've got the towing capacity to handle it.
Usually trucks are required to pull a trailer, but several lightweight models are out there that can be pulled by SUVs and even six-cylinder crossovers. Just know that tiny trailers will start to feel really tiny after a few days of togetherness with your partner, so consider how you plan to use the new rig.
How will you use it? This is the first question you should answer when you start shopping. Do you plan to live in the rig for a major part of the year?
If the answer is yes, the floor plan is critical. Make sure the living space provides you and a partner with enough room. We opted for a plan with the living/dining room in the front and the bedroom-slideout in the rear so each of us could have our own personal space at various times of the day. John's the night owl, Leslie is an early riser.
Initially, we thought a small van was what we wanted, and we even came close to making an offer on a Hymer we found at Blue Dog RV in Post Falls. Thank goodness we didn't do that -- we know now that the Hymer was just too small for two living full time on the road as we do.
If, on the other hand, you're planning to use the RV for short weekend trips and vacations, something small is perfectly reasonable.
Solar, internet: One of our biggest struggles when we're off the grid is battery power. Our coach batteries don't hold a charge for more than a day off the grid, forcing us to run the generator for long periods to recharge.
If we could go back in time, we would have shopped for a model with solar.
And the same goes for internet service. Our phones do a good job of getting us service most of the time, but sometimes we crave better internet for our work and entertainment needs.
Bottom line: If you're planning to do any amount of boondocking, consider how a prospective rig functions when not connected to power, and how much internet connectivity you will need.
Questions? Send them our direction at goingmobile@spokesman.com.
---
---