Fri., July 15, 2022
What could go wrong with your RV? Here are some fixes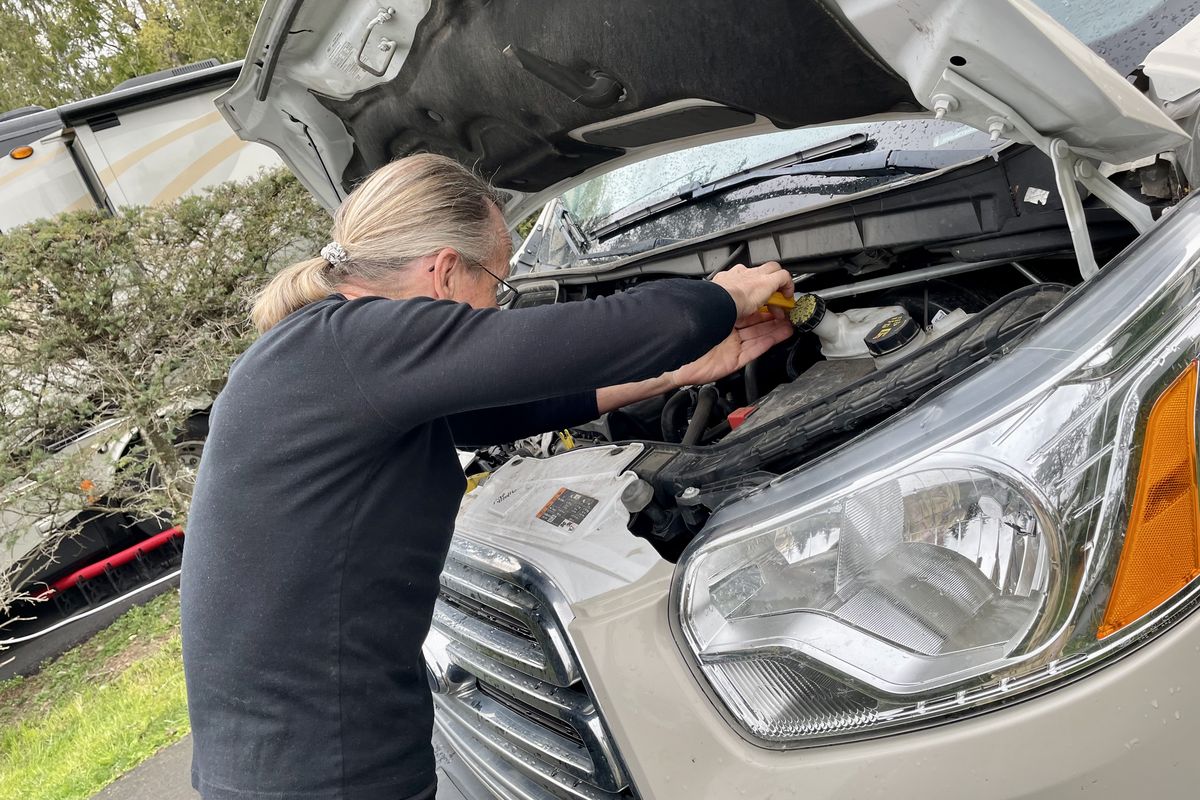 Checking under the hood during recent engine troubles. (Leslie Kelly)
When you buy an RV, you don't think about the stuff that's likely to break. You think about all the fun adventures your new rig is going to deliver.
That's certainly true for us. We didn't think about broken slide-outs -- just the beautiful sunsets experienced from spectacular locations.
But alas, life on the road isn't always pretty. So in the interest of keeping it real, let's talk about what could go sideways based on what's happened to us in our 50,000 miles of travel in a 2017 Thor Gemini.
Slide-out woes: When we picked up our RV from the dealer in Spokane, the slide-out screeched horribly when we tested it, then failed altogether. We were assured it was fixed, then two years later it broke again and had to be repaired, fortunately still under warranty. Hot tip: Always test the slide-outs when shopping and ask what's involved if something goes south.
Cabinet failures: Four cabinet doors have been reinforced with sheet metal because of stripped screws. Three hinges have broken. A clasp for our main kitchen sliding drawer has broken five times. Sage advice: Request extra hardware when making a purchase.
Battery issues: Our original coach batteries were dead when we bought the rig, so the dealer replaced them. Three years later, we upgraded with two new Interstate Batteries, which so far are game-changers. Essential step: Ask when/if the batteries were last tested. The process takes a long time, so consider getting that evaluation before committing.
Frozen water lines: Talk about user error. We tried camping in single-digit winter weather, freezing the rig and ruining the water pump. We learned the hard way. Fast fix: There are insulation products available.
Broken bed: Several slats in our bed broke almost immediately. They've since been replaced, and the bed reinforced. Due diligence: Look at every detail before making that purchase, especially those that are below the surface.
Generator breakdown: During our first year of travel, we used the generator a lot, and one day it simply stopped recharging the batteries. It worked fine otherwise, but you gotta have power, right? We complained to Camping World and eventually, it was fixed by a Thor technician who met us on the road in Manassas, Va., of all places. Then again, maybe it was those bum batteries.
Broken skylight: We love the skylight above our cab, but the screws holding it to the frame of the coach eventually failed, causing the skylight to sag dramatically. A repair shop in Bellingham fixed it, but not before charging us a princely sum.
Electrical malfunction: Our exterior plug-in port stopped working one day. We replaced it, paying an overpriced repair bill to the aforementioned Bellingham repair shop. (We're talking about you, Al's RV.)
Propane leak: After several years of hard use, the regulator from our propane tank failed and had to be replaced by an excellent repair shop in Wenatchee, Omar's RV.
Sewer woes: Nobody likes dealing with sewers and we've had our share of horrible experiences. In year one, we had a broken black water valve. Then the gray water valve went bad. They've both been replaced, but not without a lot of disgusting moments of gushing sewage.
Mouse(s) in the house: Who'da thunk that mice would love RV living so much? Twice at the Grand Canyon, mice have snuck in somehow. We tried to catch Mr. Mouse with a baited trap — he just laughed, ate the bait and waltzed out. More recently, we found a mouse nest in our engine and removed it. Got any solutions? We're still trying to puzzle this one out.
Motor mayhem: The coolant system busted in our Ford Transit engine recently. The bad news was that it caused our engine to overheat — the good news is that it was still under warranty and was replaced. We're grateful to the service team at Bellingham Ford.
Repair takeaways
Even with all of these issues, we're still committed to life on the road. And if we've learned anything, it's that you need to remain flexible if you're going to live in a tiny home on wheels. Those unbelievable sunsets are worth the occasional hassle, afterall.
---
---