Sicily: the island that Camilleri captured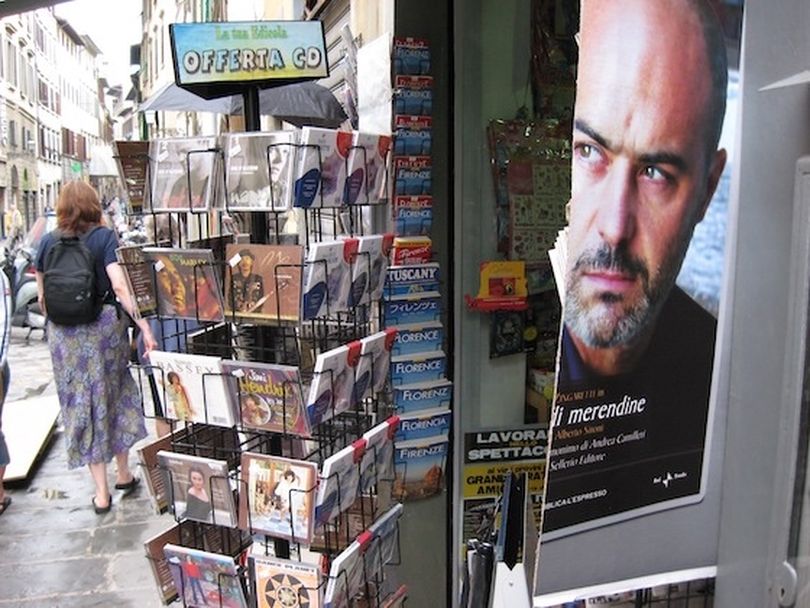 I'm not sure when I got turned onto the novels of the Sicilian writer Andrea Camilleri. It was certainly after I'd exhausted all the Aurelio Zen novels that the late Seattle writer Michael Dibdin had written.
And to be honest, I initially thought that Camilleri's protagonist – the police inspector Salvo Montalbano – was not nearly half as interesting as the redoubtable Zen. But that was before I began watching the series that RAI, the national Italian television network, began airing in 1999.
Friends of mine had watched the entire series on DVD and recommended them. And as my wife and I began watching, we were quickly hooked. The series "Detective Montalbano," which is available for streaming through Amazon Prime's MHZ Choice partnership, stars Luca Zingaretti as Montalbano, and is filmed in and around the Sicilian city of Ragusa.
I then went back to Camilleri's novels, beginning with the first in the series, "The Snack Thief," and this time I appreciated much more what Camilleri was trying to do. It helped, of course, that I was able to picture Zingaretti as I read.
It helped, too, that in the year 2001 my wife Mary Pat and I spent 10 days driving around Sicily, experiencing the place up close and personal during one of the island's typically sweltering summers. Here are a few highlights of our trip.
Taormina: You know a place is special when writers talk about its magical qualities. Take, for example, the French writer Guy de Maupassant who in 1895 wrote the following in his travel memoir titled, simply enough, "Sicily":
"Were a man to spend only one day in Sicily and ask, 'What must one see?' I would answer him without hesitation, 'Taormina.' It is only a landscape, but a landscape where you find everything on earth that seems made to seduce the eyes, the mind and the imagination."
We stayed in a hotel on the road below the city center, which sits some 250 meters above the Mediterranean. As luck would have it, our stay coincided with a film festival that featured films in English. Furthermore, it was held in the city's famous 2,500-year-old Greek Theatre – the same one that was featured in Woody Allen's 1995 film "Mighty Aphrodite."
I don't recall any of the movies that we saw. But I do remember looking to the right and seeing the lights of the boats afloat on the bay far below, and then looking to the left and seeing the red flashes on the slopes of the volcano Mount Etna, which was erupting. If it wasn't paradise on Earth, it was close to it.
Agrigento: My brother-in-law used to say that Italy was like a postcard, "with a thousand-year-old castle around every corner." Sicily is the same, though because of its varied history it's common to stumble over a remnant of ancient Greece.
When Mary Pat booked a room at our hotel in Agrigento, she was intrigued because it offered a view of the Valley of the Temples, a collection of seven Doric-style monuments that date back to the sixth century BCE. But when we checked in, the room she wanted wasn't "available."
But then the clerk asked us whether we'd be interested in hiring a guide. When we said yes, the room – a suite, actually, featuring a terrazza that felt as if it were six feet from said temples – suddenly became available.
It was the best 90 euro we've ever spent. And our guide, a sweet, knowledgeable young college student, was great, too.
Palermo: We stayed in Sicily's largest city only for a couple of nights. But we splurged on a hotel that offered air-conditioning, which we craved after our 10 hot days on the road. I recall having to get under the bed covers because we ended up turning the thermostat down so low.
Our one adventure came when Mary Pat wanted to visit the Cappella Palatina. Built in the 12thcentury, the chapel is famous for its mosaics. Because it was so hot, we were wearing the minimal amount of clothing, which meant that Mary Pat had nothing to cover her upper arms with. "Modest attire" was required, so the church attendants wouldn't let her in.
After we had a spirited discussion between us about what to do, which I'm sure at least one group of elderly Sicilian men are still talking about, we walked to a nearby souvenir shop and bought a cheap T-shirt, which worked perfectly.
Mary Pat says the mosaics are beautiful. I wouldn't know. Having lost interest, I stayed outside.
On the road near Catania: Our big adventure had come a few days earlier, when we drove around Catania on our way to Siracusa. I turned down the wrong road and, fearful that I was heading the wrong way on a one-way street, I attempted to make a sudden left turn into a driveway.
Unfortunately, at that same moment a guy driving behind me was attempting to pass. And… bang.
Nothing major happened. A scrape on the side of the car and a smashed side mirror. And since the guy wasn't interested in getting the authorities involved, he simply waved away my apologies and drove off.
Still shaken, I drove down the road to a restaurant that looked open. We went inside and, in halting Italian, explained what happened. The owner couldn't have been more gracious. He took me around town, bought a replacement mirror for me, brought me back to the restaurant where the staff served us both lunch.
And then he sent us on our way, refusing all my efforts to repay his kindness. His explanation for such altruism: He didn't want people to think that every Sicilian was a Mafioso.
Camilleri himself couldn't have written a better scenario.
---
---