Thu., Jan. 5, 2012
Vito Backing Away From Nullification?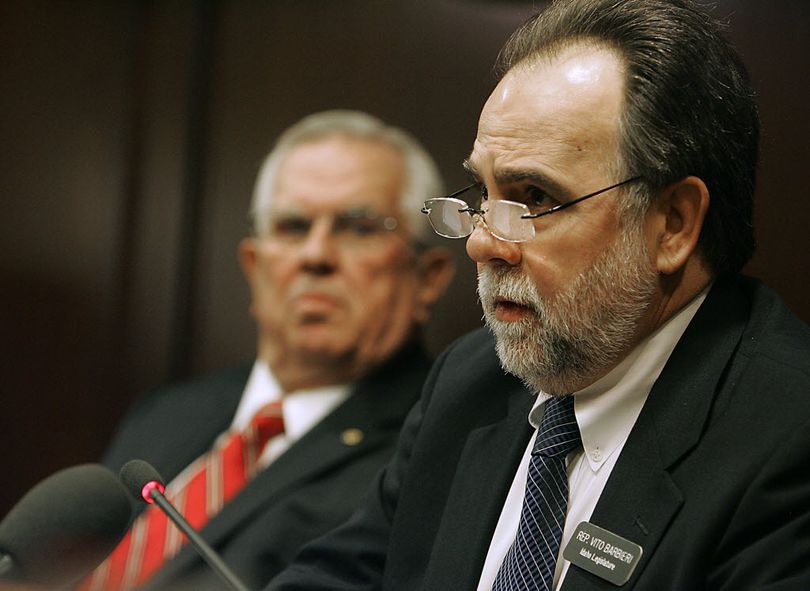 Idaho Representative Vito Barbieri talks with reporters at the Capitol building this morning in Boise. Rep. Barbieri shared his thoughts on the upcoming debate over Idaho's acceptance of Federal money to develop a state health insurance exchange. Also, he told Eye on Boise that he may not introduce nullification legislation this year. (AP Photo/Matt Cilley)
Idaho Rep. Vito Barbieri, R-Dalton Gardens, who unsuccessfully pushed legislation last year to "nullify" the federal health care reform law, now says he's leaning toward holding off on another similar push this year. Barbieri said he's being encouraged to propose the legislation again to take advantage of the issue's "momentum," but said, "Since the Supreme Court has it, I'm reticent to jump back in again. … I think we need to just hold off, cool our heels, and wait to see." He said he's still discussing the issue with other backers of the idea/Betsy Russell, Eye On Boise.
Question: Why is Barbieri possibly putting his nullification legislation on the back burner?
---
---