Wed., Aug. 7, 2013, 9 a.m.
Rusche: Luna Doesn't Follow Process
Rep. JMRusche (re: Wi-Fi Deal: State downplays error): "I worry about the State's ability to develop and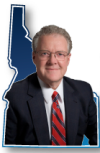 manage contracts. Molina Medicaid, dept of ed longitudinal data system (x2), CCA or prison health, and the laptops contract (cancelled with the defeat of the referendum last fall)--all could have been much improved by a better process. That is why the legislature had OPE investigate contracting. And we asked the department of Administration to revise and strengthening its process. Unfortunately, the superintendent doesn't need to follow those best practices ..."
Question: Can you imagine how loudly Gov. Butch Otter and the Idaho Republican Party would be screaming if a Democratic superintendent of schools had pulled the contract stunt that Luna did?
---
---