Tue., Dec. 16, 2014
How about Nerf guns?
Rapid Strike new in box! (Andrew Smith)
In my semi-professional opinion: More offices need Nerf guns as a part of their operation procedures. It's a fun community/team building past time! That is as long as people don't get out of control.
Good morning everyone,
This week on "What to play tonight?" on the "Tech Deck" blog, we take a look at Nerf's Rapid Strike and brand new Demolisher (video below).
Nerf has come quite a long way since I was a kid. Everything from the Centurion a long distance "Sniper" rifles to the belt fed Vulcan machine gun. Nerf is fun for kids and adults and can be a fun active way to hang out with your kids.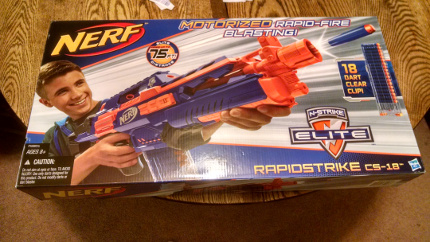 I first encounter a Nerf Rapid Strike a couple jobs ago when my coworker received it as a reward for being Employee of the Month. It's a smooth, nicely build Nerf gun that has an adjustable stock for all kinds of body shapes. Taking 4 C batteries the gun also has a heavy feel, like there's some mass behind it and doesn't feel entirely plastic. It's a nice touch and I rather like it.
Over all the Rapid Strike is a fully automatic Nerf gun that makes use of the standard Nerf clips/drum magazines allowing for easy ammunition swapping between teammates or off the floor. It says it shoots 75ft, but that's with a good angle. Still the rounds do get some good distance and coupled with the rate of fire makes it a good main weapon for any cubical defense.
Mean while, my coworker just picked up the brand new Demolisher. The Demolisher is a semi-automatic Nerf gun that uses acceleration wheels to propel the darts further. Additionally, it uses the standardized dart clips like the Rapid Strike. It's a sleek idea and work pretty well. The biggest advantage to the Demolisher is the under slung "missile" launcher that fires large foam darts through muscle power and air pressure.
While the Nerf dart section works well this under slung launcher is a bit, finicky. I've used it a couple times with varying effect. As the rocket is entirely muscle powered you really have to crank on it to get any distance, otherwise it just plops out the front a couple feet. Additionally, it feels like most of the pull lacks any resistance which makes me think it's not fully using the energy you put into the rocket. Still it's a fun gun and it's a good conversation starter/finisher.
Personally, I recommend the Rapid Strike over the Demolisher, but they are both fun. Play safe and play outside! An odd message I know.
Quote of the week:
"What's the Hex number of your Princess color?" –Andy during Game Jam 2013
---
---