Mon., Aug. 24, 2015
This week's free game: 'Sky Shark'
Are you a gamer? Do you like free things? Of course you do!
We here at the Tech Deck are just like you: poor gamers looking for cheap entertainment. And nothing's cheaper than cost-free gaming. Each week, we'll bring you a title (or two or three) you can legally play at home without plopping down a single dollar. If you see games you think we should be featuring on the blog, email us at dang@spokesman.com or kiph@spokesman.com.
Scrolling shooters hold a special place in my heart. I cut my video gaming teeth playing Galaga with my dad, wasting a roll of quarters on Saturdays at the laundromat and pizza parlor. I've yet to find a port that controls as well as the joystick I'm used to playing that 1981 Namco classic, but there are plenty of other ways to get your shooting-waves-of-endless-enemies fix online. Sky Shark, a Taito release in 1987, does just that, and you can play for free from the folks at the Internet Archive by clicking below!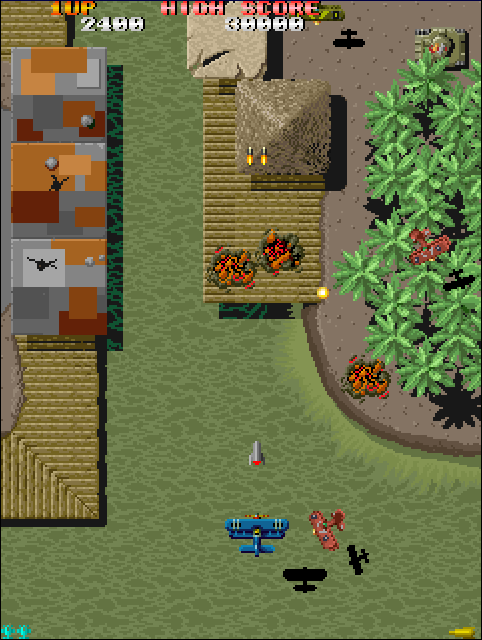 You play as the pilot of a bi-plane, tasked with infiltrating enemy bases and using your machine gun/missiles to take out enemies by land, air and sea. That's really the only story you need, isn't it? Use the arrow keys to control your plane, the CTRL key to fire your primary weapon and the ALT key to fire your secondary gun, which is limited to three shots. Use 'em wisely.
Go inside the blog to learn more about the vertically scrolling shooter genre.
Galaga can't be called a faithful vertically scrolling shooter, because your ship is locked to the bottom of the screen while waves of enemies attack you. Xevious, which Namco released in 1982, created the pattern that games would emulate for the next few decades.
In 1984, Capcom released 1942, which introduced powerups and boss battles to the vertically scrolling shooter. The second half of the decade saw a glut of similar titles, which included Raiden, F/A, Aero Fighters, and Xeno Fighters, just to name a few.
To make a comfortable genre feel challenging, developers in the late '90s and 2000s did the most logical thing by increasing the number of enemies and dangerous projectiles on screen. Gamers affectionately dubbed these titles "bullet hell" games. For a great list of the best titles in that genre (many of which come from Japan) check out this list from US Gamer.
Do you have a favorite top-down shooter? Let us know in the comments below, and check back next week for another free title.
---
---