Mon., Dec. 14, 2015
This week's free game: 'WWF Superstars'
You've still got a week left to enter and win a free game through the Tech Deck's holiday promotion! Click here for the details.
Are you a gamer? Do you like free things? Of course you do!
We here at the Tech Deck are just like you: poor gamers looking for cheap entertainment. And nothing's cheaper than cost-free gaming. Each week, we'll bring you a title (or two or three) you can legally play at home without plopping down a single dollar. If you see games you think we should be featuring on the blog, email us at dang@spokesman.com or kiph@spokesman.com.
If you were a kid in the 1980s, chances are you were a fan of arcade games and Hulk Hogan. Many companies tried to cash in on the popularity of professional wrestling toward the turn of the decade, but perhaps none did so as authentically and impressive visually as Technos Japan's "WWF Superstars," which saw a limited roster of wrestlers teaming up in tag-team matches for a shot at taking on Ted "The Million Dollar Man" DiBiase and Andre the Giant.
Click below to play the game for free from the folks over at Internet Archive!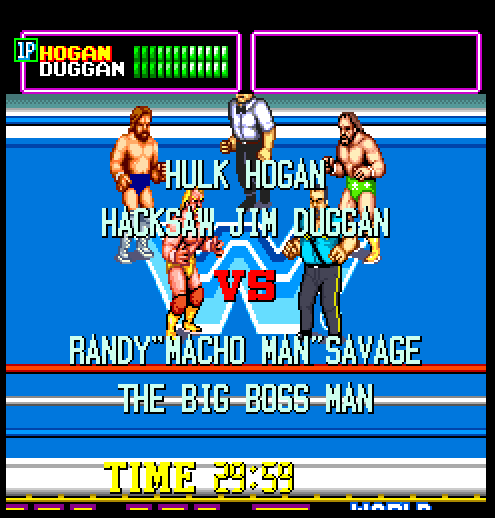 You'll need to hit the '5' key to enter a quarter into the game's interface, then select your wrestler and prepare for battle. Use the CTRL and ALT keys to grapple and attack, alternatively.
The goal is to win three matches, which will see you squaring off against DiBiase and Andre. Your grapples won't work on "The Princess Bride" star - he's too massive. But hey, at least he's not as fiendishly difficult as Mike Tyson in Punch Out!
You'll know Technos Japan from a number of classic early franchises, including Double Dragon and River City Ransom. The company followed 'WWF Superstars' with 1991's 'WWF Wrestlefest," which introduced new modes, enhanced graphics and a larger stable of wrestlers.
Once atop the arcade game heap, Technos produced its last few titles for the Neo Geo hardware, which supplied multiple titles on a single arcade cabinet. The company declared bankruptcy in 1996, and their intellectual properties were picked up by Million Co., Ltd., which produced a few titles under the "Super Dodge Ball" and "River City Ransom" monikers.
The current holders of Technos' properties is the development firm Arc System Works, creators of the wildly popular fighting series "Guilty Gear."
What's your favorite professional wrestling game? Let us know in the comments below, and check back next week for another free title.
---
---