Mon., June 1, 2015, 6 a.m.
This week's free game 'Marble Madness'
Are you a gamer? Do you like free things? Of course you do!
We here at the Tech Deck are just like you: poor gamers looking for cheap entertainment. And nothing's cheaper than cost-free gaming. Each week, we'll bring you a title (or two or three) you can legally play at home without plopping down a single dollar. If you see games you think we should be featuring on the blog, email us at dang@spokesman.com or kiph@spokesman.com.
We've featured a ton of games from the wonderful treasure trove that is the Internet Archive to date. Some of them play better than others, and often the sound or video quality is diminished. This week, we're bringing you a game that plays like a dream with the keyboard and whose sound quality holds up surprisingly well. Click below for a free, browser-based version of the 1984 puzzle game classic, "Marble Madness"!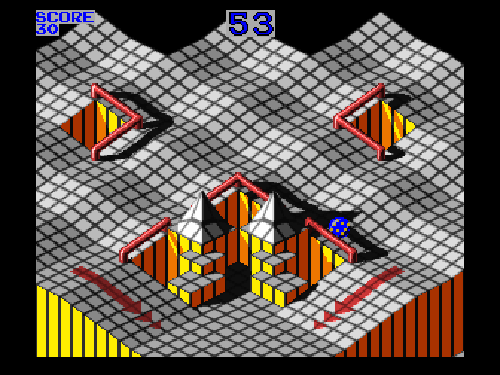 The object of the game, like many of its era, is painfully simple - guide the marble to the goal, avoiding treacherous falls that will smash your marble to bits and enemies attempting to push you off the maps or swallow you up. Don't worry about losing too many marbles - you're working against a clock in this game, and if you can't reach the end before the timer runs out, it's game over and you go back to the start.
I remember many a busted NES controller from this game back in the day. In fact, I think I learned to swear while guiding my marble through one of the more difficult mazes. Go inside the blog to learn more about Marble Madness creator Mark Cerny, who would go on to success in the Sega franchise Sonic the Hedgehog.
Marble Madness released in the arcades in December 1984 with trackball controls, one of the few successful titles released between the video game crash of 1983 and the launch of the Nintendo Entertainment System in 1985 that brought the industry back from the brink. Cerny, the lead developer on the game, drew his inspiration from M.C. Escher paintings, racing games and miniature golf. Marble Madness would see handheld releases and an NES port made by a little company you may have heard of - Rare.
Cerny began work on a sequel, but found there wasn't much appetite in the industry for his type of game. His next major project was working with Hirokazu Yasuhara on Sonic the Hedgehog 2, a bit of a change in speed from the plodding gameplay of Marble Madness. Cerny would go on to work on blockbuster franchises like Crash Bandicoot, Spyro the Dragon, Ratchet and Clank, and the Uncharted Series, all for Sony's Playstation consoles. And it all started with a little moving ball.
Check back next week when we'll have another arcade classic for you to try, free of charge.
---
---