Mon., June 8, 2015, 6 a.m.
This week's free game: 'Superman' (1988 arcade game)
Are you a gamer? Do you like free things? Of course you do!
We here at the Tech Deck are just like you: poor gamers looking for cheap entertainment. And nothing's cheaper than cost-free gaming. Each week, we'll bring you a title (or two or three) you can legally play at home without plopping down a single dollar. If you see games you think we should be featuring on the blog, email us at dang@spokesman.com or kiph@spokesman.com.
In the long history of superhero video games, it's basically an established fact that Superman games...aren't any good. Perhaps it's Kal-El's invulnerability to human foes, or the fact that flying sans an aircraft in a video game has never really been nailed by a developer. But Superman games (with the exception of Detective Comic teamups like Injustice: Gods Among Us and Supes' appearance in Lego Batman 2: DC Super Heroes) have a reputation, and it's not the good kind.
Which is why Taito's beat 'em up for the arcade seems like a breath of fresh air. Click below to play on the Internet Archive!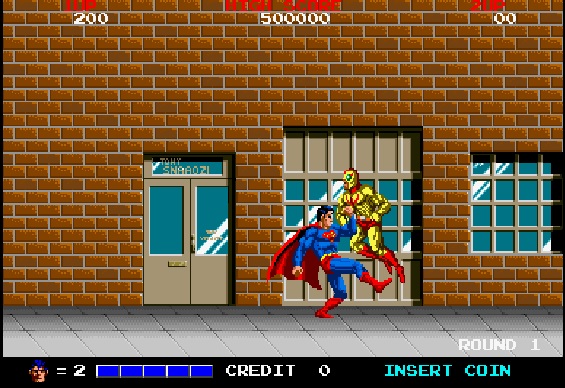 The Taito game (you may remember them as the makers of Bust a Move, highlighted a few months ago on this blog) is notable for featuring John Williams' brilliant score from the original films, and allowing your character to fly across the screen, taking out enemies in traditional beat 'em up fashion but with tight, flying controls.
On your computer, press the arrow keys to move. The "Ctrl" key serves as your primary attack, a punch, and "Alt" launches your secondary attack, a kick (as seen in the screenshot above).
Go inside the blog to learn more about Superman's sordid history in video gaming.
The infamous history of Superman in video games hit its crescendo with 1999's "Superman 64," widely panned for its poor collision detection, wonky controls and - well, pretty much a shoddy version of every feature you'd expect from a video game. Despite the criticism, Superman 64 originally sold well, which means if you had the console you probably bought the game before learning it was a Dumpster fire.
Strangely, Superman the arcade game allowed a two-person mechanic that introduced a second Superman in a red bodysuit and gray cape that is never explained. Apparently, no one at Taito had heard of Super-Girl.
Superman has fared best in the beat 'em up category, with the Death and Return of Superman, another sidescroller released by Blizzard Entertainment in 1994 for the Super Nintendo and Sega Genesis, earning some of the most positive reviews of a franchise video game to date. What makes Superman's failure to take off in video games all the more depressing is the fact that we've seen great games made around other heroes from both DC and Marvel, including the X-Men Legends games, Spider-Man movie tie-ins and the brilliant Arkham series of Batman titles.
Check back with the Tech Deck next week for another free title.
---
---