Mon., June 29, 2015
This week's free game: 'Commando'
Are you a gamer? Do you like free things? Of course you do!
We here at the Tech Deck are just like you: poor gamers looking for cheap entertainment. And nothing's cheaper than cost-free gaming. Each week, we'll bring you a title (or two or three) you can legally play at home without plopping down a single dollar. If you see games you think we should be featuring on the blog, email us at dang@spokesman.com or kiph@spokesman.com.
Modern military shooters require you to complete a lot of mental gymnastics. Do you have enough sniper rifle ammo to pick off those enemies miles away? How much damage can you take before you need to pick up a health pack or get into cover? If you stay put too long, will the enemy flank your position and cut you down in a hail of unanticipated gunfire?
Commando does away with all that arithmetic. It's you, a waistband full of grenades and unlimited ammo against waves of enemies that grow increasingly more difficult as you assault their base. Want to beat a retreat? Sorry, the arcade cabinets of the 1980s won't acknowledge that strategy. Click below to play it for free at the Internet Archive.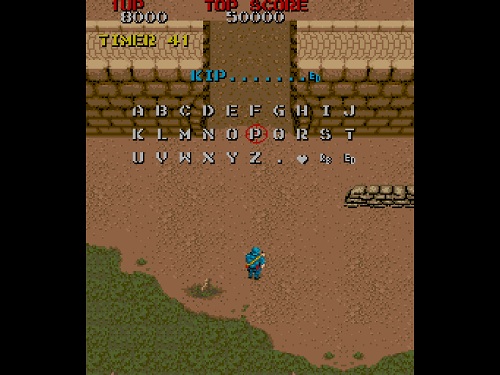 This game has 'Rambo' and the action films of the 1980s written all over it. Use the arrow keys to move your character, Super Joe, across the screen, CTRL to fire and ALT to toss grenades. Your goal is to infiltrate the base, at any cost, and you've got three lives to do it.
Go inside the blog to learn more about this arcade classic from Capcom, and Data East, the company responsible for the hit.
Commando came to arcades in 1985, a vaunted year in video gaming indeed. Mario graced home consoles for the first time, Paperboy began delivering the news to a nightmarish neighborhood and Gauntlet debuted in arcades. Still, Commando carved out a niche, with its influence clearly creeping into later titles like Contra and its spiritual successor, Bionic Commando. If you're a fan of the gameplay, might I suggest Mercenary Kings as well?
Bionic Commando became its own monster, while Capcom released two sequels to Commando: 1989's Mercs and 2008's Wolf of the Battlefield: Commando 3. A Nintendo Entertainment System port of Commando sold particularly well, and the game was also released on Mattel's Intellivision and Atari consoles.
Commando was developed and published by Capcom, and distributed by the prolific folks at Data East, who were behind the Burger Time franchise we highlighted a few weeks ago.
War was simpler in the 1980s, but that doesn't mean it was any less thrilling to control in the palms of your hands. Check back next week for another action-packed, featured game.
---
---