Mon., Oct. 12, 2015
This week's free game: 'Narc'
Are you a gamer? Do you like free things? Of course you do!
We here at the Tech Deck are just like you: poor gamers looking for cheap entertainment. And nothing's cheaper than cost-free gaming. Each week, we'll bring you a title (or two or three) you can legally play at home without plopping down a single dollar. If you see games you think we should be featuring on the blog, email us at dang@spokesman.com or kiph@spokesman.com.
Video games were overly simplistic in the early days. If you were a plumber, you were merely tasked with saving a princess. If you were a young warrior in a land called Hyrule, you were merely tasked with - saving a princess. If you played as a narcotic agent, apparently you were supposed to shoot the bad guys.
'Narc' was a highly controversial game when it released in arcades in 1988, due to the level of gore and the hyper-realistic, digitized graphics which would become a staple of the early Mortal Kombat series four years later. Still, the game was praised for its anti-drug message, which was handed out in heaps of lead from the game's two protagonists, officers Max Force and Hit Man. Really.
Click the image below to play the gory 1988 classic in your browser. Be aware, this game released before ESRB ratings, and due to its gore and references to drugs should only be played by adults.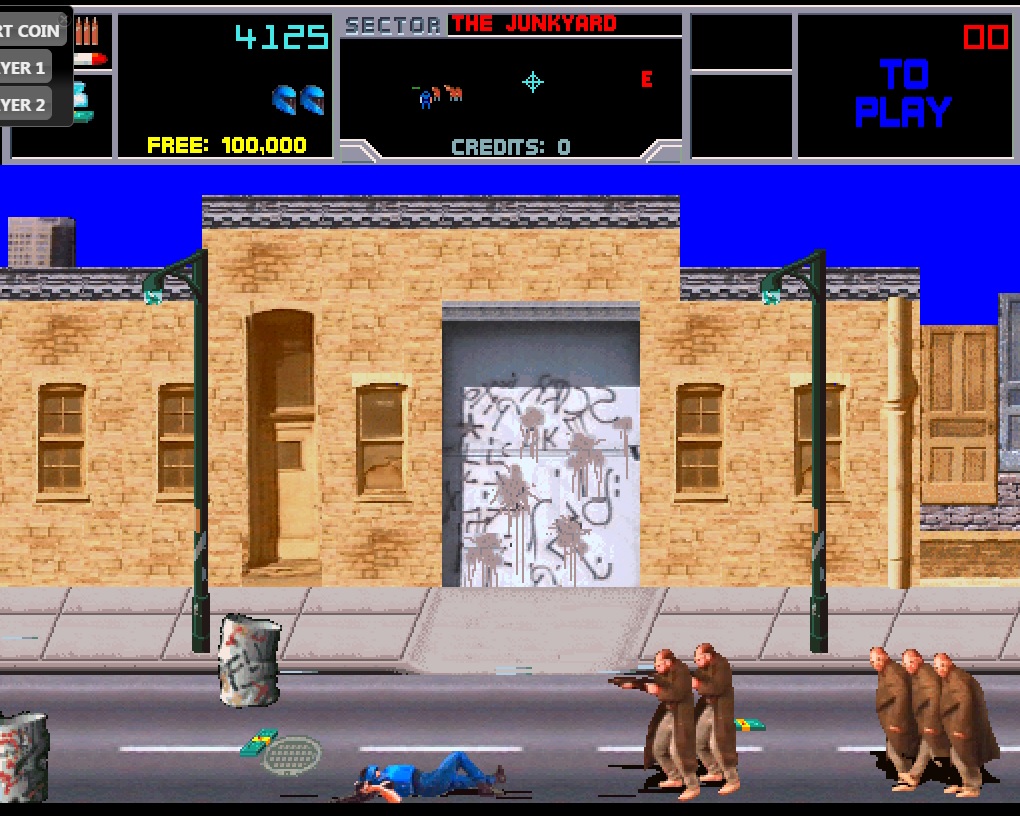 Beware, I had to hard reset the game to get it to work in my Google Chrome browser window. Hit Shift + F3 and the game should load up. Then use the arrow keys to move, the CTRL key to fire and the ALT key to jump (default controls).
You're tasked in "Narc" with taking down Mr. Big (Carrie Bradshaw may be a bit offended), a kingpin pushing a drug called "KRAK." You'll have to blast your way past loads of trenchcoated goons to get there.
"Narc" was Williams Electronics' first coin-op game after being acquired by Midway. Parents were appalled by the graphic nature of the violence in the title, with the game's logo featuring blood stains. The game did actually reward you more points if you arrested the bad guys instead of killing them, but most wouldn't go quietly in the original version of the game.
It was later ported to, of all places, the Nintendo Entertainment System by a little company you may have heard of - Rare. The port kept much of the violence, uncharacteristic of Nintendo's practices at the point, but did soften most of the game's drug references.
Narc's lead programmer was Eugene Jarvis, then known for his work on Defender and Robotron: 2084. He would go on to create another uber-violent and classic arcade title, Smash TV, in 1990 and later on the Cruis'n series of arcade racing games. Jarvis was one of the founding members of the Raw Thrills arcade gaming companies, which continues to release titles - most recently 2015's light gun extravaganza, Jurassic Park Arcade.
A 2005 game called Narc was released by Midway, which was essentially a spiritual successor to the 1988 arcade game that featured big-name voice acting and soundtrack offerings, in an attempt to cash in on the Grand Theft Auto wave of popularity. It was received poorly (50 on Metacritic) and sparked controversy in Australia and elsewhere because the police in the game could keep confiscated narcotics to use, that would produce gameplay benefits.
Are you shocked by the level of violence in 'Narc'? Or do you think it represents a simpler time in gaming? Let us know in the comments below and check back next week for another free title.
---
---