Mon., Jan. 11, 2016
This week's free game: "Jazz Jackrabbit"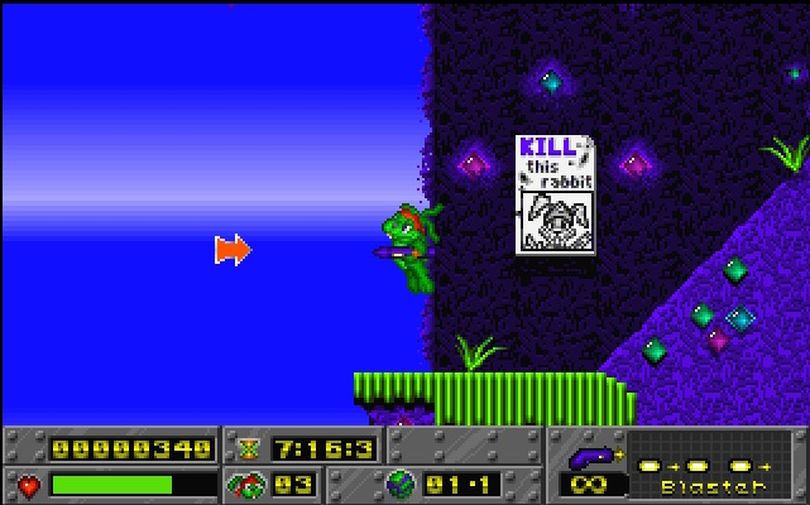 Are you a gamer? Do you like free things? Of course you do!
We here at the Tech Deck are just like you: poor gamers looking for cheap entertainment. And nothing's cheaper than cost-free gaming. Each week, we'll bring you a title (or two or three) you can legally play at home without plopping down a single dollar. If you see games you think we should be featuring on the blog, email us at dang@spokesman.com or kiph@spokesman.com.
Cute, anthropomorphic mascots were all the rage in gaming in 1980s and early '90s. Sega tried to carve out its own niche with Sonic the Hedgehog, pitting its hero against Mario. Sony would follow suit with Crash Bandicoot in 1996. In the middle, there was Jazz Jackrabbit, the creation of Cliff Bleszinski and Arjan Brussee. Click below to play this PC classic, free in your browser, from the folks at Internet Archive!
The player controls the titular hero using the arrow keys. The default controls map fire to the space bar and jump to the left CTRL key. Movement is very similar to Sonic, with Jazz tearing across screens at breakneck pace. Your goal is to defeat Devan Shell, a diabolical tortoise who's stolen your best girl, Eva Earlong. She's also a princess. No one said early video games weren't derivative.
The 1994 PC game was published by Epic MegaGames. They're now just known as Epic. The studio is known for its work on the Unreal and Gears of War franchises, both of which were overseen by wunderkind Bleszinski, who was 19 when Jazz Jackrabbit was unleashed onto the world.
Bleszinski, known as CliffyB to a certain crowd, has since spun off from Epic. He's currently at work on a free-to-play shooter called LawBreakers, about which little is known.
Did you play Jazz Jackrabbit as a kid (or adult)? Did you pledge allegiance to the PC, as opposed to Sega or Nintendo? Let us know in the comments below, and check back next week for another free game.
---
---