Mon., Jan. 25, 2016
This week's free game: "Cool Spot"
Are you a gamer? Do you like free things? Of course you do!
We here at the Tech Deck are just like you: poor gamers looking for cheap entertainment. And nothing's cheaper than cost-free gaming. Each week, we'll bring you a title (or two or three) you can legally play at home without plopping down a single dollar. If you see games you think we should be featuring on the blog, email us at dang@spokesman.com or kiph@spokesman.com.
The 1990s were full of platforming games for home consoles designed to sell products to children, the target audience for the newest toys from Nintendo, Sega, Atari and others. 7-Up, that lemon lime beverage dating back to the Roaring '20s, got in on the action with their mascot "Cool Spot," an anthropomorphic...well...spot, who you'll remember from those "uncola" ads back during the George H.W. Bush years. Cool Spot was ported to the handheld Sega Game Gear device, and you can play that version, thanks to the folks at Internet Archive, by clicking below.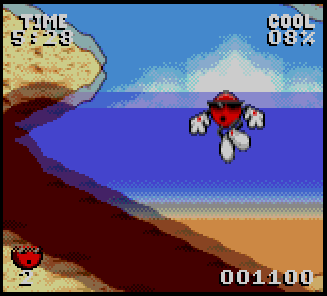 The object of the game is to collect all the red spots in a stage before the timer runs out, avoiding enemies and obstacles along the way. You can fire projectiles using the left CTRL key by default, and jump using the ALT key (which is also how I take screen grabs, hence the blurry jumping animation in the screenshot above. Don't be alarmed. The game shouldn't give you motion sickness.)
Cool Spot was developed and published by Virgin Games, who would go on after the game's release in 1993 to produce two of the better licensed properties during that console generation: Disney's Aladdin and Lion King. Its properties were eventually bought out by Interplay Entertainment, the publishers/developers of the first two Fallout games. Among that studio's latest offerings are HD remakes of Earthworm Jim and MDK2.
7-Up retired Cool Spot in 1997, after slinging soda for close to a decade. The spot gave way to that guy who loved to yell, "Make 7-Up yours!" You remember that, right?
What's your favorite commercial masquerading as a video game? Do you long for the days when 7-Up only had one flavor? Let us know in the comments below, and check back next week for another free game.
---
---