Mon., March 7, 2016
This week's free game: "SkiFree"
Are you a gamer? Do you like free things? Of course you do!
We here at the Tech Deck are just like you: poor gamers looking for cheap entertainment. And nothing's cheaper than cost-free gaming. Each week, we'll bring you a title (or two or three) you can legally play at home without plopping down a single dollar. If you see games you think we should be featuring on the blog, email us at dang@spokesman.com or kiph@spokesman.com.
The early 1990s were an interesting time for enterprising game designers. The possibility of pushing a product out as freeware, or joining forces with a much more formidable publishing partner, gave young programmers like Tim Schafer, Cliff Bleszinksi and others an opportunity to shine. Chris Pirih, a midlevel Microsoft programmer, didn't end up traveling that star path. But he did create SkiFree, an homage to the Atari 2600 game Skiing, that continues to live on in pop culture today. You can still download the 16- or 32-bit versions of the 1991 game by clicking the download link below!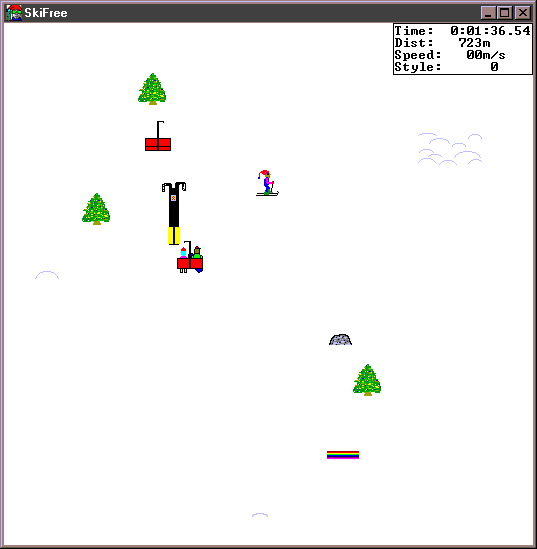 The object of SkiFree is simple. Guide your pixelated sportsman down the hill, avoiding obstacles. If you can hit 2,000 meters, watch out for the Abominable Snowman. You'll know him by an appearance resembling that of a drawing your 5-year-old might draw if ordered to sketch a Yeti. The Snowman will gobble you up if you're not fast enough.
SkiFree was included, with seven other simple titles, as part of Microsoft's Entertainment Pack 3. Pirih had coded the game in his free time, and it was discovered in a serendipitous moment by a leery boss (according to the story Pirih tells on the website above). Other games included in the Entertainment Pack were a computerized version of FreeCell, Minesweeper and LucasArt's Pipe Dream. You'll know the LucasArts game if you've ever tried to hack a terminal in Irrational Games' Bioshock series.
Do you have a favorite game inspired by the slopes? Can anyone outrun the Abominable Snowman? Let us know in the comments below, and check back next week for another free game.
---
---