This week's free game: 'Crazy Kong'
Are you a gamer? Do you like free things? Of course you do!
We here at the Tech Deck are just like you: poor gamers looking for cheap entertainment. And nothing's cheaper than cost-free gaming. Each week, we'll bring you a title (or two or three) you can legally play at home without plopping down a single dollar. If you see games you think we should be featuring on the blog, email us at dang@spokesman.com or kiph@spokesman.com.
The 1980s were the Wild West of arcade games. So-called "clones" abounded, with startup companies copying the graphics, gameplay and style of wildly popular machines like Pong and Pac-Man. Industry giant Nintendo wasn't immune to the copycat bug, and when Shigeru Miyamoto's smash hit Donkey Kong hit arcades in 1981, it wasn't long before companies started trying to cash in on its success.
Enter "Crazy Kong," which is not technically a bootleg version of Nintendo's hit because it used different hardware to create essentially the same gameplay. It was licensed for sale outside of the United States, and you can play it here in America thanks to the fine folks at the Internet Archive. Click below to play!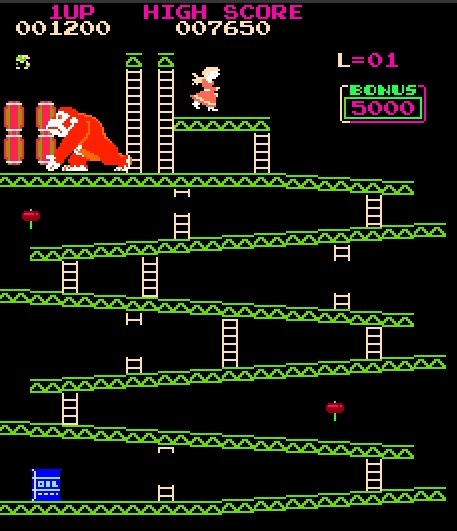 Look familiar? All you have to do is climb the platforms to rescue the girl. Easy-peasy. Use the right CTRL key to jump over barrels and other enemies. Grab the hammer to smash them instead.
The game was built on the hardware of Crazy Climber, a climbing game that actually predated Nintendo's Donkey Kong by a year. Crazy Kong was released in the United Kingdom and elsewhere, and was published by Zaccaria, an Italian company, and developed by another company called Falcon.
Zaccaria went belly-up in 1988 and was sold to a company called tecnoplay. I had trouble finding any sort of history on Falcon. Before succumbing to bankruptcy, Zaccaria built ports of classics like Galaxian, Pac-Man and Frogger, many of which were released under alternate titles.
You know the tale of Nintendo and Miyamoto already. "Jumpman" turned into Mario, who is arguably the most recognizable face in all of video gaming. Miyamoto's latest release is Star Fox: Zero, on which he served as supervising director. That game holds a subpar rating on Metacritic of 71/100.
What's your favorite video game ripoff? Did you play Crazy Kong in the arcades? Let us know in the comments below, and check back next week for another free (and potentially original) video game.
---
---